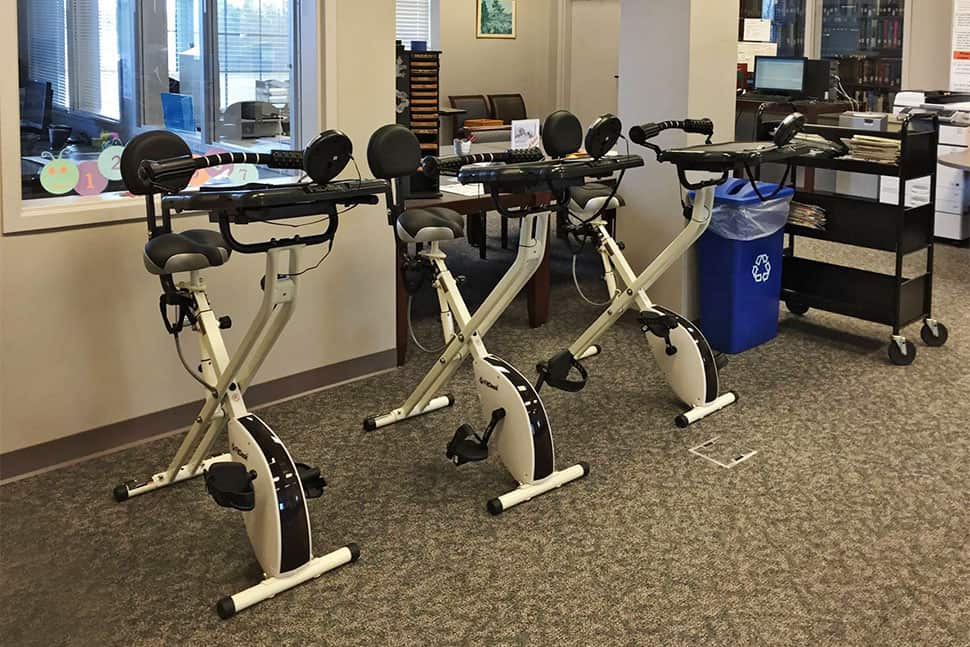 In February, Troy (Ala.) University Dean of Library Services Christopher Shaffer brought fitness to the ­libraries when he made available six exercise bikes for student use. The endeavor made national headlines. Here, Shaffer explains his motivations, the bikes' reception, and plans for the future.
Troy University's motto is "Educate the mind to think, the heart to feel, and the body to act." I was thinking of those words as well as the American Library Association's Libraries Transform campaign when I came across an article on exercise bikes that featured tables for laptops from a company called FitDesk.
The bikes were reasonably priced at $299 each, so I ordered three for our library in Troy and three for our extension campus library in Dothan, Alabama. We placed the Troy library bikes in a large space that had been previously used as the archives processing room. At Dothan, the bikes are in a combination computer room–group study area, but they are being moved to a larger space that is currently being converted from an office into a student space.
We added the hybrid exercise-study equipment to our libraries for a variety of reasons. To begin with, it just seemed like a cool idea. There were deeper motivations, though.
In an era when people tend to think that everything can be found via Google, it is important to find creative ways to bring people back to the library where they can receive help getting the information they truly need. By adding these bikes, people may visit us who otherwise would not have or rarely would have.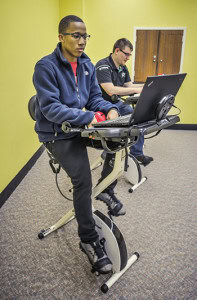 There were health reasons as well. Obesity is a severe problem in the United States, and Alabama has one of the highest rates (33.5%) in the nation. The cause is not just our diets but the fact that technology has made us sedentary creatures. Students and faculty tend to spend the bulk of their day in front of a computer. We cannot alter that fact, but we can alter what they do while looking at the monitor.

We also wanted to change how academic libraries are perceived.
I want students to view our libraries as places where they want to be. I like the idea of them coming in, checking out a video for pleasure, and watching it on their computer while they exercise for an hour. If they enjoy being at the library for reasons other than academics, maybe they will be more comfortable visiting the library—and approaching librarians—in the future.
The response from students, faculty, and others has been overwhelmingly positive.
A picture of the bikes posted to our Facebook page, which has about 950 followers, was seen by 7,300 people. Articles followed from a number of outlets, including Huffington Post. As a result, we now have on order three more bikes and six elliptical machines to go under tables that students can use while seated.
Students are using the exercise bikes, but it remains to be seen how popular they will be in the long run—the bikes were made ready for use only in early February. Ultimately, if we can help make the library more popular and comfortable while also offering innovative ways to study that promote good health, then the idea has been a success.