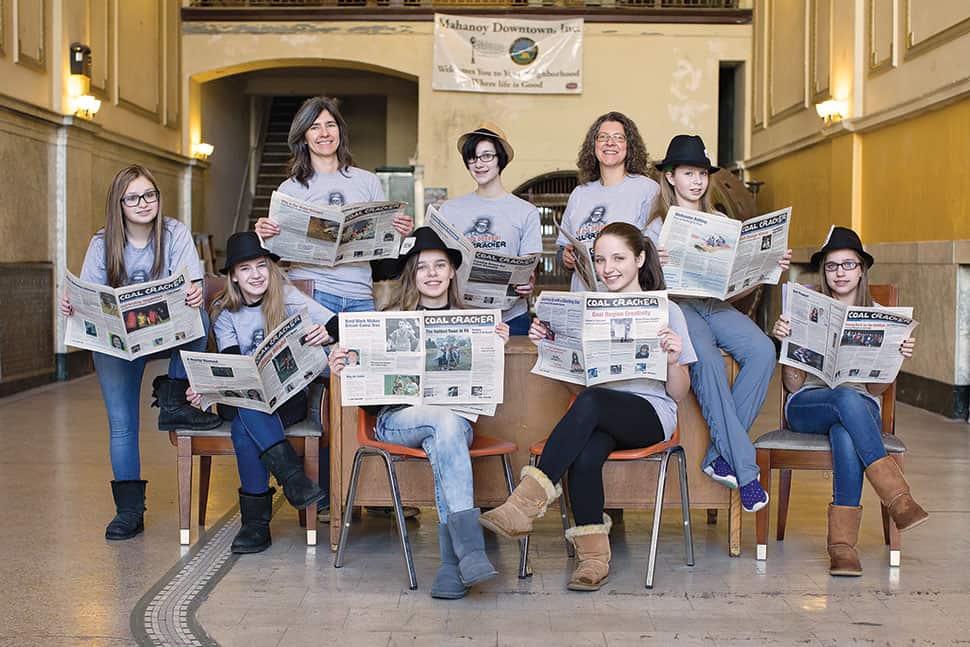 For the past decade, Krista Gromalski wanted to start a civic engagement project in her hometown of Mahanoy City, Pennsylvania, in the state's coal region. So she went back to school, Goddard College in Vermont, to earn a master's degree in sustainable business and communities in order to focus on the project.
"It's a very depressed area economically," Gromalski says of Mahanoy City. "The coal region, which is made up of small towns, used to be booming. Now the mining industry has been gone for several decades, older people are getting older [and] younger people are moving away because there are no jobs."
To re-create pride in the community, Gromalski created Coal Cracker, a community newspaper founded to give youth the opportunity to cover important stories and find, as she says, "the beauty in a place that is wounded and desolate."
As she was working on Coal Cracker in 2012, Gromalski's colleague Barbara Gref told her about the Community Reporting Alliance (CRA), of which she was then executive director. The nonprofit had partnered with Livingston Manor (N.Y.) Free Library to create a similar library-based, youth-led project called Manor Ink months earlier.
With Gref's help, plus a connection with Mahanoy City Public Library board member Peg Grigalonis, Gromalski was able to partner with the alliance and bring Coal Cracker's first issue to life in December 2013. The name is derived from the term locals use to describe themselves, and although "cracker" is viewed as a pejorative, "it's also an active word … like cracking through the community," Gromalski says.
Building skills
CRA starts publications in cities that are "news deserts," meaning they don't have a strong community weekly in town. Current projects include Manor Ink, Coal Cracker, and Ferguson (Mo.) Phoenix, which launched in 2015. It is also in the process of creating one in Brownsville, Brooklyn.
The papers are joint ventures among the library, CRA, community members, and local and national foundations. For each project, CRA follows a model of finding a journalist who wants to lead the project and meeting with library officials and parents. The librarian and project leader then recruit students from elementary to high school to join the paper, using social media and bulletin board announcements.
The alliance was founded in 2009, at a time when many local newspapers were closing and libraries were looking for "opportunities to reassert themselves as the center of community," says CRA founder Jeanne Straus. "We began this program for youth-led, library-based newspapers at the nexus, as a way for communities to continue to have local news and local reporting, to put the library at the center, and to get young people engaged in both the library and in the importance of local news."
Young people are not only writing articles, but they are also learning how to do layout, write headlines, and solicit advertising.
Robin Boyce, director and managing editor of Ferguson Phoenix, says the paper has taught students what it takes to organize a project from start to finish.
"From an entrepreneurial point of view, this is a start-up communications firm, and we have to figure out the cost in printing this. So what should we charge for ads based on the cost for printing? Those exercises are there to help them understand the processes of building a business," Boyce says.
"They've gained different perspectives and experiences through the process of writing and creating the paper, in addition to learning basic skills of journalism and photography," Gromalski says.
Community pride
In each town, staff members meet weekly at their libraries to discuss and assign stories. The three towns have reported on a variety of topics, mostly "driven by what is of interest to that specific community and the concerns of that specific community," Straus says.
Manor Ink, for instance, publishes features on farm-to-table issues, native wildlife, and profiles of older members within the community. It also covers school board meetings, new business openings, and other news stories. Ferguson Phoenix has covered topics such as the Ferguson Youth Initiative, internet safety, sports, fashion, and stepping.
Coal Cracker reporter Serena Bennett, a 9th grader who has been with the paper since its launch, says among the favorite stories she has written was a Q&A with New York Times bestselling author and illustrator Jimmy Gownley, who is originally from Pennsylvania. Reporter Amber Lawrence says her favorite story has been about the Teen Canteen, an old bank building that used to be a popular hangout in the 1950s and 1960s.
Meeting at the library has been a beneficial situation for both the papers and the libraries. The library provides free resources and a space to meet, and students have become more interested in partaking in library programs and writing about them.
"A lot of our kids who started with Manor Ink, now they're in 'battle of the books' and volunteering at library open houses and winter celebrations," says Manor Ink director Maria Bivins.
This is not like a club after school or school homework. [Students] have to be willing and able to work.—Maria Bivins, Manor Ink director
Having Coal Cracker at the library has also changed the library's relationship with teenagers. "There is a tendency among our staff and our board to react like, 'Ugh, there's a group of kids coming in,'" Grigalonis, says. "But they're purposeful and they understand and respect the library, so it's all worked out very well."
Despite the positive reception overall within these communities, the papers sometimes face roadblocks related to finances and retention. Many of these towns have small businesses that lack the ability to purchase ads to support the papers, so the papers rely heavily on locals who volunteer their time, as well as a CRA grant that helps pay for basic expenses like design and printing. And student turnover can be high because they graduate, have other obligations, or have problems getting to and from the library.
"This is a commitment; this is work," Bivins says. "This is not like a club after school or school homework where they get graded on it, where if it's not in on time, they're not going to get a good grade. They have to be willing and able to work."
For the Ferguson Phoenix, future goals include turning the paper into a monthly from a quarterly and paying young people to work for the paper during the summer for at least six to eight weeks. Overall, they hope to become a strong communications arm for the city of Ferguson and surrounding communities.
"It's an opportunity for young people to communicate … from their perspective," Boyce says. "They always are up for expressing themselves through rap music or whatever else. But then they find out, 'I have this platform I can use, too.'"
The paper has been a great platform for Mahanoy City students as well.
"There's a lot of pride in this paper," Gromalski says. "And I think that connects them in a different way to the place around them. Probably that whole package of skills and experiences is showing some of our kids a different way of seeing the world, or different options for them professionally."