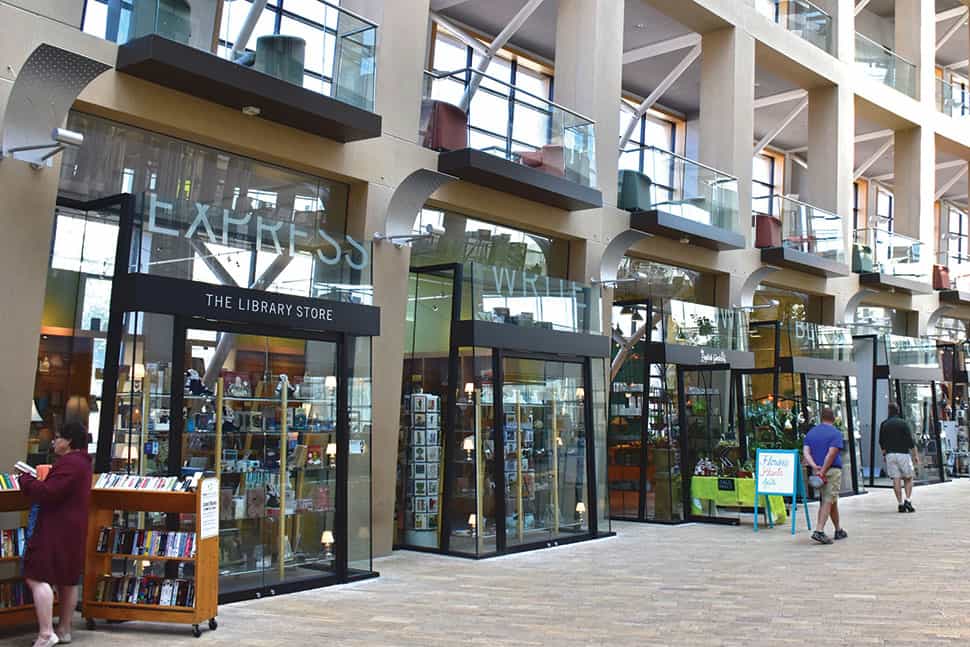 Imagine walking into a building and seeing a florist, a hair salon, and an art gallery. Would you guess you're in a library?
Probably not, but at the Salt Lake City Public Library, that's exactly what you'll encounter. "Having any of these within a flagship library is a unique arrangement," says Andrew Shaw, the library's communications manager. In addition, a café, a coffee shop, a public radio station, a writing center, and a library store occupy the first floor, steps from the main library entrance.
While the library is the main focus, this mixed-use space "gives each visitor a sense of destination, of experience," says Shaw.
What first attracted Lyndon Tan, owner of The English Garden flower shop, to the library? "The idea of community and retail coming together," he says. His business has been at the library since its inception, and in that time, Tan has watched as "this new library really became the living room of the community."
Through the library, the shop also offers classes on flower arrangements and gardening. Then, too, the location has given the business lots of exposure. "We get a lot of walk-in traffic," he says.
Shared space in the college library
Community and commodity regularly intersect on college campuses, and North Carolina State University (NCSU) is no exception. NCSU's main library, the D. H. Hill Library, has housed a coffee shop and an ice-cream parlor for more than a decade, so when the university began planning the James B. Hunt Jr. Library, the notion that it, too, would contain shared space was already a given.
Two spaces inside the new library offer important amenities: Common Grounds Café, owned by the university dining system, and the Institute for Emerging Issues (IEI), a nonpartisan public-policy organization developed by the state governor for whom the library is named.
To encourage library use, students are allowed to bring food and drink inside. "If you walk through Hunt Library at 6 or 7 at night, you'll see pizza boxes," says Chris Tonelli, director of communication strategy for NCSU libraries.
The IEI provides traffic and essential event space to the library. "As much as we like to think that everyone knows about Hunt Library," not everyone knows that "IEI does all sorts of events with people from all over the place, from young schoolchildren to big conferences," says Patrick Deaton, associate director of learning spaces and capital management for NCSU Libraries.
Library as "third place"
For more than 20 years, the citizens of Austin, Texas, have yearned for a bigger, more modern central public library. "We have a vibrant and rapidly growing city here, and we have all kinds of people who expect all kinds of services," says John Gillum, Austin Public Library facilities process manager. With the planned grand opening ceremony of the New Central Library in April or May 2017, those services will finally be available.
Planned amenities include a restaurant, bookstore, art gallery, rooftop garden, event forum, and bike corrals with an attached repair shop for the convenience of patrons arriving via the adjacent hike-and-bike trail. While tenant contracts are still in the works, Gillum promises the spaces will be "hip and happening," adding that the library will have "the best public city views" anywhere in Austin.
"Our world is changing rapidly," says Gillum. "[The library] has become a great third place between work and home, where everyone is entitled to go." Much as Salt Lake City's library can be thought of as a living room, Gillum envisions the Austin Public Library as a civic center of sorts. "We are becoming the town hall for people to interact with each other," he says.
The challenge of mixed-use environments
Though shared space within libraries can bring many boons, it comes with challenges, too.
Several times a year at NCSU, representatives from the library, café, and several other areas meet to discuss building logistics. "I think we do benefit from sitting down with everybody who has space in the building on a regular basis and making sure we're all aware of what's going on," says Deaton.
As a retailer attached to a public entity, Tan, the florist in the Salt Lake City library, notes that politics sometimes come into play. He also cautions that the library sometimes attracts people who aren't conscious about their environment. "They sometimes need a little extra help, and if you're not willing to put up with that, the library might not be the place for you," he says. Overall, though, Tan values what he calls a "symbiotic relationship" with the library.
In Austin, Gillum agrees that being part of a government agency can create additional hurdles. "If we weren't a bureaucracy, it'd probably be easier to strike one of these agreements [with tenants]," he says. "But you know, everyone wants us to be a success," he adds.
For Shaw, a library like Salt Lake City's showcases what public libraries are really about. "It takes a whole new set of skills, and a whole new understanding of what it is to be a good landlord," he says. "But I also think it's just really worth it."