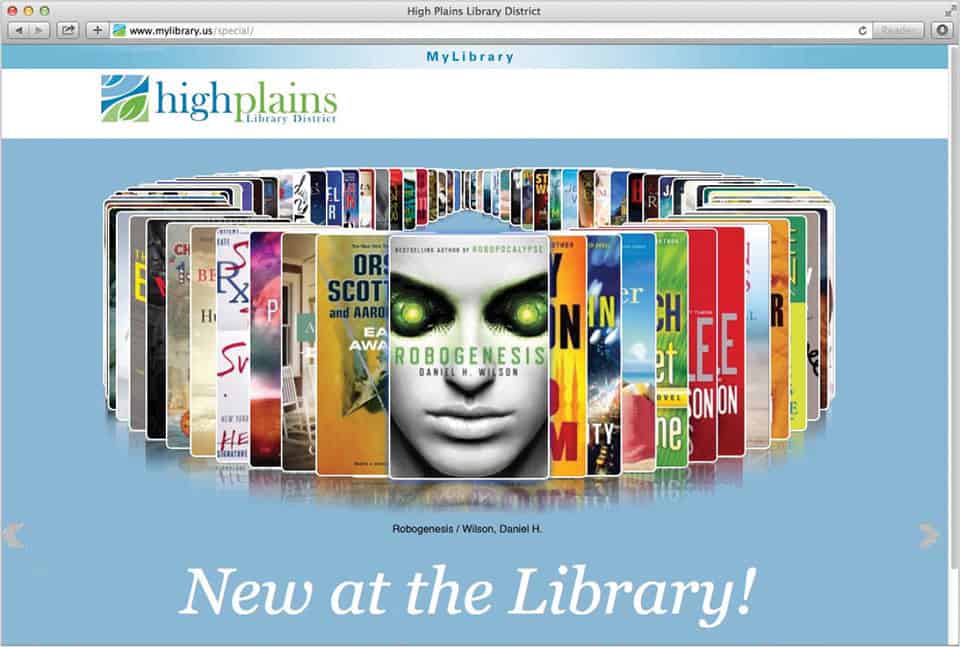 Library websites are often the first point of contact for users, which means it's increasingly important to provide the best user experience possible. Here are some ways to increase the amount of information patrons can get from your online catalog, simplify participation in events, and improve the overall website experience.
Syndetics Unbound
Syndetic Solutions and LibraryThing for Libraries were designed to make online library catalogs more informational and interactive. ProQuest has now combined these two services into Syndetics Unbound, which provides 16 different catalog enrichment elements in one service.
Many of the features will be familiar to those who are used to shopping for books online. Author information, related titles, professional and user reviews, a "look inside" feature, and others can be viewed on the item's page in the online catalog. The package also offers features that re-create the in-person browsing experience, like bookshelf widgets that display recommendations or themed selections, as well as a shelf-browse feature that uses call numbers to display a virtual shelf of available items.
The updated catalog enhancements include extensive crowdsourced information from LibraryThing users, including a librarian-curated collection of 95 million tags that expand the way users can search for items. Patrons can also add their own reviews and ratings to their library's catalog, which can then be showcased on the library's homepage or social media to increase engagement.
Syndetics Unbound can be integrated with many existing OPACs and discovery products including Polaris, Library.Solution, Evergreen, and Koha. For libraries that already subscribe to either Syndetic Solutions or LibraryThing for Libraries, upgrading to Syndetics Unbound requires no changes. The new admin tool provides statistics on which elements are using and which are driving usage of resources, and individual elements can be enabled or disabled in the catalog, depending on the library's needs and preferences.
For more information on Syndetics Unbound, visit proquest.syndetics.com.
SignUp
SignUp, a new event calendar management platform from Evanced, helps make scheduling and registration for library events seamless for patrons and librarians. It provides an online calendar, email reminders, and other features that help increase awareness of and participation in library events. The platform recently updated to a mobile-friendly design and enhanced its calendar and branding options.
List and calendar widgets can be integrated into the main library website and ILS, showing all upcoming events or events in a particular category in multiple places, including self-checkout kiosks. Once on the calendar page, patrons don't need to leave the site to register or to pay event fees, simplifying the process and eliminating the need for additional platforms. When patrons register online, they can export the event information to their mobile calendars and also opt in to receive email or text reminders, which are sent automatically prior to the event. Buttons and labels on the event page, including icons and color-coding by event type, are designed to be intuitive so patrons can easily browse events.
Event setup is completed through a staff dashboard, which includes options for creating recurring, public and private, and paid events; limiting attendance; and fine-tuning waitlists. Event types and age group categories can be tagged to events to aid in searching and are fully customizable based on the library's needs. For libraries with a larger number of meeting spaces or frequent events, the system will also give an alert when there is a room conflict.
The staff dashboard includes a news feed that shows new registrants, attendee cancellations, waitlist status, and changes made to events by staff. Event and patron reports allow staff members to analyze who is attending events in order to improve scheduling and attendance.
More information about SignUp is available at evancedsolutions.com/products/signup.
Custom Content Management with Wagtail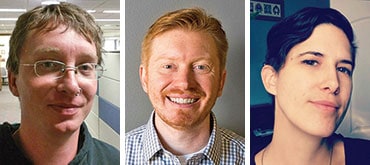 Users: Brad Busenius, web developer; John Jung, programmer analyst; and Kathy Zadrozny, web developer and graphic design specialist; The University of Chicago Library
Product: Wagtail
Details: Wagtail, originally developed by Torchbox, is an open source content management system (CMS) that allows developers to custom-design the CMS interface for their institution.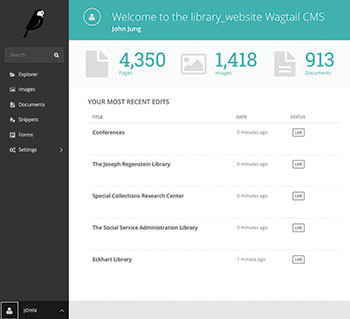 How do you use Wagtail?
Wagtail is the CMS behind our publicly accessible website and our intranet.
How does Wagtail serve your library's needs?
We redesigned our website this past summer. One of the design goals was to make the site easier to maintain. We wanted our librarians to be able to enter information in one place and then display that information in different ways in different places on the site. Then we wanted patrons to be able to browse the content in different ways, but we wanted to present this all in a regular, neatly organized way.
What are the main benefits?
While many systems can be installed and immediately used, the Wagtail CMS is something you hand-craft. Though it might seem like this would be more work, we found the opposite to be true. Wagtail's front end is completely customizable, allowing us to create and implement our brand from the ground up. What we ended up with was something that met our needs exactly.  Since Wagtail is driven by fielded content types, we were able to have a large degree of control over the formatting of text in different sections of our templates. Instead of having one large rich-text area where web authors can enter whatever they want, we have different fields, each with the correct type for their function. This gives us much more consistent formatting across the site.
What would you have like to see improved or added to the service?
The Wagtail development team has been great. It's an open source project, so we can develop new features and submit them back to the main development team. We would like to see a way to customize the admin interface so we can add our institution's branding and change the color scheme to reflect it.