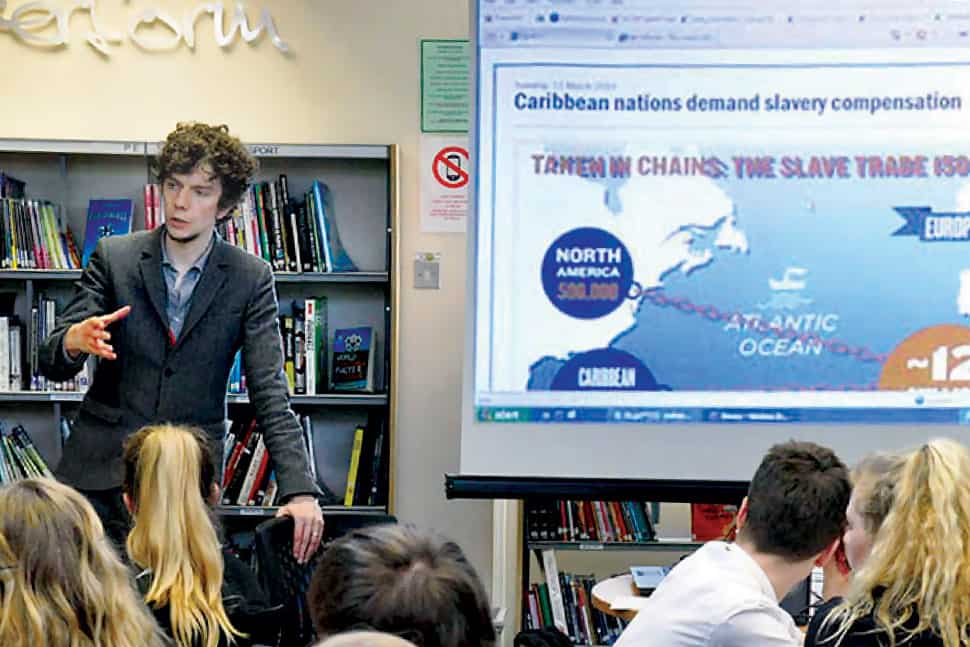 Concern about "fake news" is currently inescapable, but libraries hold the key to providing reliable sources, context, and multiple perspectives. The following new resources offer support to those who are navigating the world of information, providing researchers with primary source documents with a global scope, students with news and news analysis, and academics with a recently developed contextual search engine.
The Day USA
In 2011, British journalist Richard Addis founded a daily online newspaper called The Day to provide news to classrooms across the UK. The objective was to focus on unbiased reporting and curriculum integration. A parallel North American service, called The Day USA, was launched this past February. It is available to US, US international, and Canadian schools. The Day USA is geared to middle and high school students, and a second version of the site, The Day USA Explorer, includes content curated for elementary school students.
The Day USA employs full-time journalists in newsrooms in both London and New York, publishing up to six articles and features per day, along with weekly and special features. Articles focus on high-interest news stories and are independently written and researched—not recycled from other news outlets. Students can vote to "choose the news," determining one story that will be reported on during each week. Articles also include discussion points, follow-up activities, and further reading links. Supplemental materials, such as questions, homework, and research activities, can be printed, saved as PDFs, and made accessible via a learning management system.
Additional archived articles that were originally written for the UK version are also available through The Day USA, giving this resource a wide range of material at launch. All articles are searchable by content area, keyword, curriculum concepts, and themes. A "connections" section focuses on links between literature used in the classroom and topics currently in the news, encouraging students to find parallels and apply critical thinking to both forms of media.
The Day USA is available as an educational database through Follett. For Follett customers, The Day USA can be integrated with Destiny and is searchable by Destiny's One Search option. Annual subscriptions are $500 for individual middle and high schools, and $300 for individual elementary schools. Group and district purchases are eligible for discounted rates.
More information on The Day USA is available at thedayusa.com.
Readex: Twentieth-Century Global Perspectives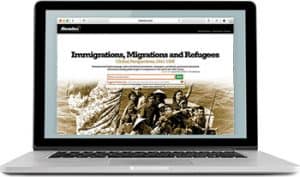 Readex, a provider of primary source archives, has introduced a new family of primary source resources. Twentieth-Century Global Perspectives brings together digital resources comprising primary source documents from around the world that focus on five separate categories: apartheid; American race relations; the Cold War; immigrations, migrations, and refugees; and the Middle East and North Africa. Each of these categories includes original sources such as government publications, newspapers, and transcribed television and radio broadcasts, as well as US government analysis, collected by the CIA between 1941 and 1996.
With increasing interest in immigration, race relations, unrest in the Middle East, and tensions between the US and Russia, these collections provide access to valuable sources that can provide history and context for current situations. The focus on sources from outside the US also allows researchers to explore these topics beyond current political frameworks.
Readex recently introduced "suggested searches" for these resources, a linked outline of the main subjects within each collection. This feature allows users to browse by topic and guides them to key concepts, perspectives, and analysis within the source documents. This feature is especially helpful for those who are browsing or just beginning their research. All Search, which allows users to search across the Readex collections that are a part of an institution's holdings, will also be updated to include these collections by the end of 2017. Each of the resources in the Twentieth-Century Global Perspectives collection is available as a separate product, so libraries can tailor their subscriptions to their individual needs.
For more information, visit readex.com/content/twentieth-century-global-perspectives
Yewno: Contextual Search
User: Elizabeth Chase, head of collections, assessment, and user engagement, Stonehill College MacPháidín Library, Easton, Massachusetts.
Product: Yewno
Details: Yewno is a contextual search engine that uses statistics and machine learning to illustrate connections between topics as a research aid.
How do you use Yewno?
Yewno is a discovery tool that uses concept mapping and deep semantic analysis to help students discover connections between topics. We currently use it to supplement our discovery platform for local holdings.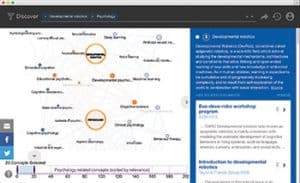 How does Yewno serve your library's needs?
While students use Yewno throughout their research, we see two main points at which this tool is enhancing their research experience.
First-year students who are just beginning their research often make surprising and unexpected connections using Yewno. In our instruction sessions, librarians demonstrate how first-year students can use Yewno to narrow their research topics and find exciting new avenues for exploration.
Seniors who are working on their capstone thesis projects in their majors might approach Yewno differently. For these students, they want to find the gaps in the concept maps, the places where scholarly literature hasn't already made the connections in which they're interested; students can use these gaps to refine and shape their contributions to current scholarship.
What are the main benefits?
Often, students come to us with a set idea about which resources they need to find to complete their assignments. What Yewno encourages them to do is to be open to the process of discovery; this tool enables us to highlight the role of serendipity in the research process.
Additionally, Yewno shows students the wealth of materials available beyond Stonehill. Because Yewno is collaborating with publishers to build their content, students can see high-quality, vetted resources of the kind faculty members want them to use, beyond what we subscribe to at Stonehill. They can then access these resources through interlibrary loan.
What would you like to see improved or added to the service?
Yewno also offers institutions the ability to ingest local holdings of unique materials, and they are working to add a news feed for current events content. We are looking forward to working with Yewno to highlight our collections. The Yewno team has been extremely responsive to our feedback.