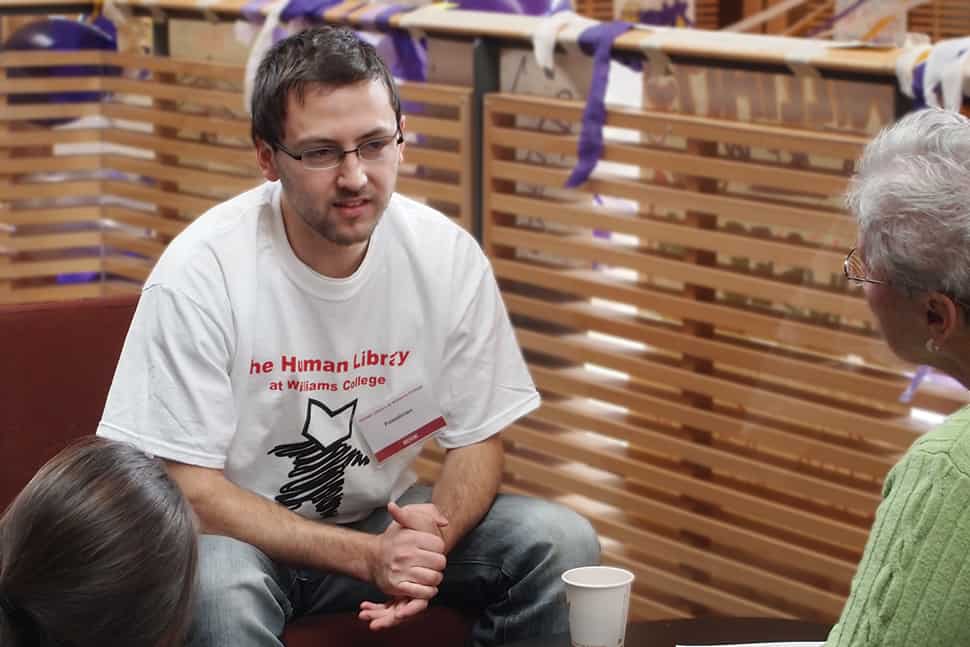 Christine Ménard, head of research services and library outreach at Williams College in Williamstown, Massachusetts, first read about Human Libraries in a French newspaper about seven years ago. At a Human Library event, patrons check out people—not books—to "read" through conversation. Someone might "read" an alcoholic, an immigrant, or an obese person by asking them direct questions in an intimate setting. The goal is to confront prejudice and stereotypes.
"That's cool," Ménard thought, though she couldn't imagine the initiative taking hold at her academic library. But that summer, another Williams professor also learned about Human Libraries while in Europe, and he later approached Ménard about collaborating on a campus event. That's how, in 2012, Williams College became one of the first institutions in the US to host a Human Library.
Globally, Human Libraries have taken off in a big way. More than 2,000 Human Library events have been hosted in 84 countries since the project first started 17 years ago, according to Ronni Abergel, founder of the international Human Library network, who cohosted the first Human Library in Copenhagen. Once the four-day gathering ended, Abergel says he couldn't let go of the vital conversations that arose between his living "books" and "readers," especially one between a police officer and a group of antifascist youth, a pairing whose relationship grew from antagonistic to productive within an hour.
"That's almighty and powerful," Abergel says. He founded his Denmark-based nongovernmental organization in 2007 and trademarked the term human library in America in 2010.
That's right: trademarked. In order for an event to call itself a Human Library, its organizers must apply for permission from Abergel and the Human Library organization. There is an online application and a $59 fee (with scholarships available). And once an organizer is approved to host, he or she receives an eight-page licensing agreement and training materials that explain how to assemble a proper gathering.
"It's not a storytelling event," Abergel says. "It's about having difficult conversations with people who experience prejudice. We're not talking about our garden or our stamp collection. We like to talk about the things that hurt, the things that people are afraid to talk about.
Conceiving a Human Library
For library staffers who want to launch Human Library events at their institutions, organizers recommend starting early. "You need a good several months just for 'collection development' because good 'books' can be hard to find," says Erwin Magbanua, adult programming and special events coordinator at San Diego Public Library, which hosted its first Human Library in March.
Megan Gilpin, outreach coordinator for library learning services at Penn State University, helped coordinate the school's first Human Library in February. Penn State did about two months of work before even applying to be an official Human Library site, and her team started meeting biweekly in July 2016 for its February event. It took a while to plan, Gilpin says, because they were starting the project from scratch.
For those who don't want to begin from square one, Human Library is developing Book Depots, localized collections of vetted, trained "books" for loan. Borrowing from a nearby depot will save organizers the trouble of recruiting, selecting, packaging, and coaching their "titles." Abergel currently offers a depot in Chicago, with sites planned for Goffstown, New Hampshire; Indianapolis; San Diego; Tucson, Arizona; and Wichita, Kansas.
But for libraries that want to "lend" their own books—or who don't live near a depot—finding the right personality is key. "When you're seeking human books, you need people who not only have interesting backgrounds but who are willing to put themselves out there and talk to strangers," says Abby Kasowitz-Scheer, learning commons librarian at Syracuse (N.Y.) University Libraries, which recently ran its fourth Human Library event. Kasowitz-Scheer emphasizes the importance of personal narrative to her recruits. "We're an academic institution, but [the Human Library isn't] focusing on your research or third-person stance on an issue," she tells them. "It's about personal stories."
Breaking stereotypes
Ménard stays close to the Human Library mission of breaking stereotypes. "A few years ago," Ménard says, "we wanted to expand our books. We went broader—gemologist, diner owner—and it became very much like a career fair."
Abergel imagines human books as representatives of stigmatized communities. A bulimic "book," for instance, stands in for all bulimic people. For this reason, he prefers simple, one-word titles like "bipolar" or "polyamorous." But Ménard, Kasowitz-Scheer, and Gilpin take a different approach, allowing "books" to submit their own title information—which often means lengthy biographical stories. "People tend to have titles with subtitles and colons and exclamation marks," Ménard says. "We do a lot of work shortening [them]."
Good hosts coach their tomes. "Prior to the library event, we offered to meet one on one with our books to help them clarify their story and practice talking in front of people," Gilpin says. It's also important to be sure that "books" are mentally sound and that they have an option to take breaks during library events, which can be emotionally taxing.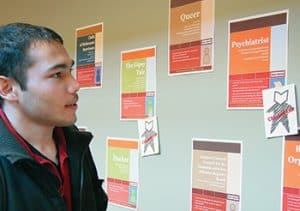 The basic format of a Human Library differs between institutions. Kasowitz-Scheer and Ménard both run one-on-one checkout sessions that last 20 minutes, with 10 minutes of transition time in between. In contrast, Gilpin offers 45-minute checkouts for group audiences. "For me, logistically, the group format was easier. I also thought it would be less intimidating for our readers," Gilpin says.
Kasowitz-Scheer felt nervous before running her first Human Library because she thought that audience members would get upset by heavy conversations about topics such as abuse. "But it wasn't like that at all," Kasowitz-Scheer says. "People were inspired by the strength of survivors and by people's ability to go on after difficult life experiences."
Though Magbanua has hosted many events in his career, he's "never felt such satisfaction and certainty" that a Human Library was "the absolute right program to do at the right time." His event brought in more than 100 readers, and he has already received three requests from other groups that want to organize their own libraries.
"The event continues to reverberate almost a month afterward," Magbanua says. "I'm still getting feedback from different people about how they were moved by it."