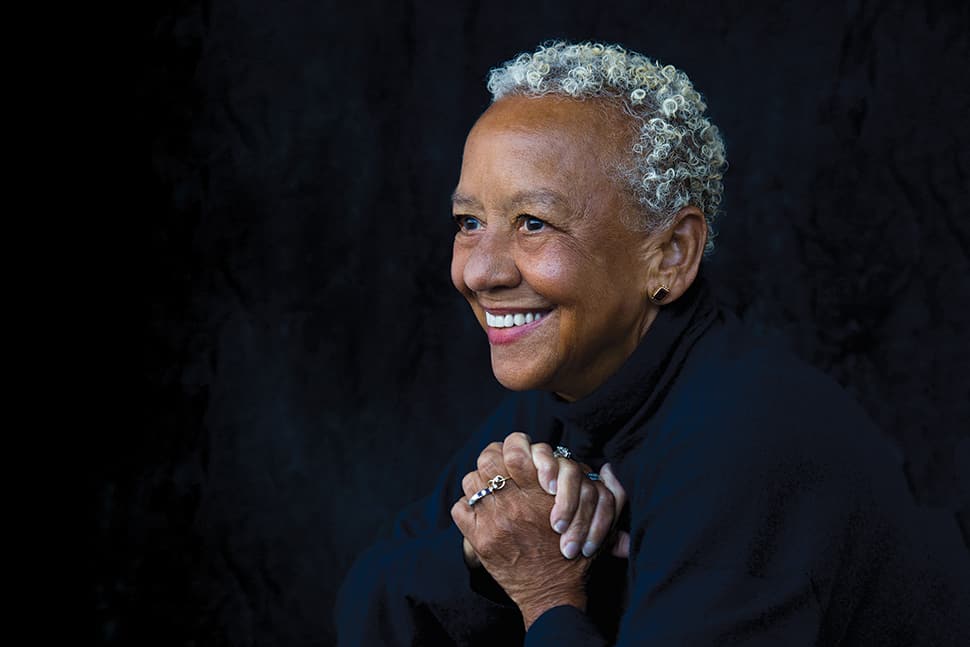 Nikki Giovanni, who has written or edited more than 40 books, is one of the most widely read African-American poets in the world. Since the 1960s, her lyrical yet down-to-earth explorations of themes such as civil rights, racial pride, and family life have revealed a spirit both grounded in reality and passionate about possibility. As part of the 2017 American Library Association (ALA) Annual Conference and Exhibition in Chicago, Giovanni headlines a June 23 reception to benefit ALA's ­Cultural Committee Fund. Her latest work, A Good Cry (Harper­Collins), will be published in October.
When you were growing up, what was your relationship to libraries like? We went to the Carnegie library that Andrew Carnegie had built for black Americans—Knoxville, Tennessee, was still segregated—and my librarian was Mrs. Long. I remember her getting books for me: "Well, Nikki, would you like to read this?" Some of the books I asked for, the Carnegie library didn't have, and she had to go up to the white library to ask for them.
You published your first book of poetry, Black Feeling, Black Talk, in 1968. Why did you decide to self-publish it? I just didn't think that anybody would be interested in publishing me. Like a lot of people, I dislike rejection, so I thought, "The way to avoid it is not to ask." I asked a printer, "If I printed 100 books, how much would that cost me?" He said, "A hundred dollars." I thought, "If I can sell 'em for a dollar apiece, I can break even." I wasn't trying to earn a living. I was just trying to get the books out.
Your poem "Allowables," which discusses your experience of killing a spider, has popped up a lot on social media in the past year. People seem especially moved by the last few lines: "I don't think / I'm allowed / To kill something / Because I am / Frightened." Why do you think that is? I don't do social media. I don't know how Trump does that thing, Twit. I don't know where he gets the time. But I have been amazed that this poem has been embraced the way that it has.
You don't have the right to kill something because it might frighten you. All of us are hurting people we shouldn't. I'm living in Appalachia, and a lot of people are upset with the coyotes. Well, you're not allowed to shoot the coyotes just because you think that they might eat your sheep. They can't get a driver's license and go to McDonald's; they have to eat something.
You share many memories in your forthcoming book, A Good Cry. What prompted you to write it? I had a seizure. My doctor says I had it because I had high blood pressure, and I say it's because I never learned to cry. Crying is a skill, and I think that we ought to be encouraging people to let it out, and that's how I came to do the book. I'm learning to cry. I'm not embarrassed. I'm not trying to be brave anymore.
One of your big interests is outer space. Would you go to Mars if you had the chance? I would, but I know I can't. I talked about it with Charles Bolden, who until recently was the administrator of NASA. He said, "Nikki, I can send you up, but I can't bring you back." I had lung cancer and had my left lung removed. So if I came back into gravity without that lung there, my organs would move around, and that would kill me. I tried to make a deal: "I'm 73 years old. Maybe in the next 10 years, you'll allow me to go into space. I'm going to die anyway; that's not something that frightens me. So when I do die, just open the hatch and let me out."