The category: Beloved TV Programs.
The answer: Roughly 150 librarians have competed on this game show since 2005.
And the correct question: What is Jeopardy!?
"We use a lot of librarians on the show," says longtime Jeopardy! staffer Maggie Speak. "One of the coolest things about being a librarian, from what we hear from our contestants, is that on any given day they're facing a whole new set of questions or problems, and that keeps them very sharp. Plus, for our show, personality is a big factor. Trust me, we've seen some librarians—they're a lot of fun."
Here, 11 librarians who have appeared on Jeopardy! share their stories of applying for and competing in one of the nation's most popular game shows, which first aired in its current form in 1984.
The contestants
BEN ALMOITE, government and law librarian, Henrico County (Va.) Public Library, appeared on the show in 2016.
EMMA FLORIO, special collections library assistant at Newberry Library, Chicago, appeared on the show in 2017.
ELIZABETH GALOOZIS, head of information literacy, University of Southern California Libraries, Los Angeles, appeared on the show in 2010.
JENNIFER HILLS, reference librarian, Twin Falls (Idaho) Public Library, appeared on the show in 2011.
KEN HIRSH, director of the law library and professor of practice at University of Cincinnati College of Law, appeared on the show in 2016.
JULIE HORNICK, instructional services librarian, Florida Southern College, Lakeland, appeared on the show in 2014.
MARGARET MILES, system services librarian, New Hanover County (N.C.) Public Library, appeared on the show in 2016.
GRETCHEN NEIDHARDT, cataloging and metadata librarian, Chicago History Museum, appeared on the show in 2017.
ELAINE SKOPELJA, librarian emerita, Ruth Lilly Medical Library, Indiana University School of Medicine, Indianapolis, appeared on the show in 2004.
DIANE TRAP, reference librarian and graphic specialist, University of Georgia Libraries, Athens, appeared on the show in 2009.
SARAH TROWBRIDGE, public services librarian, Fayette County (Ga.) Public Library, appeared on the show in 2016.
The tryouts
SKOPELJA: Jeopardy! was at the Indiana State Fair taking applicants. My kids talked me into it, so I went and stood in line for two hours in 90° heat with about 1,200 people, watching the fried Twinkies go by.
HILLS: I auditioned at a hotel in downtown Seattle. We did a mock game. I got paired with two guys, and I hadn't realized they were from Canada, and one of the categories was American generals. I was just whipping through it and then realized I shouldn't feel so proud of myself.
ALMOITE: How did I find out I'd been chosen for the show? My wife, son, and I were having dinner, and my cellphone rang. I looked at it. The caller ID said CULVER CITY [California, where Jeopardy! is taped], and my wife and I just looked at each other and screamed.
TROWBRIDGE: It was crazy. They called me at work. I didn't tell my coworkers right away; I just tried to act normal. I told people later that day, but initially, I wanted to make sure it wasn't something I was dreaming up before I ran around and acted nutty about it.
NEIDHARDT: My phone call came on Election Day, so that was a roller coaster of emotions. It was odd because at first the person was just updating my information and asking if I'd committed a felony, and then at the end it was like, "Oh, you might have guessed, we want to ask you to be a participant."
Prepping for the big day
NEIDHARDT: It was kind of nice I had only a month to stress out about it. I was having crazy dreams the entire month.
MILES: There are people who practice and analyze and study very intensely before they get on the show. I was not one of those people. I did start trying, when I was watching Jeopardy! at home and telling the TV what the answer was, to phrase it in the form of a question.
HORNICK: I was a school librarian at the time. Before I went out to California for the taping, I told my students, "Come up to me any time of day with any kind of question." If a student could ask a question that I couldn't answer, I would give them a Dum Dum sucker. I don't know if they enjoyed trying to stump me or they just wanted the sucker.
GALOOZIS: I read some blogs by former contestants and used The New York Public Library Desk Reference for things like the longest river, the scientist who discovered X. And I practiced buzzing in while watching the show.
HIRSH: I suspect for people my age, you know what you know, and you're not gonna be able to cram to learn much more. I did get a couple of tips from other law librarians I know who've been on the show, like to rehearse standing up in front of the TV because you're gonna be standing in the studio.
Pregame jitters
Most contestants stay in the same hotel a few miles from the studio in Culver City. Jeopardy! doesn't pay expenses to appear, but the hotel offers a group rate to contestants and a shuttle bus to and from the studio.
GALOOZIS: We were all sitting in the hotel lobby, sizing each other up.
TRAP: The night before [going on the show], the public areas of the hotel were being renovated, so there wasn't a restaurant or a bar or anything. So I got room service and ironed my clothes. I watched that night's Jeopardy! and it was the college tournament, and I was like, "These kids are too smart. I can't do this." I think I did sleep that night, though. The hotel had those Sleep Number beds, so at least I had that to play with.
MILES: The day you compete, they send a van to pick you up from the hotel at 7 a.m. One good thing about coming from the Eastern time zone was the fact that my brain didn't think it was really 7 a.m.; it thought it was 10 o'clock, a perfectly civilized time to be doing something.
HILLS: I didn't think I was nervous. All of a sudden we got there, and I started thinking, "Oh, this is serious."
HORNICK: The woman doing my makeup had actually done (Wheel of Fortune cohost) Vanna White's makeup in the past. They do the full foundation and eyes and lipstick and rouge and all of that. I think it lasted the whole day, even flying home that night.
FLORIO: When it's your turn, you go up to the stage, and there's a little stand behind each podium that goes up and down so they can get all the contestants to be about the same height.
HILLS: I felt a little self-conscious, like, "I hope I don't get excited and fall off my riser." That was in the back of my mind: "Just don't fall off the riser."
MILES: They put me on a box and adjusted me, and I thought, "I'm going to fall off the box." And that's the last time I thought about the box.
Game time
FLORIO: The first time you see Alex [Trebek] is when he steps out on stage at the beginning of the game, as he would on TV.
HILLS: The thing that frustrated me was the buzzers. I grew up in the 1980s; I'm not a stranger to videogames, but it still was a little tricky. They said, "Push that buzzer until you can get in. Don't just push it once." I just couldn't get in the groove of it.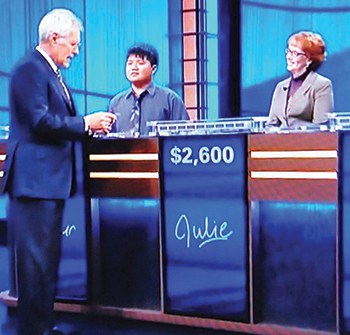 HORNICK: I'm thinking, "Crud, don't end up in the red, just don't end up in the red." Before the first commercial break, I think I was in the red.
ALMOITE: I smiled when I got the wrong answer and my money went down to zero. I felt like I did my best just being up there. I didn't beat myself up too much till later that night, when I had time to think about it. With the lights on you, your brain can definitely be affected.
SKOPELJA: This was the Ken Jennings era. I did lead him for about 30 seconds. For 30 seconds, I had more money than he did. My kids took a screenshot of it.
Jennings won 74 games in a row on Jeopardy!, a record for the show.
TRAP: I was behind till the very end and won in Final Jeopardy. The next game, I lost in a terrible way. I did so badly that they actually switched out my buzzer in case it was malfunctioning.
GALOOZIS: In one of the games, there was a category called Mixed Drinks, and I think I got all of them except the first one. Later my grandmother was like, "Wow, you really know your drinks."
Playbooks
FLORIO: I didn't get one where the answer was "David Foster Wallace," and the question was something like, "The mother of this author came up with the word 'greeble.'" I thought that sounded like a Dr. Seuss kind of word, so I said, "Dr. Seuss." As a librarian, especially, I felt bad about that one.
HILLS: When the Final Jeopardy question came up, I thought, "Oh, thank God I'm a librarian." It was something like, "This biblical name has enjoyed a revival because of Stephenie Meyer's books." I knew that it had to be "Jacob." Afterward, we were talking with Alex, and he said, "Now, how did you know that?" And I said, "I'm a librarian. If I didn't know the answer, I think they'd revoke my membership."
TROWBRIDGE: I'm a librarian, of course, and I never should have gotten a Harry Potter question wrong, but I did. The answer was supposed to be "hippogriff," and I said "griffin." I had brought a friend with me who was in the studio audience, and I could practically hear her suppressing a scream.
Miles, who was a contestant in April 2016, saw her on-air interview with host Alex Trebek go viral after he asked about her interests.
MILES: During the part when Alex Trebek chats with the contestants, he came up to me and said, "So, Margaret, you're a librarian." Which was, to me, fairly obvious to the point of being unanswerable, so I didn't say anything. Then he said "Clearly, you read a lot. What else do you do for fun?" All I could think to say was the plain truth, which was: "I knit, and I pet cats. I'm hopelessly stereotypical."  He laughed, and he said, "I love it, I love it." That is the line that had me trending on Twitter, as I found out after the show aired. I don't do Twitter regularly myself. I did create a Twitter account for one of my cats a while back, but he didn't look at his Twitter feed that night either, so neither of us knew about it until the tweetstorm had died away.
Check out Margaret's interview with Alex to learn about other things she enjoys. Do you think she'll be well-read enough to win it?

Posted by Jeopardy! on Thursday, April 14, 2016
Postgame highlights
NEIDHARDT: Afterward, I felt mostly relieved. Just super relieved that it was over and that I had held my own.
TRAP: Once you are not playing another game, you're just on your own. I walked alone to the gates of the studio, past the Wheel of Fortune studio. In a movie, it would be a very sad moment, but I just thought it was kind of funny.
HORNICK: It was exciting to be there, but I felt like I'd let myself down, as unreasonable as that is. I'd dreamed of it for so long, I thought, "This'll be so exciting," and all of a sudden, it was over.
TROWBRIDGE: They send you home with a tote bag, a cap, and a ballpoint pen that looks like the buzzer.
HIRSH: Even being a one-day champion, I put it on my Twitter biography.
SKOPELJA: I just wish so bad I could get on again. I want to avenge myself on somebody.
The aftermath
NEIDHARDT: Not too much has changed. You do get a lot of creepy messages on Facebook for a little while.
GALOOZIS: Sometimes when I'm interviewing for something, people will have googled me and found out. There was a professor who would introduce me when I did instruction sessions and talk about the fact that I'd been on Jeopardy! I wasn't sure how much the students were impressed.
HILLS: I happened to be in the grocery store one night, and there was a gal on one of those scooter carts, and I'd go down an aisle, and she'd come down the same aisle. I was kind of getting creeped out. Finally, we came out in the produce section, and she said, "Were you the girl that was on Jeopardy!?"
MILES: The most surprising incident was a good six months after the episode aired. I was in New York City in the Metropolitan Museum of Art, and a total stranger walked up to me and said, "Were you on Jeopardy!?" Sometimes they ask for photos. I don't have to look at their pictures afterwards, so that's all right with me.
TROWBRIDGE: I definitely still watch the show. It's the thing I will always do.