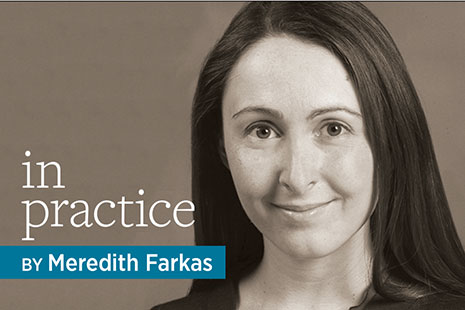 Libraries are still important to the communities we serve, but the ways in which our patrons seek information and use our resources have changed with the growth of the web. Academic libraries have seen a steady decline in reference traffic since 1998, and the 2017 Public Library Data Service Report shows an almost 10% decline in reference transactions versus the previous fiscal year. According to the Pew Research Center, "librarian" is still among the most trusted occupations in our communities, but our patrons' habits have changed while many of our service models have stayed the same.
Many libraries have turned to embedded librarianship as one solution to better serving patrons and demonstrating value to their communities. The term comes from the expression embedded journalism, which was first used at the start of the Iraq War in 2003 when journalists traveled with military units and reported from within the action itself. Similarly, being an embedded librarian means being where your patrons are. Embedding looks different depending on the type of library and the goals of the project, but all embedded librarian projects are focused on being part of the patron's environment so that they can be available at points of need rather than expecting patrons to come to the library.
I teach a course on librarian embedment at San José State University's iSchool, so I read many case studies about it. Some of my favorite examples include the Community College of Vermont's support of classes via the learning management system, Queensland University of Technology in Australia's incremental embedment into an engineering course, and Mount Royal University in Calgary's experiment measuring the impact of various levels of embedment, from assignment design collaboration to coteaching. Each case study demonstrates common potentials and pitfalls of embedment within a course or curriculum. Librarian embedment can go beyond course-specific support and includes moving offices to or holding office hours in the departments with which they liaise, providing reference services in high-traffic spaces across campus, and becoming part of faculty research teams.
Similarly, librarians in K–12 settings can support instructors' assignment and course design, support students' online course activities with online guides, or even coteach classes.
In public libraries, the goal is also to embed library resources and librarian support at their patrons' points of need. This can include having a librarian provide reference support at local community organizations such as those that support small businesses, veterans, immigrants, or the homeless; librarians supporting municipal planning and local government with research; or providing library services at community events. All of these options bring library services to members of the community who may never have thought of visiting the library or about how it could help them.
Embedded librarianship is about building strong relationships within the communities libraries serve and requires a deep understanding of the needs and habits of our patrons. One major challenge with embedment is workload. Some models can be labor-intensive, and having librarians leave the building can spread staff even thinner. Many libraries that have done embedded projects have tried small-scale pilots to anticipate the impact on their staffing and patrons. It's possible that the success of an embedded librarian project will depend on altering existing services or staffing.
The environment in which libraries operate has changed significantly over the past two decades, so we have to consider changing our service models to meet current and emerging needs. Finding ways to support patrons without expecting them to visit the library can help libraries become even more vital to their communities.