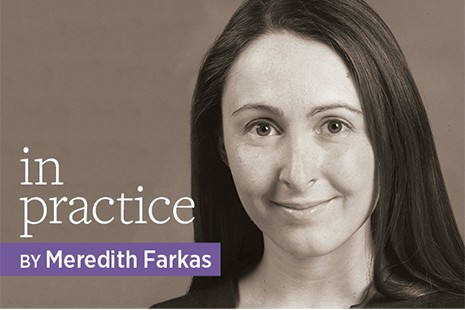 While social media and search companies are changing their policies and algorithms, fake news continues to proliferate on the web. Librarians who work with students know that the inability to identify fake news speaks to a larger problem: the inability to evaluate sources of any kind to determine what information to trust.
A 2016 study of the web evaluation skills of middle school, high school, and college students by Stanford University's History Education Group found that young people are quite likely to be duped by misleading or false information. Even Stanford's own students, when evaluating articles from the American Academy of Pediatrics and the conservative fringe group American College of Pediatricians, didn't bother to investigate the organizations themselves and simply focused on a close reading of the source.
Historically, librarians have used checklists like the CRAAP Test and RADCAB to help students evaluate sources, but some have questioned their utility. These checklists often contain so many elements that few people would apply the criteria to every (or even any) website they visit. The Stanford researchers also argue that checklists are not based on the real-world source evaluation activities of librarians and other web fact-checkers.
Michael Caulfield, director of blended and networked learning at Washington State University Vancouver, believes people should learn to read laterally, the way fact-checkers do. Reading laterally means looking into the publisher of the source information to gauge its reliability. This requires going beyond the About page of the source to see what others—such as Wikipedia, media bias checkers, and other websites—say about that site, publication, or organization. I have my students evaluate three articles about the Deferred Action for Childhood Arrivals policy. One of the most polished was written by a lawyer who had worked for US Citizenship and Immigration Services and had the most citations but was published by an organization the Southern Poverty Law Center characterized as a hate group. If students relied just on the page in front of them, they might think it was the most credible of the three.
The majority of sources lie in the gray area between unimpeachability and fake news.
Caulfield also recommends looking for stories from respected sources that corroborate the information, trying to follow the information back to the original source, and circling back to restart the evaluation process if you end up down a rabbit hole. He has written a terrific open textbook, Web Literacy for Student Fact Checkers, as well as many blog posts aimed at helping educators and librarians develop student fact-checking skills.
Another concern is that, in a world in which every source has some bias and nothing is perfect, making decisions about what to trust has become more difficult. In one blog post, Caulfield explains that true media literacy is about being able to "spend" your trust, and he shows how refusing to believe any media outlets is as dangerous as being too impressionable. He quotes philosopher Hannah Arendt's Origins of Totalitarianism about how propaganda easily takes hold when people can't discern between slightly problematic and deeply compromised sources: "In an ever-changing, incomprehensible world, the masses had reached the point where they would, at the same time, believe everything and nothing, think that everything was possible and that nothing was true."
The solution is not just helping people develop simple, common-sense web evaluation habits. It's also helping them determine what they are going to trust, since the vast majority of sources lie in the gray area between unimpeachability and fake news. Being able to make sound decisions about information sources is both a skill and a habit of mind, one that requires practice to develop. Libraries can play a vital role in building better communities by supporting our patrons in becoming savvy information consumers.