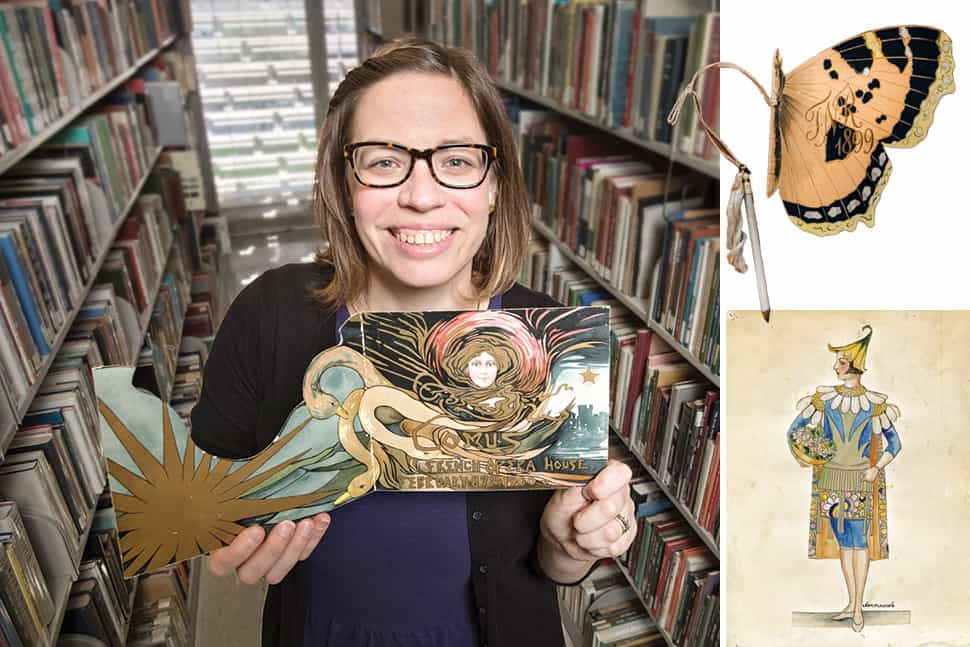 Every Carnival season brings with it some type of party ephemera—admit cards, beads, crowns, doubloons, duke badges—and New Orleans Public Library is there to catalog it.
"The invitations are definitely one of the highlights," notes Christina Bryant, department head of the library's Louisiana Division/City Archives and Special Collections. "They are each a miniature work of art and sometimes engineering," she says of the elaborately paneled and intricately drawn creations.
Other standouts in the Carnival collection, dating back to the 1860s, include costume and float designs done in watercolor, ink, and pencil; favors such as beaded purses, cosmetic compacts, mirrors, pins, and vases; and dance cards from different krewes (social clubs that select themes and throw parades or balls). Bryant describes the latter as tiny booklets with attached pencils that were used to reserve a rug-cutting.
"Each of these items is just one piece of the larger Carnival experience," says Bryant. Having the City Archives located in the same place also offers a civic view of festivities, through budgets, council records, mayoral papers, and ordinances.
Viewings are often requested by the public, researchers, and krewe members interested in seeing their groups' historic handiwork. "Our location in the main library helps to make the archives feel more accessible," she says.
"Carnival is an integral part of New Orleans," says Bryant, who admits that even the department mascot—a bust of Napoleon—dresses up.
"I believe that the preservation of these items, which would normally be considered disposable after their season was over, is a reminder of this."