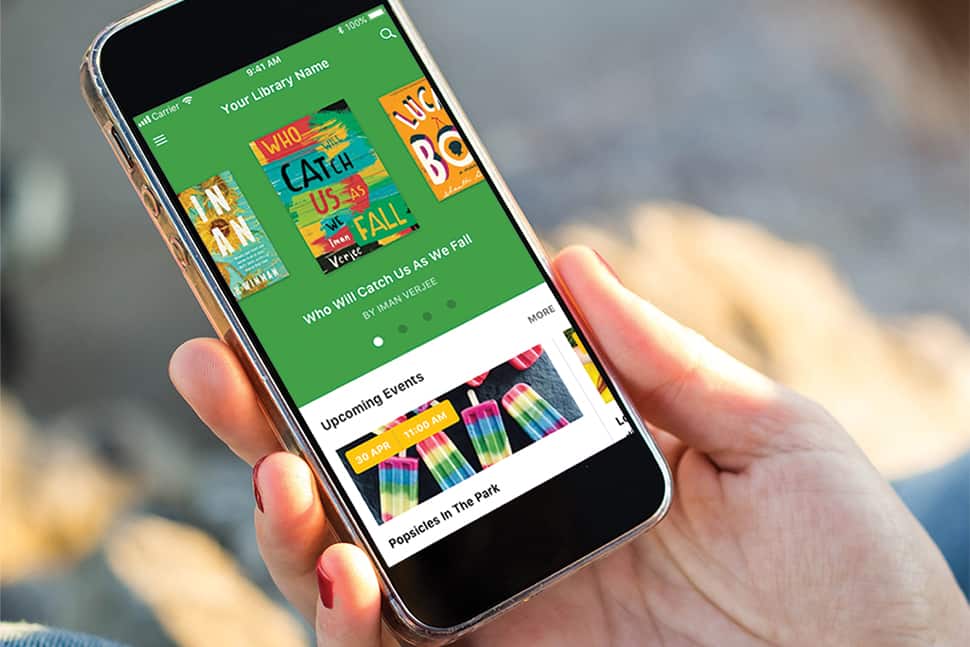 Many factors can keep a potential library patron from making it to a library location—work schedules, transportation, ability to travel. Digital offerings have helped libraries reach more people, but making sure they are aware of and easily able to access those resources remains a hurdle. Here are just a few ways to connect patrons to your resources, wherever they are.
DiscoverMobile by Demco
The recently launched DiscoverMobile app connects communities to everything their libraries have to offer. The app is available to all types of libraries and is designed to run on both Android and iOS devices.
The app is hosted and maintained by Demco—libraries manage only their own content and branding. Libraries can add book recommendation lists, social media feeds, and promotions for their events. Compatible with major integrated library systems (ILS), the app allows users to search the catalog, place holds, and pay fines.
Families can store multiple library cards in the app, manage holds and fines for each account, and use the app as a library card to check out materials. GPS features help users find information on and directions to the closest library branches. With multilingual functionality, ADA-compliant features, and built-in color and contrast settings, the app can also be helpful in outreach to minority communities and in promoting inclusive access to your library.
Through partnerships with many of the most common digital content services, including OverDrive and Recorded Books, users can search for ebooks, audiobooks, and videos within the app and are seamlessly transferred to the relevant partner app to download materials.
The app also syncs information from Demco's calendar management and room reservation software. Patrons can register to be automatically notified about events on their library's calendar they might be interested in, and can search for, preview, and reserve available meeting and study rooms.
Analytics tools enable assessment of app usage and downloads, daily and monthly queries, and unique users. The app also reports which parts of the app patrons use most, whether it's the library catalog, events page, or social media streams.
Pricing is based on population served. For more information, visit bit.ly/SolutionsDiscMobile.
BLUEcloud Mobile by SirsiDynix
SirsiDynix began work on its BLUEcloud platform several years ago to move its ILS and other software onto a central, cloud-based platform. BLUEcloud Mobile, launched in January, builds on that platform to allow libraries to offer a mobile app that is fully integrated with its ILS and other BLUEcloud software.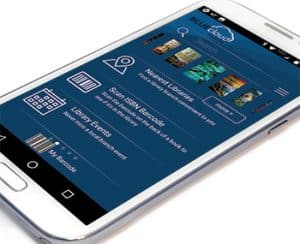 Libraries can customize the app to match their branding and promote services, materials, and events by adding content through a web-based content management system, with the option of embedding social media streams in the app.
The app takes advantage of mobile device features to offer specialized services. Geolocation services point patrons to nearby library branches in the system and allow them to filter search results to display only materials available at the nearest branch. Patrons can also use their phone camera to scan book barcodes to see whether they're available at the library and to scan and store their library card information. Push notifications, enabled by the library and controlled by the patron, send notifications of overdue books, hold arrivals, and events straight to the user's phone. Mobile beacon integration will be launched later in 2018, allowing libraries to set location-specific push notifications to provide information on events or library materials both within the library and in other partner locations.
Analytics reports for the app, including element-level usage, are available through the BLUEcloud Analytics platform.
Libraries are billed annually for the service, and pricing is based on library type and size. While the app is currently available only to libraries using one of SirsiDynix's two ILS platforms, the company is developing a version that will be compatible with other systems.
For more information, and for a price quote, visit bit.ly/SolutionsBCM.
Instant Digital Access in Sacramento

User: Matt Hill, e-resources supervisor, Sacramento (Calif.) Public Library
Product: OverDrive Instant Digital Card
Description: OverDrive's Instant Digital Card service allows patrons to sign up for access to library digital resources remotely using just their mobile phone number.

How do you use OverDrive's Instant Digital Card?
Sacramento Public Library uses the Instant Digital Card as an outreach tool at major events throughout the Sacramento region. It's one of the most efficient ways to engage with people and sign them up for a library card. We use bookmarks and quartersheet handouts that walk patrons through the steps, from downloading the app to checking out a book. We often prefer to walk the patron through the process in person to ensure their success, but at times patrons at outreach events are in a hurry.
How does the Instant Digital Card serve your library's needs?
Signing future cardholders up for a full-access library card while at a busy outreach event can prove to be difficult. It's often too time-consuming for the visitor and requires more hardware than we can set up in the space provided.
The Instant Digital Card has given us the ability to wow new patrons. They download the app, put in their phone number, and check out a book they've been waiting to read. In less than five minutes they're on their way and thinking about what other great things might be at the library.
What are the main benefits?
It gives patrons a no-risk look into the many services that the library has to offer. New patrons often ask, "What else can I do at the library if I get a full-access card?" We've had roughly 1,200 people sign up for instant digital cards in the first four months of the program, and about 100 later signed up for full access cards.
What would you like to see improved or added to the service?
I think the service is a great asset to public libraries, and OverDrive has done a great job of listening to libraries about what they need or want in it. The company recently added an option to request an email address when new patrons sign up, which makes it easier for us to reach out to them.