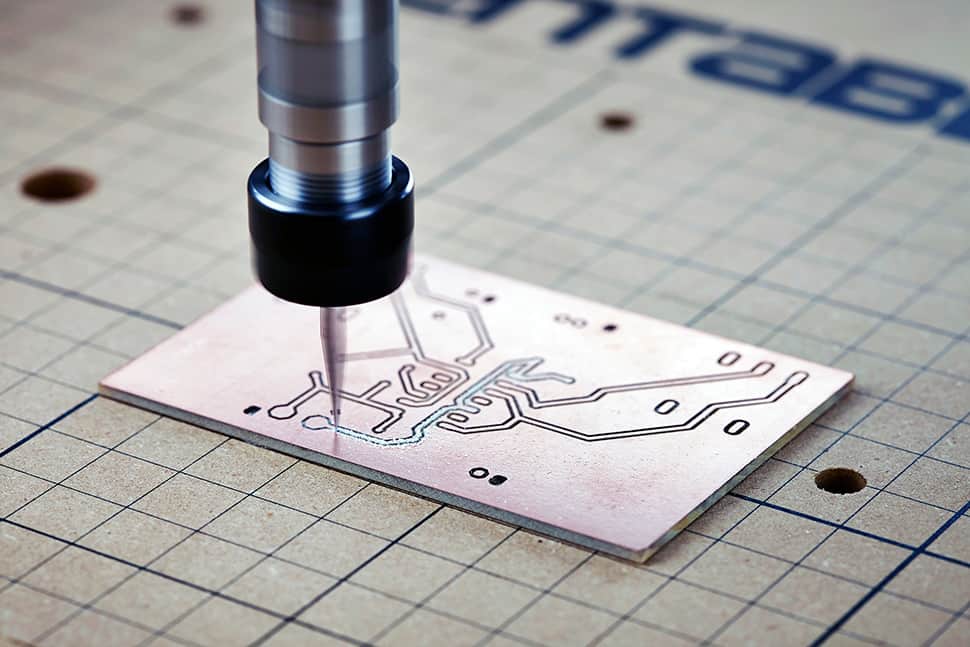 Additive manufacturing, a technique used by 3D printers to cumulatively add material following a digital design, is a major part of the maker movement and a near-ubiquitous feature of larger makerspaces. A wide range of standard 3D printers are on the market, each with unique qualities, but the following products can take the learning process in new directions—subtractive design, build-your-own printers, and pancakes (yes, pancakes).
Carvey
When Inventables launched Carvey in 2015, it was one of the first fully enclosed desktop computer numerical control (CNC) carvers, solving a problem many other subtractive manufacturing machines posed: They were large, noisy, and produced a lot of dust. Billed as a "3D carver," Carvey works within many of the same design principles of other 3D design platforms, but it removes material, rather than adding it, to create a finished product.
The machine can handle materials up to 2.5 inches thick and has a build area roughly the size of a standard piece of paper. With an array of color-coded bits, it can mill wood, plastic, and even circuit boards. An acrylic hood keeps dust and shavings contained while projects are being carved, though you'll still need to vacuum them out manually. The hood also helps protect users from getting too close to the bit while milling is in progress.
Carvey aims to make design and production of carved projects beginner-friendly. Easel, the free open source design software created for the machine, runs on any web browser and has an interface that will be familiar to anyone who has used basic graphic design software. You can also send toolpaths created in other programs such as Autodesk and MeshCAM to Carvey through Easel. Easel Pro, released in late 2017, offers a larger font library and efficiency upgrades for faster carving that, while intended for home manufacturers, may benefit high-traffic makerspaces as well. Easel Pro is $19.99 per month, with daily and yearly rates, and all Carvey owners have free access to the advanced software for four days each month.
Carvey is $2,499. More information can be found at inventables.com/carvey.
JellyBOX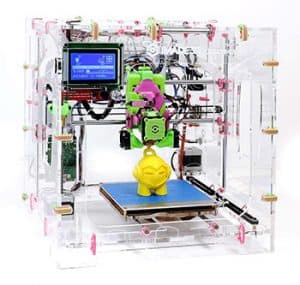 The first step in most 3D print jobs is designing a 3D image, but with JellyBOX from Imade3D, makers can start by building the printer itself. Available in two modular kits, the printer can be built in a single day and, since it's assembled using zip ties, is quick and easy to disassemble, making it ideal for small-group workshops on how 3D printers work. Its clear acrylic enclosure makes it easy to watch all parts of the printer as it works, and it's etched with the electronics scheme, which acts as a guide during assembly and an educational tool for users once the printer is assembled.
JellyBOX prints using most commercially available filaments, including PETG, PLA, TPU, and composites. It can print objects up to a volume of 6.7 x 6.3 x 5.7 inches, and its desktop footprint is a little larger than a 14-inch cube.
The Easy Build kit ($949) comes with most parts preassembled and the operating system preloaded. The Makers DIY kit ($799), geared toward more advanced groups such as engineering and robotics clubs, includes all parts and wires cut to size, but nothing is preassembled. Both kits come with sample filaments, the tools required to build the printer, and an online video and text build manual. Every component can be replaced, and many can be 3D printed—Imade3D publishes the design files on GitHub. Multiple upgrades are available, including a heated printing bed, dual filament fans, and Wi-Fi printing. Third-party modifications are also encouraged.
More information on the JellyBOX 3D printer is available at imade3d.com/jellybox.
Design, Print, Bake Some Pancakes

User: Alix Freck, librarian supervisor, Millhopper branch, Alachua County (Fla.) Library District
Product: PancakeBot
Description: PancakeBot prints pancakes using the same basic technology as filament 3D printers to dispense batter onto a griddle according to digital designs.
How do you use PancakeBot?
PancakeBot was purchased to support FOODIEspace, our food-centric makerspace, to address food sovereignty and culinary literacy and to reinforce STEAM concepts in library programming for youth. Participants first watch a video of the PancakeBot's inventor describing his invention process, then explore several different stations in the room. The stations allow us to serve a greater number of people without detracting from the experience.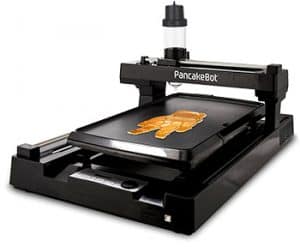 The batter-making station requires participants to follow directions, read instructions, practice fine motor skills, and use math. The next station features laptops with PancakePainter software, similar to Microsoft Paint, in which participants design a pancake. Finally, participants watch their pancake print or watch the design of the day.
How does PancakeBot serve your library's outreach needs?
The PancakeBot program was first used at the Tower Road branch, then expanded to others. Since there's a learning curve to working with this kind of technology, I was able to take my expertise to other locations, which saved staff time and frustration while ensuring quality control.

We also brought the program to an elementary school as part of its science and technology class offerings, the University of Florida's Girls Technology Camp at the Marston Science Library, and an active senior group in our Waldo community.
What are the main benefits?
Using a new and exciting technology like the PancakeBot generates interest among groups or individuals that may not always participate in library programs. Having a unique technology also supports other community groups that may want to try it out but not necessarily purchase it for themselves.

What would you like to see improved or added to the PancakeBot?
The PancakeBot is a bit finicky. This adds to the fun, but a safeguard so batter doesn't get sucked into the motors would be a great feature. The PancakePainter software lets you convert any image into a pancake easily, but these files don't print as well as hand-drawn files.