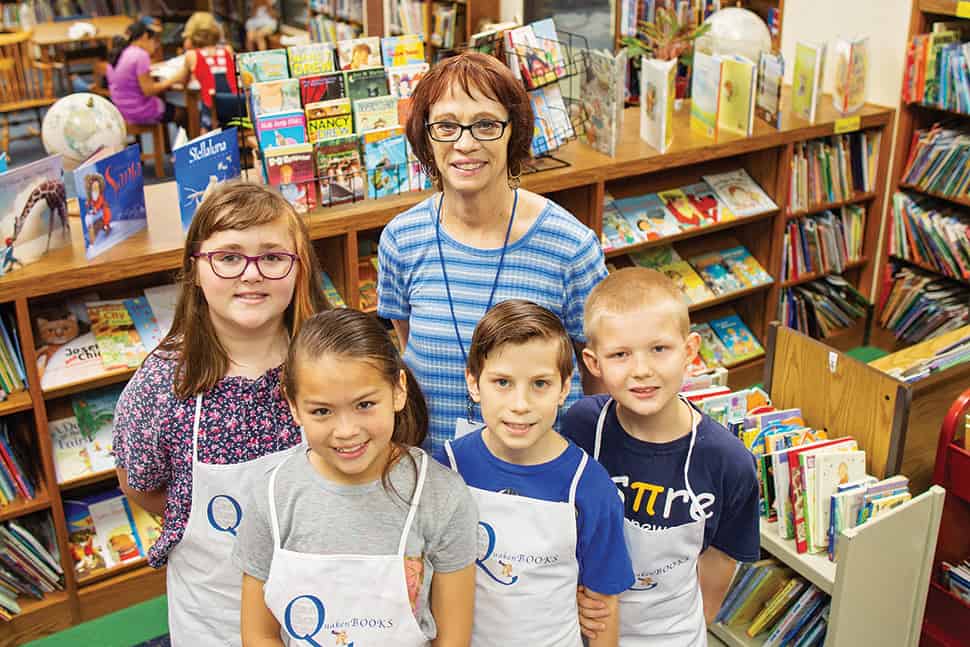 Liz Quakenbush loves getting library books into the hands of her students. But she also loves giving them the chance to purchase books of their own.
For nearly 20 years, she held yearly used book sales at Orchard Park Elementary School in Indianapolis, where she is the media specialist. As her community grew more economically diverse, she wanted to help children add to their home libraries year-round, and she turned to her students for ideas.
They wrote a business plan, set prices, and came up with a name for a used-book store in their school library. "Opportunity Bookstore" had been Quakenbush's first choice, but three different students suggested the same name, and a vote cemented it: QuakenBOOKS opened in March 2016.
Students in grades 3–5 volunteer as stockers, cashiers, and baggers at the end of each library period while their classmates browse the selection of 50-cent books. A donation jar sits by the checkout to cover the cost of books for students who can't afford them. Students have added more than $800 to the jar since the store opened, and Quakenbush has given away more than 10,000 books in addition to the 15,000 sold.
"I look at it holistically," she says of the bookstore. "It's not just reading. It's not just math. It's about developing character." And it's already paying dividends. Former students come back to staff the store during weekend events. An Eagle Scout built and installed a Little Free Library version of Quaken­BOOKS in front of the school. And when Quakenbush told her students that librarians across the country might hear about their project, their main hope was this: Maybe it'll inspire others, too.