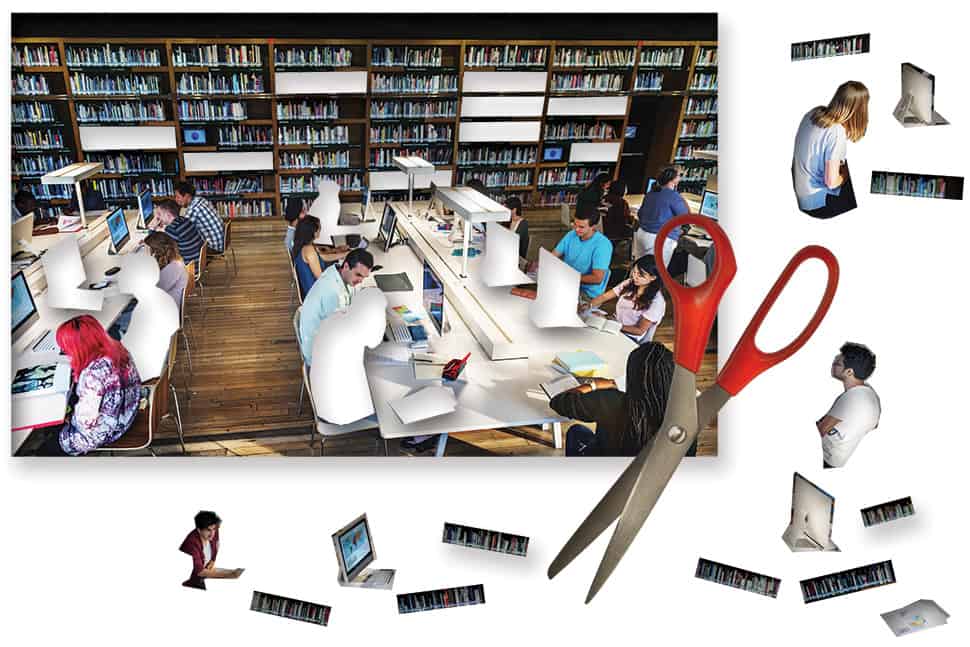 When a university cuts majors, programs, or even an entire school, what happens to its library? The obvious answer: Nothing good.
As universities across the country trim offerings in hopes of addressing budget deficits, academic libraries must attempt to maintain services, even as it becomes more and more difficult to fulfill their missions.
"We're really getting slim," says Laura Jacobs, library science professor and interim director of the Jim Dan Hill Library at the University of Wisconsin–Superior. The university, which has a reported budget deficit of $2.5 million, has suspended 40 programs, including the library science (LS) minor, since 2014. The library budget has seen large cuts as well.
Suspension means that a program is not permitted to accept new students as majors, not that the program itself is closed. That means that the library must continue to support the suspended programs, even while it has only two staff librarians (not including Jacobs) to serve a student population of 2,500.
"The administration would like us to expand hours," Jacobs says. "That's pretty hard to do." The library no longer maintains a reference desk, instead encouraging students seeking reference help to make appointments with a staff member (something many students appear reluctant to do). Even the number of student workers in the library has dropped, given the elimination of the LS minor.
Painful as it is, Jacobs finds it preferable to cut back on services rather than to spread herself and her staff even thinner.
"You can't split yourself into too many jobs," she advises. "If you're working on updating databases, to mentally shift over to reference or to do instruction for a class or to try to do collection development—it's pretty much crazy-making."
She's also attempted to shore up the library's relationship with university faculty, which, she says, has suffered from the fact that she is the only remaining member of the LS faculty.
"Building the personal relationships that are necessary for collection development has become more complicated because we don't have settings in which we automatically interact with faculty," Jacobs says. "Thinking about the library has dropped to the bottom of their list."
You can't split yourself into too many jobs. It's pretty much crazy-making. Laura Jacobs, library science professor and interim director of the Jim Dan Hill Library at the University of Wisconsin–Superior
For example, she says, each month she sends Choice book reviews to relevant departments and asks them to alert her to any new items that should be acquired. But faculty response has dropped significantly.
"The music department just says, 'Choose for us,'" she says. "That works okay because I have a music background, so I can do it pretty easily. Whereas with social inquiry, I wouldn't begin to know."
Many miles to the east, a $16 million budget shortfall led the University of Southern Maine to lay off 50 faculty and 100 staff members and eliminate several departments a few years ago. As for the library, it was told to slice 10% of its budget—about $380,000, says Director of Libraries and University Librarian David Nutty.
"I knew that I couldn't just cut 10% out of collections," Nutty says. "Our collection budget's not that big. It would have just devastated collections, and what's a library without collections? That's kind of our job. I knew [instead] I would have to touch personnel."
Before making cuts, he decided on some principles to work from, "so that there was some rhyme or reason to what we were doing." The first of those: Do everything possible to maintain services. The second: Try to preserve as many positions as possible, knowing that "these things are almost always cyclical and that at some point down the road the university would come back. I didn't want to position the library in such a way that it wouldn't be [able] to recover."
In addition to making personnel cuts, the library has stopped acquiring journals, monographs, and other items in subject areas supporting the eliminated departments. "We've got great interlibrary loan, we've got access to databases, but we really can't operate as a research library," Nutty says. "We just had to respond to the environment we were in."
On the bright side, that environment seems to be changing: For fiscal year 2019, the library received a budget increase, something Nutty attributes at least in part to the way in which it conducted the previous cuts. "Because we handled the cuts as professionally as we could, that has given us credibility where the administration feels like they want to invest back in the library," he says.
At Rider University in Lawrenceville, New Jersey, a decision to sell the university's music school, Westminster Choir College, to a Chinese company has left the library feeling as if it's about to "separate conjoined twins," says Senior Associate Provost and Dean of Libraries Richard L. Riccardi. "We can't offer every discipline. We just can't anymore.
"We have fine arts here at the Lawrenceville campus, and we have organ, voice, piano, and handbell [library offerings] up at Westminster, and where those resources overlap is going to be an interesting challenge," he continues. "All these database contracts will need to be renegotiated, because we won't have a branch campus anymore. Westminster moving forward will have to join consortia as its own entity."
In addition to selling the music school, Rider has eliminated several majors in the past few years. Riccardi declines to give specifics as to how these changes have affected the library's collection decisions, saying only, "Any library will look at use statistics and things like that. It's the mathematics of the moment."