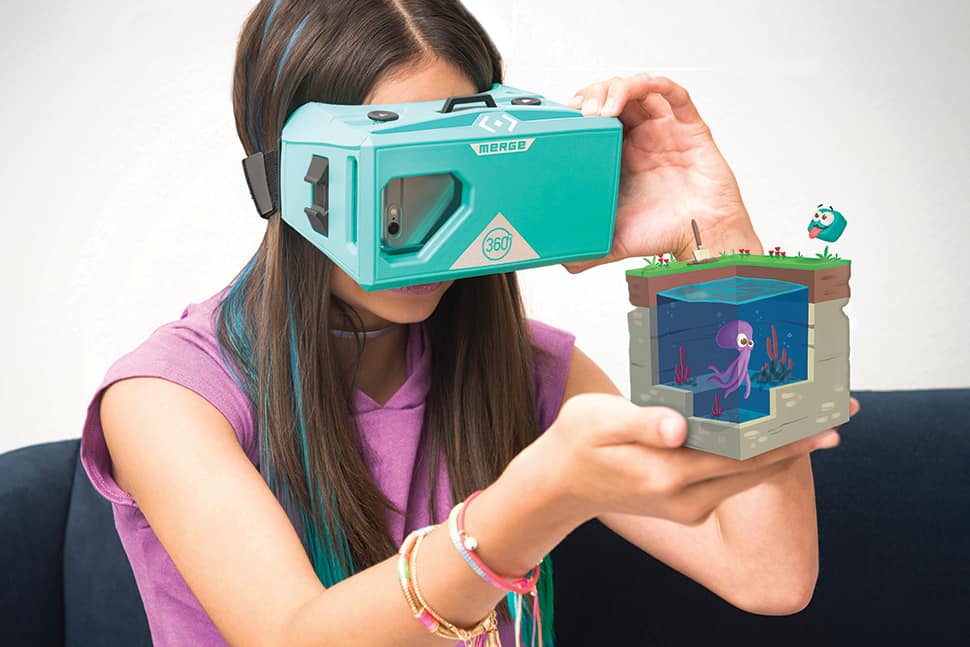 Building prototypes with apps. Building bridges with translating tools. Building empathy with virtual reality. Librarians are experimenting with the latest technology to construct a better world—and help patrons access it.
American Libraries spoke with three library tech leaders—panelists from the Library and Information Technology Association's Top Tech Trends panel at the 2019 Midwinter Meeting & Exhibits—about what apps, devices, software, and best practices their libraries have implemented and how others can, too.
Explore immersive technologies
Libraries haven't fully explored the potential of virtual reality (VR), augmented reality (AR), and mixed reality (MR), says Joyce Kasman Valenza, assistant teaching professor of library and information science at Rutgers University School of Communication and Information.
VR completely immerses users in a 360-degree digital world through devices such as HTC Vive, Oculus Rift, or Google Cardboard. AR enhances what users see by layering 3D objects over the real world (think Snapchat filters and Pokémon GO). MR allows real-world and digital objects to interact, combining elements of AR and VR. An example of MR technology is Microsoft's HoloLens.
"We've seen [VR and AR] with gamers, and we've seen it as kind of a novelty," says Valenza.
But new forms of narrative are being created for VR—such as through Google Spotlight Stories, Storyfab, and Metaverse—and librarians will want to point patrons to these collections, Valenza says.
"All these knowledge experiences become what a library is obligated to collect," she says. "It's just a translation of collection and access, and learning is all a part of our library core values."
Valenza says VR, AR, and MR could be used at the library for immersive virtual field trips, such as a walk through the solar system, the experience of a tornado, or a walk around a refugee camp; a science lab with the opportunity to fully explore, rotate, and dissect a 3D model of the human body; previewing a college campus or vacation spot; or test-driving a new car.
"It's cool, but it's more than cool," she says. "These are collaborative experiences, and they're also experiences that really can help our patrons go well beyond the four walls of the library, go well beyond their personal, cultural experience, to present opportunities to expand empathy."
The MERGE Cube is an affordable ($10–$15) AR STEM toy that works with a smartphone app and optional goggles. Pointing the phone at the cube transforms it into a handheld hologram that allows patrons to explore topics such as math, science, anatomy, and engineering.
Bring your calendar into the future
Suzanne Wulf, head of digital services at Niles-Maine (Ill.) District Library (NMDL), stresses the importance of libraries having updated online calendar systems. "We want to be seen as this place for innovation and technology and run a makerspace, but then we have a calendar that looks like it came from the 1990s," she says.
She recently upgraded NMDL's website with Communico, an integrated suite of cloud-based applications for libraries. A few of her favorite features include an intuitive interface that allows staff to easily book rooms, create programs, search for events, and edit reservations; the ability to replicate the user interface of your library website when building your Communico site; customizable reports; and individual user logins with customized permission levels.
Use Creative Commons Zero photos
When photos have a Creative Commons Zero (CC0) license, users are allowed to copy, modify, and distribute them, even for commercial purposes, without permission. CC0 photos are available on Pexels, Pixabay, Unsplash, and other free photo sites.
"It really has changed a lot for users," Valenza says. "Imagine the guy who has a barbershop and just wants to put out a flier. Now that makes it so much easier." She says it's important that librarians educate patrons about intellectual property and the wealth of content offered through CC0.
Teach online classes in person
Treehouse provides video-based courses for technology and computer science skills, but the courses offered through NMDL didn't have many takers, Wulf says.
Then in 2018, NMDL began offering Treehouse's coding workshops, such as Python/HTML and CSS, in a flipped-classroom learning environment at the library. Instructors introduced students to the interface and watched the videos together, and students took coding challenges and quizzes. Usage nearly tripled in one month and quadrupled in another month.
"We found that this made students feel more comfortable using Treehouse on their own," Wulf says. "In fact, after the last series, our usage remained incredibly high. It's one of those double-beneficial things where we're able to teach class and get people in, but we were also able to promote this resource that we pay for already."
Wulf also recommends DigitalLearn.org, a free Public Library Association website that offers courses on internet privacy, understanding cloud storage, and more. She says it's a great place to direct users who are trying to get comfortable with technology. DigitalLearn.org also offers resources for librarians, like templates and documents for learning how to design a class.
Demonstrate digital citizenship
Tech that was ostensibly designed to make our lives safer, easier, and more connected can have some unexpected consequences.
"You might not think about how a security camera on your front door or voice commands on your lights can be used in a way that can really impact emotional health," says Cynthia M. Dudenhoffer, associate professor and director of information resources and assessment at Central Methodist University (CMU) in Fayette, Missouri. She notes a rise in domestic violence tied to home monitoring systems like Google Nest. Dudenhoffer calls this effect "digital gaslighting."
CMU's digital citizenship course teaches students the importance of being good citizens when engaging with technology and online. "We teach that you should never say, do, or post anything that you wouldn't do in real life," Dudenhoffer explains. "Digital gaslighting is the opposite: using technology and the internet to skew someone's perception of the world, through false content or content that strictly shows one particular slant, or using technology to control the actions of others."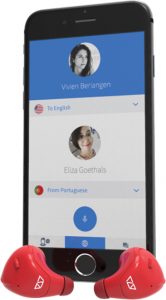 Translate with tech
Several products break the language barrier with real-time translation. Dudenhoffer's library uses the SayHi app for mobile; other free tools like Skype Translator and Google Translate (for mobile or desktop) can also bridge the gaps.
On the higher end, Waverly Labs' Pilot earbuds ($250) and companion app let two people who speak different languages understand each other. The system currently supports 15 languages and 42 dialects.
Access open educational resources
The open access, open science, and open data movements are providing alternatives to subscription databases in response to what Valenza calls "information privilege and information poverty."
"How do we ensure that people who need access to information can get access to information," she asks, "and how do we create that equity when so much is behind a paywall?"
Valenza thinks libraries could be doing more with open educational resources. One project that she says demonstrates library leadership by providing access to a wealth of new content and tools is the searchable portal OASIS (Openly Available Sources Integrated Search). Developed at the State University of New York at Geneseo's Milne Library, it aims to facilitate the discovery of open content. OASIS searches open content from more than 70 different sources and contains more than 170,000 records.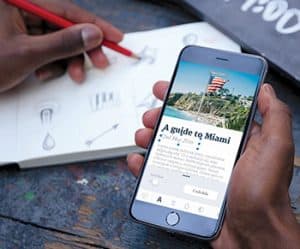 Make prototypes with Marvel
Dudenhoffer has a sign in her office that says plan less, prototype more. She teaches workshops on prototyping using an app called Marvel that lets users create web or app prototypes without writing a single line of code. In Marvel, you can take photos of your mock-ups, animate the buttons, link the screens, and play the prototype immediately.
"Things like that give people who might think they don't have the training a chance to make something you can play with in 20 minutes, whereas that used to take semesters and semesters of coding design," Dudenhoffer says. "The fact that we can make those kinds of tools accessible is really exciting."