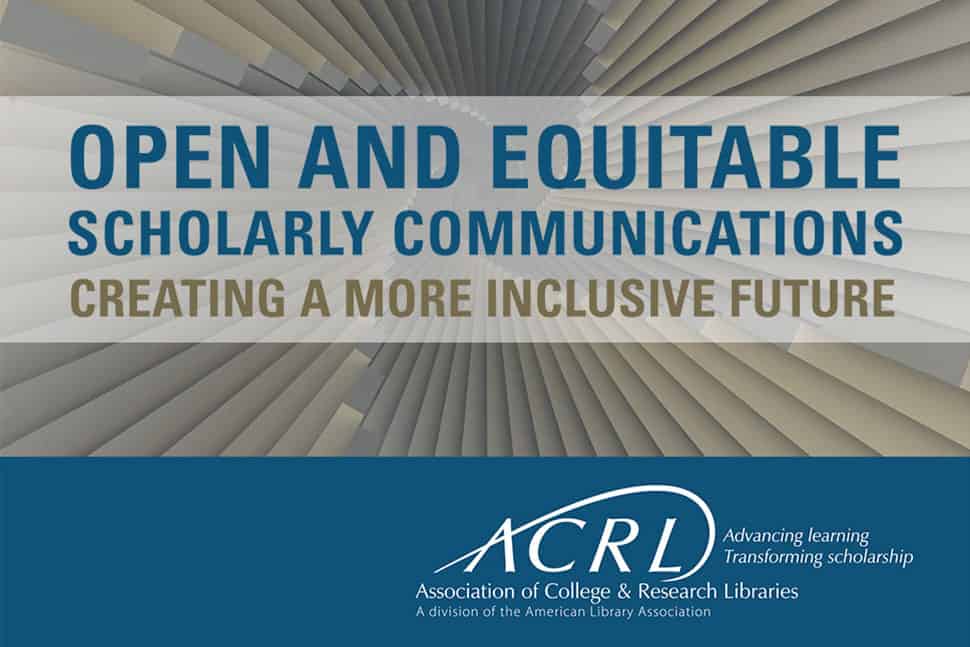 What should the scholarly communications environment look like? Which strategic research questions should academic libraries pursue? How can the community eliminate barriers to services, spaces, and resources?
These themes and others are addressed in the Association of College and Research Libraries' (ACRL) new scholarly communications research agenda, "Open and Equitable Scholarly Communcations: Creating a More Inclusive Future," released last week. The agenda was developed over the course of a year by ACRL's Research and Scholarly Environment Committee (ReSEC) with a high degree of involvement from the academic community—including frontline library personnel, individuals with disabilities, and people from underrepresented racial and ethnic groups.
American Libraries talked with contributors Yasmeen Shorish (associate professor at James Madison University Libraries and ReSEC chair) and Nathan Hall (director of digital imaging and preservation services at Virginia Tech and ReSEC vice chair) to learn more about the action-oriented agenda, the importance of "situational openness," and why representation and social justice are essential to scholarship.
ACRL's new scholarly communications research agenda places a strong emphasis on EDI and social justice themes. The title of the agenda is "Open and Equitable Scholarly Communications: Creating a More Inclusive Future," and the foreword indicates that one of the agenda's strategic goals is to "include voices from historically underrepresented communities and those with different ways of knowing and making meaning." Could you speak to this direction of the report?
Yasmeen Shorish: Given the goals of ACRL's Plan for Excellence and the objectives of ReSEC, this is a natural direction for the report. I think that ReSEC leadership, notably Amy Buckland [head of research and scholarship at University of Guelph in Ontario] and Patricia Hswe [former ReSEC chair and program officer for scholarly communications at the Mellon Foundation], has been intentional in making the work we do as representative as possible. How can we discuss creating and sharing knowledge and not consider the myriad ways that humans communicate and make meaning? Without sounding melodramatic, to take a different approach would be to dilute and cheapen the richness and complexity of human culture.
Nathan Hall: By including that language in the original charge for this initiative, Buckland addressed a gap in scholarly communications dialogue, literature, and strategic planning. Other research agendas we've looked at were synthesized by a comparatively small number of voices from a consistent set of institutions and organizations. ReSEC saw potential for expanding research in the field by including perspectives that were more interdisciplinary, global, and diverse.
What has changed—and what has more or less stayed the same—since the research agenda was last updated in 2007?
Shorish: Certainly some themes carry through both reports—metrics, publishing modes, infrastructure. But in 2007, scholarly communication did not have as shared an understanding in librarianship as it does now. The field has matured and so has our engagement with it. We structured the new agenda so that research questions are a bit more specific, and we've identified promising areas of progress that can help readers learn more about the work already under way.
What was the thought behind defining "open"—for the purposes of the report—not in the context of free vs. pay content models or the definition of "open access" many in academia are familiar with, but as "removal of barriers to access"?
Hall: Many people in academia are already familiar with open access. Unfortunately, it means different things to different people. For some people, gold open access and article processing charges are the answer, maybe [for others] shorter embargo periods and green open access is the answer. "Removal of barriers to access" spells out our vision more clearly than a catchphrase that has a confusing history. While we do want to remove barriers to accessing journals and books, the report also envisions removal of barriers to the means of producing scholarship.
Does the idea of being "open" conflict with the report's ideas of retaining and protecting intellectual rights and "intentionally limiting openness"?
Shorish: I don't think so. This isn't a binary, one-size-fits-all landscape. We need to apply situational openness: When is it possible to remove barriers to access and when is it ethically appropriate not to? We tried to acknowledge the spectrum of openness in the report, as a way to help bring this nuance to the fore and help people reframe how they think about openness or how they approach conversations about openness with communities.
Hall: I like how Yasmeen says "situational openness." One example of when it is not ethically appropriate to remove barriers to access is when we're talking about research data that is intended to be private to protect the participants, as is mandated in the National Institutes of Health Common Rule and implemented in Human Research Protection Programs. Beyond that, there are cultural works that communicate some observation or experience of reality between people. Sometimes these works are intended for a private or restricted audience for cultural or religious reasons, and to make them open for the benefit of others would be a form of colonialism.
What kind of work still needs to be done by academic libraries to better facilitate content accessibility for people with disabilities?
Shorish: On this topic, we tried to extend the conversation beyond where libraries are falling short with implementing existing standards. The agenda brings considerations of neurodiversity forward and questions how we can appropriately allocate resources to design and implement universally accessible systems.

The agenda also considers the responsibility of vendors with whom libraries contract and the positional power of libraries to set negotiation terms related to accessibility. Universal design principles have yet to be fully realized across libraries, so there is no shortage of work to be done.
The appendices of the agenda include a survey that was administered last year, which was completed by 362 library workers. Was there any data that surprised you?
Shorish: I was pleased that more than 800 people started the survey, but wish more of them had completed it! The drop off in respondents occurred when the survey asked what is needed to create compelling research projects. This got me thinking that maybe our respondents aren't as confident in thinking about the researcher perspective vs. their own perspectives. That isn't so unusual—as one would be more confident about oneself—but it was surprising that so many people skipped over all the research environment questions.

Regarding responses, it was surprising to me that so few people indicated user privacy and technical infrastructure in their top five issues affecting or influencing increased distribution and access to scholarly outputs of all forms.
How do you want librarians to use this research agenda? What are some practical actions mentioned in the report that you're hoping academic libraries will undertake in their communities?
Hall: It's intended to be a call to action to pursue the research questions further. It's sort of a catalog of the current "known unknowns." If researchers and practitioners examine these areas more closely, we'll see better library programs and services for communities of users, and broader and deeper fulfillment of the American Library Association's Core Values.
Shorish: While it is a research agenda, and we do want people to undertake projects to help address what has been identified, I hope that library personnel will read through this agenda and see themselves and their work reflected in the topics that are discussed. I hope that they will see how their own institutions are excelling—or not—in various areas. I hope library leaders will engage their communities, internally and externally, in discourse around these topics and find ways to grow their understanding and engagement. A first step to creating effective and sustaining change is to recognize the collective nature of our work and to pursue shared goals in that collaborative spirit. I hope this report helps people find a framework to do that.
Is there anything in the research agenda that resonated with you personally or that you think needs to be applied more fully at your own institution?
Shorish: The themes of representation and social justice resonated most acutely with me. My father was a professor of education, focused on policy studies—particularly as they related to colonizing forces and affected peoples. I learned early on that to disappear a people, you take away or delegitimize their ways of communicating their culture.

Scholarly communication is a means of communicating culture. The lack of representation across scholarly communications systems is a form of erasure. When people cannot communicate in ways that are reflective of their scholarly practices—because it does not "count" in a system, the infrastructure to share does not exist, there are no other people of a shared background, or you are inhibited from accessing knowledge because of paywalls or other barriers—these are all actions of erasure and colonization.
Hall: The aspects that deal with rethinking what counts as scholarship, which kinds of knowledge and work get incentivized, and the considerations about ethical limitations on open access resonated the most for me. Scholarly communication is traditionally focused on the written word: books, journals, theses and dissertations, and datasets that play a supporting role for those formats. My conversations with Camille Callison, who is a librarian and anthropologist at the University of Manitoba and a member of the Tahltan nation in Canada, and with Ryan Flahive from the Institute of American Indian Arts [in Santa Fe, New Mexico], really shaped the rest of my work on the research agenda. There are lots of ways to communicate knowledge and meaning between experts in a field. If we limit our focus to recorded communication that comes out of a Western European Post-Enlightenment tradition, then we ignore most of human experience while also framing it as unscholarly. I feel like there is a lot to learn if we reexamine our assumptions, values, and ethics in the context of other knowledge paradigms and formats.
Shorish and Hall will be presenting on ACRL's research agenda at ALA's 2019 Annual Conference in Washington, D.C. See the Scheduler for details.
Interested in taking action on the research agenda at your own institution? ACRL has issued a call for proposals for research grants through September 30.