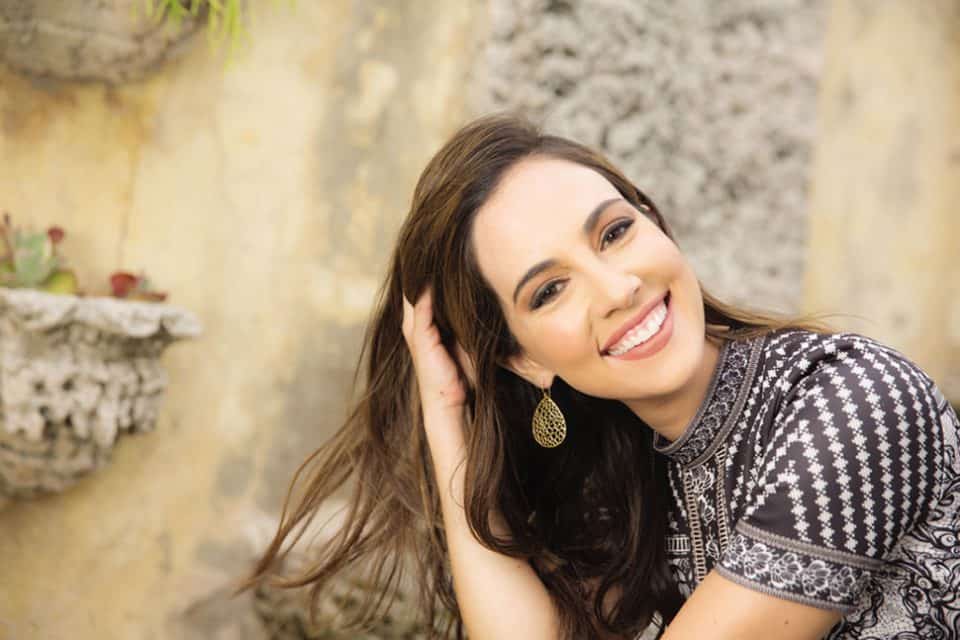 Whether through her new memoir, her Instagram feed, or her news reports on MSNBC, Mariana Atencio is vocal about what matters to her: supporting immigrants, promoting libraries and literacy, and the ongoing crisis in her native Venezuela. Atencio—Peabody Award winner, speaker, influencer, and author of Perfectly You: Embracing the Power of Being Real—addressed a general session of the 2019 American Library Association Annual Conference in Washington, D.C. She spoke with American Libraries about her literary heroes, the power of social media, and the urgency of forging cross-cultural connections.
What were you reading growing up in Venezuela? Who were your literary heroes?
Isabel Allende, La casa de los espíritus (The House of the Spirits). Growing up, her novels were like the universe. She's from Chile originally—she escaped the dictatorship and found a home in Venezuela. There's a character in the book called Clara because she is clairvoyant, and my grandmother's name is Clara, so for me it was really special. A lot of magical realism: Gabriel García Márquez and Jorge Luis Borges.
A teacher who detected I had potential gave me my first grown-up book in English, The Red Pony by John Steinbeck. It took me to a different world, to the American plains. It made me start daydreaming about life in America.
Your book and audiobook are available in both English and Spanish. What was the process of writing in two languages like?
Writing this book was very interesting because all the chapters about my childhood, for me, were lived in Spanish, so I wrote them in Spanish. Then the part about when I came to the United States, I switched to English. I kind of move seamlessly from one world to the other.
I always say when you're bilingual and bicultural, you're a superhero. English is more straightforward—Spanish takes longer to say the same thing. The Spanish book has 70 more pages than the English one. I also felt that I owed the Spanish-speaking audience more context regarding Venezuelan history and immigration issues.
My publisher gave me the liberty to use certain words in Spanish that are important to me in the English book and audio book. Things like Papi and Mami—what I call my parents—or words like carnaval. I could have called [carnaval] Mardi Gras, but it's not the same.
People tend to roll their eyes at the term "influencer," but there's not really another term to describe storytelling on social media. How have these platforms augmented your work?
I used to roll my eyes, too. In the beginning I didn't want to call myself an influencer. It's amazing because social media allows you to connect with people 24/7 in such an intimate way. I make a point of being authentic with people, and I respond to every single direct message. Our world is more and more interconnected through technology but also through stories. It brings us together if used correctly and with authenticity.
You've talked about the effects of turbulent political climates—both at home in Venezuela and in the US today—on you and your family. Do you ever succumb to the rage? Is there an antidote?
I do. Especially when it's about your family, your family's life, and your friends who are still in Venezuela. When my father passed away there amid the health crisis [from a treatable case of the flu], it was a feeling of isolation—not being able to find medicine, thinking that the world doesn't care, and that you're totally alone in that fight. With the life of the person you care about most on the line, you do what you have to do. You live in the shades of gray in this climate.
I keep remembering the lessons my dad taught me: to give back and to always have a positive attitude, no matter what. If you're not even able to talk to somebody who thinks differently, there's no way to move forward. That's part of why I wrote this book—watching what happened in my home country, getting angry about it, and then saying, "Well, that's going to take me nowhere," because it's what transformed that beautiful country to the crisis it is now. Here in the US, I want to move away from the anger and impart a message of unity.
In your talk, you mentioned a Trump supporter who offered you and your team shelter as you covered a hurricane near his home. Can you see a way to accomplish that rare connection on a larger scale, across society?
I am a big advocate for on-the-ground journalism, meeting people where they are. The media missed the mark in 2016—there are large swaths of the country that we clearly didn't go to enough, a ton of people we didn't talk to enough. Our job is not to be suits on TV regurgitating the same things but to go out there and give people a voice and a platform. At the end of our stay with [the supporter], he said, "I really appreciated seeing this county and this country from your point of view." It really reaffirmed my idea that human connection will make the difference.
As drivers of empathy in their communities, journalists and librarians are both subject to burnout. How do you personally replenish your emotional resources?
Talking to people, connecting with them—that replenishes me. I feed off that energy. It reaffirms my commitment to do my job. When I get home and I need that boost, I always call, talk to, or hug my sister. She was in a very tough car accident—she was told she may not walk again. After 15 surgeries in two years, if you saw her today, you wouldn't know that she underwent such a thing. She gives me immediate perspective about the fact that if you fight hard enough, you can do anything you want and do the impossible.
What can libraries and librarians do to support immigrants, refugees, and displaced persons?
When I first came to America, the only place that had the books available so that I could expand my reading list and improve my second language, where I felt a sense of belonging—was the library. Libraries provide free Wi-Fi and textbooks and a place for immigrants to fill out paperwork, job applications, résumés, where they can get legal aid and art classes and citizenship classes. I know because I took advantage of those very things.
Continue to do what you do, librarians. I think it is on us, the rest of society, to promote and talk about the critical role that libraries and librarians play. We need to reclaim the sense of wonderment that we felt as kids and as immigrants when we walked into a library for the first time.
Do you have a favorite library?
There is nothing like the New York Public Library. It's such a majestic place, a place of refuge from the noise of New York and the craziness of the city—a place where you step in and everything slows down.
As you started working on your memoir, which writers did you turn to for inspiration?
When I was writing, a woman named Luz María Doria—she's the executive producer of the Univision morning show and was a mentor to me for many years—had just come out with her first book, La mujer di mis sueños (The Woman of My Dreams). I wondered about my story—if anyone would want to read it, if it amounted to a book. She said, "You don't need your book to have any pretensions of being a great work of literature; your book can be straightforward but help so many people." 
Michelle Obama's book Becoming was an amazing inspiration. I also went back to books that I read in my youth—those are really the books that made me daydream and imagine my life in America beyond the circumstances that surrounded me. I looked to The Little Prince by Antoine de Saint-Exupéry about seeing things from a different lens.
You've covered a lot of different types of stories in different places. What's a story out there you haven't told yet?
I haven't been able to tell the story of Venezuela the way I would want to. I'm at NBC now, and if I go down there and something happens to me, the network could also be affected—it's become a security issue. For the last three years, when the crisis has been at its worst, I haven't been able to go down there and really do my job. I have had to go and live it firsthand, through my dad's illness. I wrote a news analysis on [Venezuela], but on-the-ground journalism is something I haven't been able to do, and I will continue to fight tooth and nail to be able to do it.