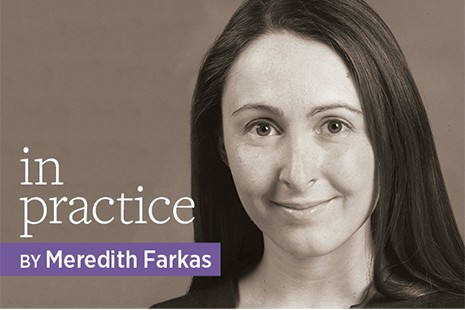 When I look at the gorgeous libraries in the annual Library Design Showcase, I always wonder what happened behind the scenes that led to a particular design. I'm especially curious how designers incorporate stakeholder feedback. Many design methods value the voices of diverse populations and bring them into the process. Too often, though, stakeholders are only cursorily involved, leading to reliance on generalizations and assumptions about how people use libraries.
Participatory design is more than a needs assessment, a focus group, or even an ethnographic study—stakeholders actively contribute to defining problems and designing solutions. They are considered equal members of a research and design team rather than treated as research subjects. Given the diversity of library design projects and our user-centered focus, it seems a great fit for our profession.
I first learned about participatory design from Mega Subramaniam, associate professor at University of Maryland's College of Information Studies. She describes working with children and teens as design partners using cooperative inquiry—a participatory design method—to create technologies and learning experiences. Her six techniques are creative, problem-based, and engaging, often using crafts, markers, or novel scenarios to give teens a voice in designing library programs and services.
An important part of participatory design is recognizing the power imbalances that exist in traditional design processes, as well as in society in general. Participatory design values experiential knowledge and professional expertise equally. Montana State University (MSU) librarian Scott Young and Standing Rock Sioux tribe members and MSU students Connie and Celina Brownotter see participatory design as an important tool for empowering patrons and addressing inequity. Their User Experience with Underrepresented Populations project "created a space for Native American students to tell the story of their experiences at the university, to codetermine the design process, and to voice their concerns within the library."
Participatory design is inherently political. According to Young and Brownotter, it is focused "equally on creating better designs and better social conditions for the participants." Young and the Brownotters developed the Indigenous Participatory Design Toolkit with exercises any library can adopt or adapt.
Service design, a related methodology, concentrates on understanding stakeholder behavior and looks holistically at the elements that go into their interactions with a particular service. It differs from participatory design in its lack of explicitly political focus.
The deep collaboration required in participatory design takes time and requires a willingness to give patrons power. However, many libraries have adopted some of these methods to inform and improve design projects without fully engaging stakeholders as cocreators, such as using ethnographic research techniques that help designers better understand stakeholder needs and habits. More examples of libraries that have used these limited methods, sometimes without the cocreation element, are in the Council on Library and Information Resources' Participatory Design in Academic Libraries: New Reports and Findings.
While these methods can help libraries design spaces that are more responsive to evolving patron needs, the process can be just as valuable as the product. Including stakeholders and respecting their voices can lead to improved and enduring connections between the library and the community. Whether libraries use participatory design methods or not, thinking about how to include community members in design processes and valuing their expertise could improve both community relations and the designs themselves.