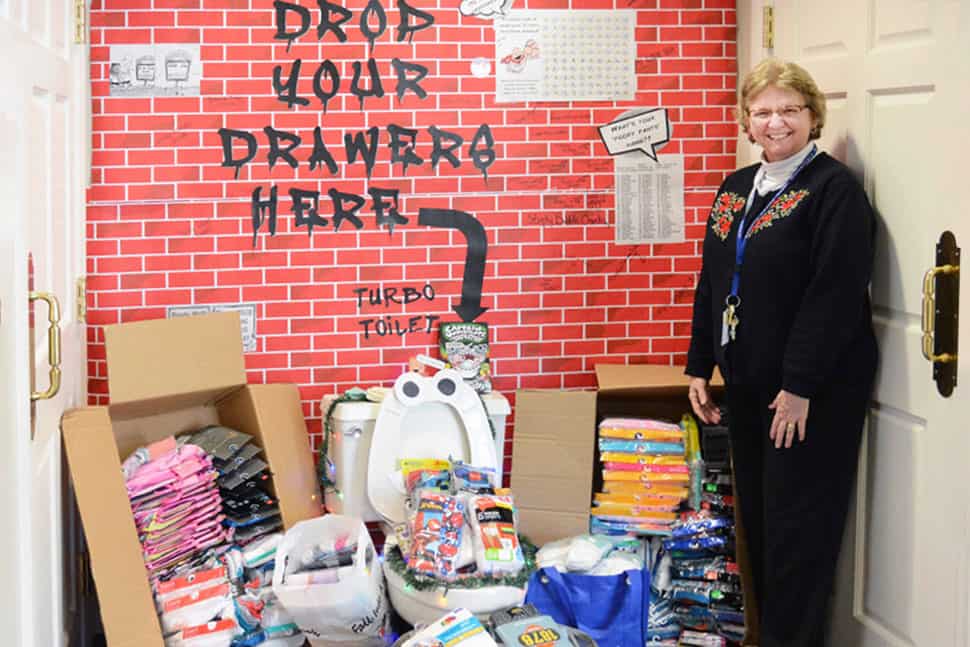 Campbell County (Ky.) Public Library (CCPL) has four branches serving 92,000 residents, about 9% of whom are living below the poverty line. When an instructor at an early literacy skills workshop mentioned that something as basic as lacking clean underwear can keep some children from staying in the classroom, the library's managers brainstormed a creative way to help. CCPL runs a campaign November 1–December 31 each year to collect new underwear for kids in sizes 4–16. The campaign has been so successful that it now gets help from Captain Underpants creator Dav Pilkey.
Every child should have clean underwear that fits: That's the founding premise of the Campbell County Public Library's annual "Drop Your Drawers" campaign to collect new packs of children's underwear at our public service desks for distribution to the county's schools.
The name "Drop Your Drawers" is fun and catchy (and has drawn only two complaints from patrons over the years), but it also starts a conversation about some very real issues in our communities. Staffers at CCPL were surprised and saddened to learn that it's not only accidents that cause underwear problems for kids. Too many of the kids we serve do not know where they will be sleeping at night. Kids often dress themselves or younger siblings because of problems in the home. Many kids—far more than we were aware of—have medical issues related to incontinence or menstruation that can be difficult to diagnose and embarrassing until corrected.
Campbell County has six school districts. Working with six superintendents and six school boards can be challenging, but "Drop Your Drawers" has opened doors to collaboration for us. We team up with the schools' Family Resource Centers, which are tasked with eliminating barriers to learning and providing access to shelter, food, clothing, counseling, and financial aid. They have limited budgets to provide these services and keep children at school and learning, but their work helps break the cycle of poverty and
poor education.
'Drop Your Drawers' shows that libraries are still relevant community resources in very practical ways, even in the digital era.
Another huge benefit to our library has been in community involvement and public support. Our library went through a difficult time in 2012, when we pursued a tax increase to build a new facility. We were sued by members of our local Tea Party, and the lawsuit became a statewide issue and attracted national attention. "Drop Your Drawers" shows that libraries are still relevant community resources in very practical ways, even in the digital era.
In 2015, the first year of our campaign, our goal was to collect 3,000 pairs of underwear. We collected 5,300 pairs. In the four years we've been running "Drop Your Drawers," the county's 14 elementary schools have received nearly 30,000 pairs of underwear.
The campaign has now spread throughout Kentucky, with approximately 50 libraries in the state participating each year. Since they began, we've collected nearly 90,000 pairs of underwear. Our statewide effort has been greatly aided by the generosity of author and illustrator Dav Pilkey. He has allowed us to use his Captain Underpants image to create consistent publicity materials for Kentucky's libraries. He says he's grateful that "the Captain" can be a help for so many. Pilkey recently sent six pairs of enormous novelty underwear, which he autographed right across the butt, as raffle prizes for our 2019 campaign.
Libraries and other organizations in Florida, Indiana, Louisiana, and Ohio are now sponsoring their own drives. And Pilkey has given his blessing for any library to use our logo featuring Captain Underpants in conjunction with a "Drop Your Drawers" campaign. You can find materials to use for a campaign at your library and read more about our experience at bit.ly/AL-Drawers.