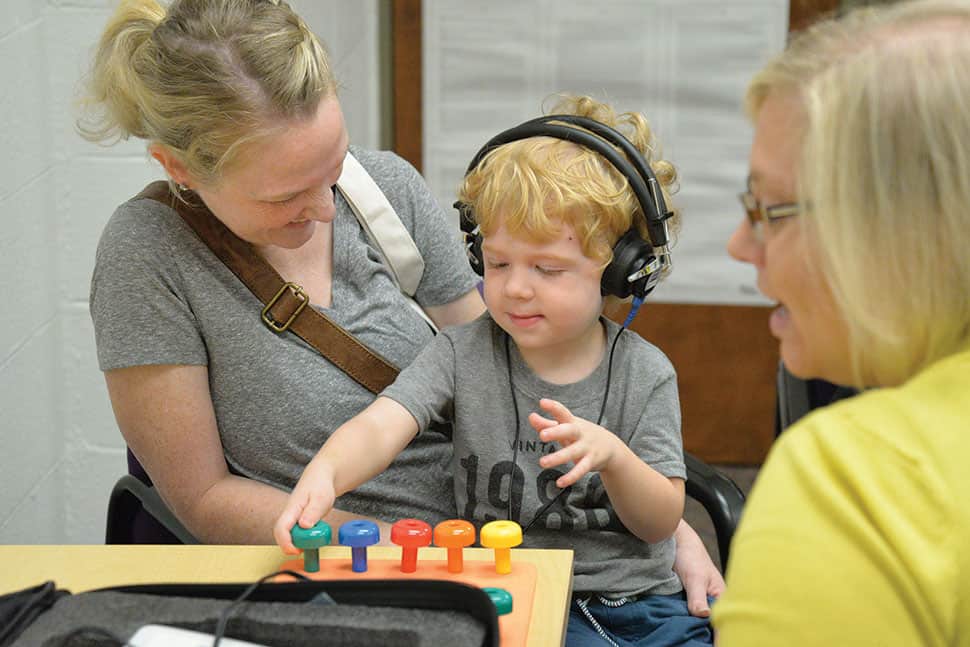 After being told by vision professionals that his 3-year-old daughter was too young for glasses, a father in Omaha, Nebraska, decided to get a second opinion—at the library. A vision screening at an Omaha Public Library (OPL) storytime led to an ophthalmologist referral to fit the girl for glasses, says Julie Humphrey, youth and family services manager for OPL.
Sight and sound are integral parts of storytime and early literacy, so it makes sense for libraries to take an active role in children's eye and ear health. Across the country, institutions are hosting free vision and hearing screenings tied to children's reading sessions. OPL started hosting its Sense-Screening Storytime program last September and has already seen several successes.
"There is a definite need for this in our community," says Humphrey.
The idea for OPL's program stems from a gathering of Omaha-area child-services providers last year, part of an early learning initiative instituted by the state of Nebraska. At the meeting, OPL administrators learned about services provided by the Center for Childhood Deafness, Language, and Learning at Boys Town National Research Hospital in Omaha, as well as a local chapter of Lions Club International, both of which screen kids for early signs of hearing impairment or language delay.
"'A lot of people don't know you offer these screenings,'" Humphrey recalls telling leaders from the two institutions. "'Why don't we work together? This could be something that we get out into the city.'"
The first Sense-Screening Storytime event was held in fall 2018. The agenda is fluid, but generally the sessions start with the reading of a couple of books and some sight and sound movement activities. These last about 20 minutes, depending on "how wiggly the kids are getting," says Humphrey. Afterwards, parents are asked if they want their child screened at the library.
Last year, OPL hosted 24 sessions at all 12 of its locations—one hearing and one vision screening at each. Participation has been sporadic, Humphrey says, with some sessions better attended than others, but OPL has been buoyed by success stories from the program's first year.
A boy was screened for hearing impairment at the suggestion of OPL staff after he didn't respond to prompts transmitted through his headphones. Several follow-up screenings confirmed his auditory struggles, and the boy was scheduled for surgery in January to relieve the pressure in his Eustachian tubes.
"Even if the numbers seem very small, you are making an impact if you can help just one child have a better chance for natural hearing or natural vision," Humphrey says.
Omaha's efforts have plenty of company: Public libraries in California, Illinois, and Wisconsin also host sight and sound screenings.
Fountaindale Public Library (FPL) in Bolingbrook, Illinois, has hosted free vision and hearing screenings for several years in collaboration with the DuPage County Health Department. FPL Outreach Services Manager Marianne Thompson says it's a wonderful way to partner with the community, and it also bolsters foot traffic at the library.
Many Oregon public libraries have hosted vision screenings since the state legislature passed a bill in 2013 requiring all children to be checked for optical issues before entering kindergarten. Shortly after the law was enacted, the See to Read program was born as a partnership between the Oregon Library Association and the Elks Children's Eye Clinic at Oregon Health and Science University in Portland. The program has the goal of addressing vision problems that cannot be treated after a child turns 7 years old. More than 8,000 kids are screened annually at Oregon libraries and Head Start programs thanks to the partnership.
At See to Read events, screeners from the clinic use handheld photoscreening devices with a smiley face on the front to test the children. Kids only have to look at the face to have their vision checked.
Jane Corry, former Oregon Library Association board president and a See to Read proponent, believes such programs dovetail perfectly with the library's mission, and she urges others to give them a try.
"It's a major piece of how the community sees us," Corry says. "It's one more tool to let them know we are focused on this issue and to make it possible for kids to have more success at school."