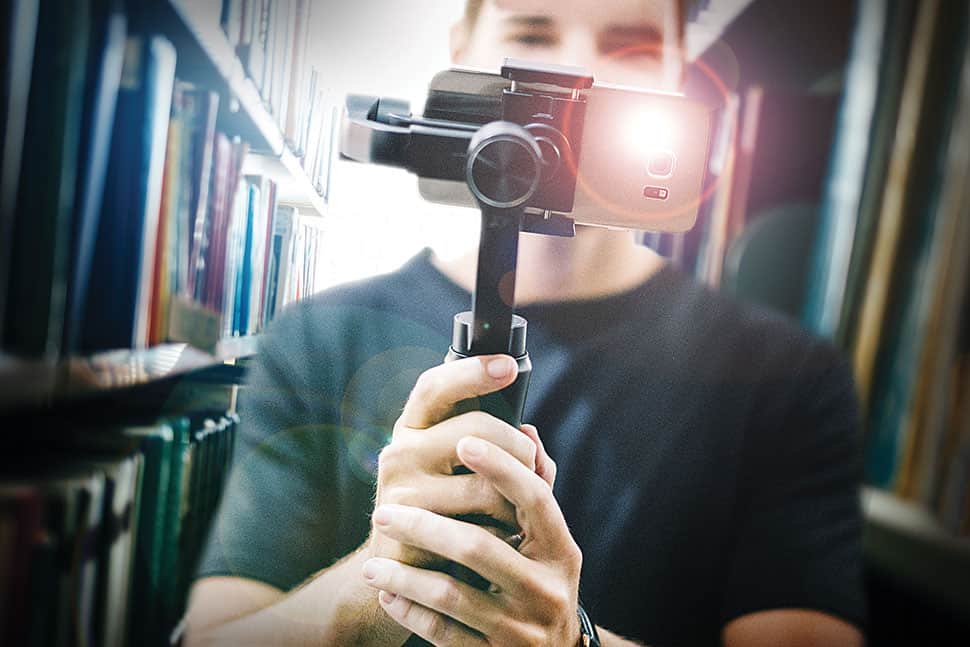 In October 2019, a phone rang at Silas Bronson Library in Waterbury, Connecticut. When Director Raechel Guest answered, the "very hostile" voice on the other end made a threat she'd never heard before: The caller told her he planned to visit the library to perform a "First Amendment audit."
The call represented a trend unfolding in public facilities across the country: individuals who arm themselves with video cameras, proclaim themselves First Amendment auditors, and enter police precincts, post offices, libraries, and other spaces under the auspices of the First Amendment right to free speech in order to record staff violations.
The Connecticut caller was particularly aggressive, according to Guest. He threatened to bring bodybuilders and an attorney with him to the library and said that if police were called, the bodybuilders would wrestle officers to the ground and perform a citizens' arrest, Guest recalls.
When these self-appointed auditors arrive, library staffers must strike a delicate balance between patrons' rights to film and the privacy of library users.
Defusing the situation
Deborah Caldwell-Stone, director of the American Library Association's (ALA) Office for Intellectual Freedom (OIF), addressed the phenomenon in a post on ALA's Intellectual Freedom blog. Libraries are legally considered limited or nonpublic forums when it comes to First Amendment rights, she says. In these spaces, agencies in charge are only obligated to allow activities that comply with the nature of the space—meaning that rights to film and photograph can be restricted if they interfere with library functions or operations.
"We're not necessarily concerned with recording in public libraries per se," says Caldwell-Stone, whose office has collected 10 reports of similar incidents across five states, as of press time. "What we're most concerned about is when the behavior crosses the line into harassment and invasion of privacy." Patrons should be able to use library services without fear that their identity, location, or reading choices will be published on YouTube, she says.
Though unsettled by the call, Guest seized the opportunity to mobilize her staff. She circulated written instructions, provided one-on-one consultation, and held a training workshop on how to handle these so-called auditors.
"It gave us a chance to figure out how we would respond if the caller came in and tried to start a fight," Guest says. "The bottom line is that they love it if you lose your temper because they see an opportunity there. They want clickbait, a video where people are arguing, because that's something people will watch." From what she can tell, the only tactic that makes these real-life trolls go away is to react neutrally.
The auditor never materialized, but Guest says the call left her staff nervous about the possibility of a hostile confrontation.
"That first week everyone was very anxious and distracted, constantly looking out for him," she says.
Seeking YouTube notoriety
Staff at Pima County (Ariz.) Public Library (PCPL) encountered three self-styled auditors last year, prompting the library system to hold training events and spend more than $125 to post signs throughout its 27 facilities that make its stance on filming clear. Arizona state statute says that libraries are prohibited from disclosing information about what patrons are reading or viewing. Pursuant to this law, staffers at Pima County libraries have been instructed to prohibit filming, a measure now included in PCPL's code of conduct.
"Once someone filming has been asked to stop and they don't, it becomes a violation of our code of conduct. We've told our staff that they can contact [other] library staff or police," says PCPL Deputy Director Karyn Prechtel-Altman.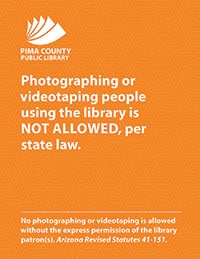 On March 24, police were called to PCPL's Oro Valley branch after three men entered the library using video cameras to record staff and patrons using computers. The men were asked to stop filming and shown the code of conduct, but they refused to stop, citing their First Amendment rights to film. No arrests were made, and a video later surfaced on YouTube under the moniker "Arizona Auditor," according to library administrators.
On July 14, PCPL staff noticed a man filming in the Murphy-Wilmot branch. Staff didn't engage the man but later found another video on YouTube in which he talked about the library guard's behavior. A few weeks later, another person came into the Oro Valley branch with a video camera and said he had a constitutional right to film. Staff again informed the man of their rules; he immediately went to the local police department to claim that library staff were violating his rights.
As far as Caldwell-Stone knows, no libraries have yet been sued for damages for First Amendment violations. "This has become an attempt to become YouTube famous," says Caldwell-Stone. "They're trying to generate numbers so they can get money from advertisements."
In each of these cases, administrators emphasized the importance of staying calm and focused.
"It does look like the auditors are looking for us to make a mistake," says PCPL Community Relations Manager Holly Schaffer. "It puts our staff in a position where they're not focusing on the library mission, because the more time you're spending on worrying about missteps, the less time you're able to spend helping a patron."
Planning ahead
Other libraries, noting the trend, have taken proactive measures to prepare staff for audits.
Stacy Wittmann, director at the Eisenhower Public Library District (EPLD) serving Harwood Heights and Norridge, Illinois, which has not experienced one of these incidents, plans to train front-line staff.
"This is the type of situation where being prepared is key," she says. "We need to arm our staff with the tools to get through something like that."
As of now, EPLD's policy is to allow patrons to film and take photographs in the library, as long as they do not capture what people are viewing or disrupt patrons or staff.
"If we feel that people's privacy is being infringed, we can say that the behavior is inappropriate," Wittmann says. "If they're agitating people, that triggers a behavior policy. No one is allowed to create a hostile work environment here, whether staff or patrons."