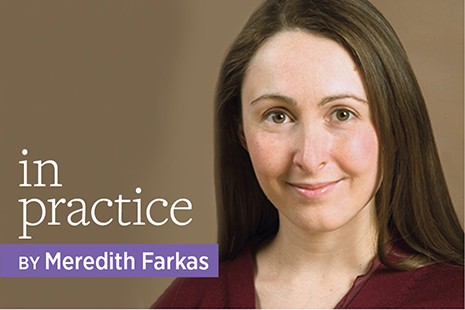 Library workers are well practiced in advocating for their libraries, whether that's finding ways to demonstrate the value of what they do or lobbying leaders for additional funding. Since the onset of the COVID-19 pandemic, webinars on advocacy have helped library workers become even more effective in these areas.
However, during this crisis, many library workers are unexpectedly forced to advocate for themselves. Early in the pandemic, Twitter became a vital space for workers seeking advice and support when trying to get their libraries to close or to demand adequate safety measures. I know many library workers who are fierce advocates for their patrons but are far more reticent when speaking up for their own well-being. At a time when some library workers are being furloughed, laid off, or forced to work in hazardous situations, library workers need to take collective action, something that presents barriers for many, and that many feel unprepared to take on.
Now and over the past few years, our profession has seen inspiring examples of advocacy and mutual aid rise from shared values and necessity. These formal and informal communities came together outside of the usual structures of state or national associations, allowing them to respond more nimbly to issues and crises.
A wealth of literature describes the racism and exclusion faced by BIPOC (Black, Indigenous, and people of color) library workers, as illustrated in Kaetrena Davis Kendrick's annotated bibliography, The Kaleidoscopic Concern. We Here is a private online community created by BIPOC library workers to support and help retain BIPOC workers in the profession. In addition to this grassroots organization's online space for mutual support, We Here recently launched its Community School, which offers professional development, and awarded its first COVID-19 relief grants for Black members.
Library workers need as much training in collective action and self-advocacy as they do in lobbying for library funding
When I applied to join the third cohort of the Library Freedom Institute, founded by Alison Macrina with the support of the Institute of Museum and Library Services, I knew I'd receive valuable training to become a privacy advocate. What I didn't realize was that I was joining a vibrant community focused on advocacy and mutual support around issues of privacy and surveillance. Members of the Library Freedom community have helped one another advocate for privacy and social justice in their libraries and communities; several members were involved in the recent successful campaign to ban facial recognition technologies in Boston.
As it became obvious that libraries staying open in the spring endangered workers and patrons alike, Callan Bignoli, director of Olin College of Engineering Library in Needham, Massachusetts, began collecting information about libraries whose staff were advocating for closure and promoting it with the Twitter hashtag #protectlibraryworkers so others could support their efforts. In May, Bignoli organized a free online conference called #LIBREV(olution) and founded the LIBREV community, both focused on supporting and advocating for library workers. The community is a space where library workers can discuss issues of concern, like reopening safety and anti­racism work, and find likeminded colleagues with whom to take collective action.
This pandemic has highlighted the fact that library workers need as much training in collective action and self-advocacy as they do in lobbying for library funding. Strong online communities such as those described here have never mattered more than now, especially when we are often physically distant from one another and when so many library workers' jobs are in jeopardy. This kind of collective organizing requires a willingness to look beyond our institutions and traditional hierarchies, but the collective influence we wield can create powerful positive change.