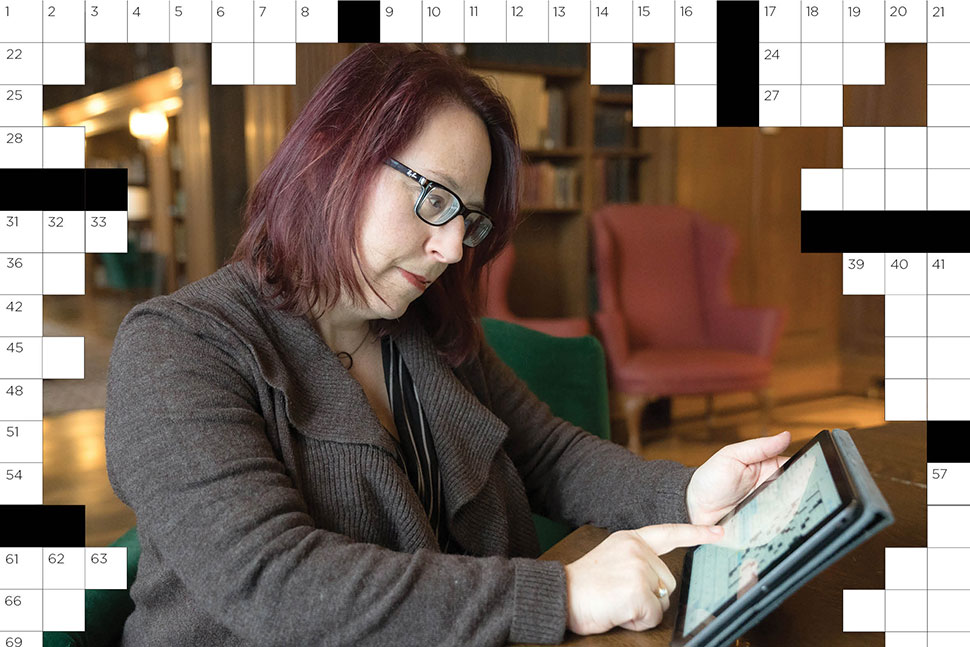 What's an eight-letter word for "information about information"? Metadata, and it's one of the library-themed answers Laura Braunstein has occasionally worked into a crossword puzzle since publishing her first in 2017.
Braunstein, digital humanities librarian at Dartmouth College in Hanover, New Hampshire, and co-lead of Digital by Dartmouth Library, wants to help both crossword puzzles and libraries shed their reputations for stuffy elitism and exclusion.
Braunstein started doing crosswords as a child with her grandfather, who emigrated from Moldova; the games were his way of learning new vocabulary. Crosswords became part of her daily life in college, and the switch to digital kicked her hobby into overdrive. "The iPad app for The New York Times crossword records your time," she notes. "Oh, I did that puzzle in five minutes. Could I do it in four next week?"
Through "crossword Twitter," she befriended other aficionados and found mentors. Ben Tausig, an editor for the indie American Values Club crosswords, asked her what she planned to do about the dearth of women in mainstream crosswords. (Women represent only about 27% of New York Times puzzle constructors, for example.)
So in 2018, she and fellow constructor Tracy Bennett started The Inkubator, a puzzle subscription service edited exclusively by cis and trans women and nonbinary and gender-nonconforming people. It now has around 50 constructors and 1,500 subscribers.
Braunstein says her digital humanities work is also about increasing access and representation: "I just want fewer gatekeepers in both areas of my professional life—in my vocation and my avocation."