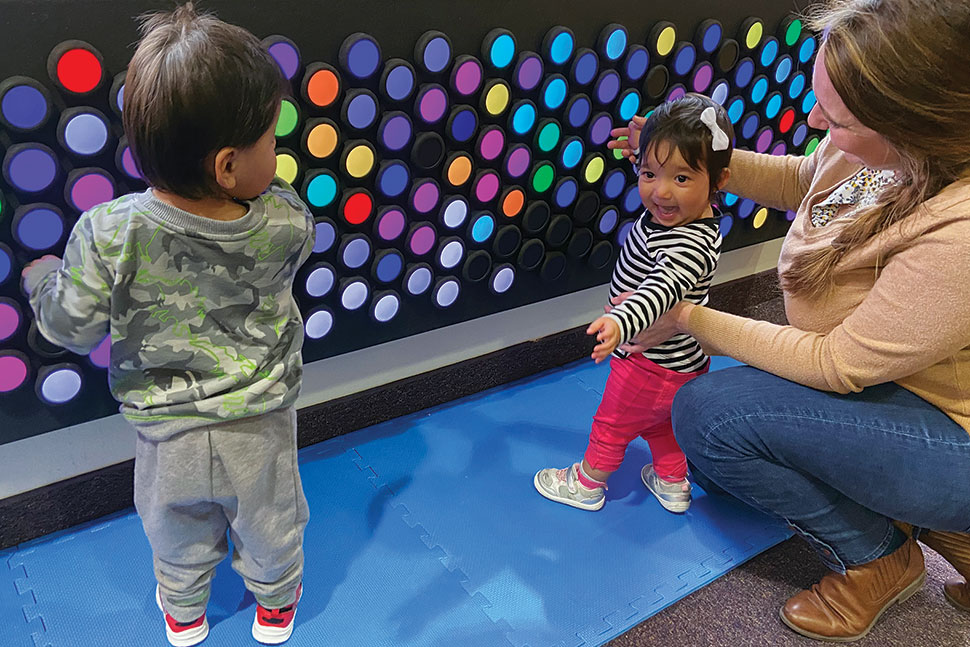 Library users with visual impairments face a number of barriers to access. Adaptive technology has leapt forward in recent years, with artificial intelligence (AI) opening up new possibilities, but more basic technologies are also important in creating a welcoming library experience for users of all ages with visual disabilities. Here we talk with three library workers about their accessibility and outreach efforts, which span multiple levels of technology, from magnifiers to AI-equipped reading devices to art.
Everbright
User: Kate Simpson, Central Library children's department manager at San Antonio Public Library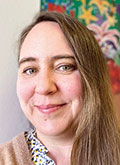 What is Everbright? Everbright is an interactive light wall. It has knobs all over, and each knob changes color as you turn it. You can create images or patterns by setting the dials to various color shades, and you can program it with different designs and animations, too, for different settings and light shows. It's very sturdy and made to last.
How do you use it? It's a passive programming element in our early childhood play area. It's great for children with low vision because they're able to have tactile control and spin the knobs to make their own art piece. We value how it gives children of all abilities the freedom to create and express themselves in a casual, unstructured way.
What are the main benefits? Kids can just walk right up and touch it and instantly realize what it does and how to manipulate it. This isn't something that requires instructions, and it's something that everyone's partaking in. We have a dedicated space for low-vision resources—our Low Vision Reading Room in the children's area—which contains tactile art. The Everbright wall extends that type of art experience and really draws people in.
What would you like to see improved or changed? The company recommends that you wire Everbright into a light switch so it can be turned on and off. For our facilities team, that wasn't really an option, so they plugged it into the wall with a timer.
OrCam MyEye 2
User: Mary Howard, reference librarian at St. Clair County (Mich.) Library System
What is OrCam? OrCam is a wearable assistive technology device for people who are blind or visually impaired, or have a reading impairment. It is a tiny camera that attaches to eyeglasses with magnets and uses AI to read aloud text, recognize faces, identify products, and more. The natural speaking voice can be slowed down or sped up, and you can change languages and volume to suit your needs. It can read from any surface or digital screen, so it's a natural fit for public library use.
How do you use OrCam? We make the devices available for in-library use on a first-come, first-served basis. We had been splitting usage between our 11 branches and outreach events, but that has changed during the COVID- 19 pandemic. OrCam has been tricky to use while observing social distancing, but our staff has been providing remote training. Our patrons use the device to read books, do taxes, or go over emails.
What are the main benefits? The portability of the device and clarity of the audio are the main features that attract users. The small size also makes it easy to store at any of our sites. OrCam is suitable for all ages and abilities. It does not have to be connected to Wi-Fi. The company has a responsive and helpful customer service staff.
What would you like to see improved or added to the product? I would like to see this product covered by insurance or made more affordable. Financial assistance is available depending on where the intended user lives and other factors, and veterans may qualify for an OrCam device through Veterans Affairs, but these benefits don't extend to the library.
Illini Pocket Magnifiers
User: Renee Grassi, youth services manager at Dakota County (Minn.) Library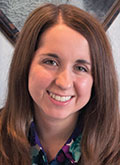 What are these magnifiers? We worked with ePromos to add our Dakota County Library logo to pocket-size magnifiers from Illini—approximately the size of a library card—that magnify text while you're reading.
How do you use them? We first purchased these as a swag item to give away at events geared toward customers with disabilities. Having our branding on them is a way of saying "The library recognizes and supports you, whatever your abilities or reading needs." Lately, because of the COVID-19 pandemic, we've also been keeping them at the service desk. We used to have big magnifiers to lend, so the pocket magnifiers have become a useful way to keep staff safe and give something to a customer that they can keep.
What are the main benefits? The magnifiers are compact and easy to carry. They were relatively cost-effective, and making them available helps encourage people to read. We chose dark blue so when they are up against white paper, it provides a high color contrast, which supports those with any low-vision or learning disability. Magnification can help young children too: Kids who are learning to read sometimes need to look at larger letters to differentiate between them.
What would you like to see improved or changed? There are pluses and minuses to them being as lightweight as they are, but if the magnifiers had twice the thickness, that would be even better. They're so thin that they can be hard to pick up off a flat surface, and manipulating them can be difficult.