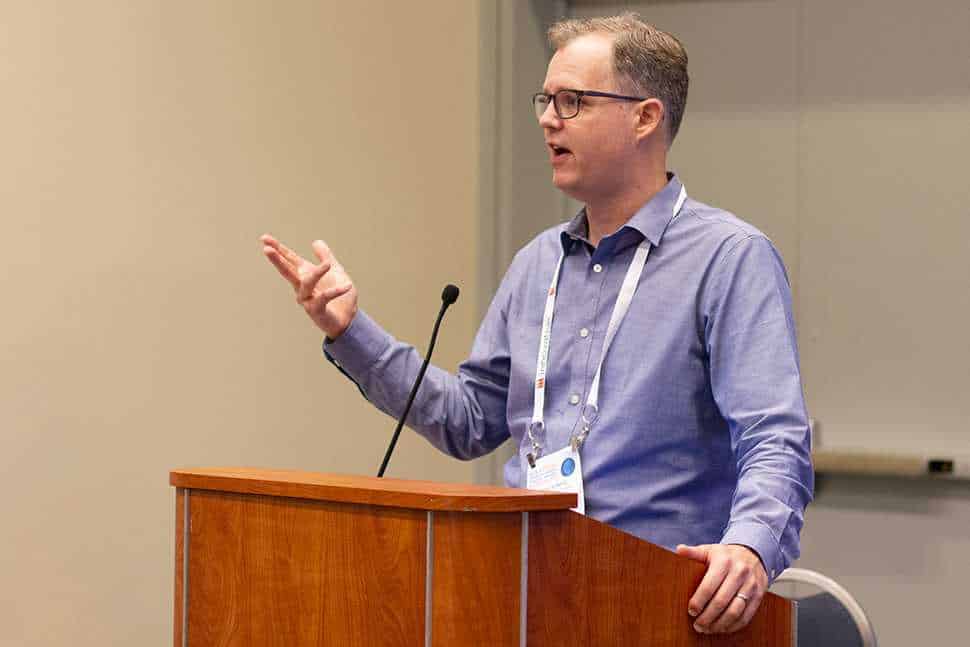 The number of people in the US who are blind or visually impaired is expected to double by 2050 as the population ages. Libraries need to be ready to serve this population, and tech solutions are increasingly available to help.
Reed Strege, director of library services at the Braille Institute of America, led "The Best in New Tech for Readers with Blindness, Visual Impairments, and Physical Disabilities" on June 23 at the ALA Annual Conference and Exhibition in Washington, D.C., highlighting new and upcoming technology for blind and print disabled library users.
"It's a really exciting time for braille reading," Strege said. While refreshable braille displays—which link to phones and computers and convert text to braille—remain expensive, the National Library Service for the Blind and Physically Handicapped (NLS) will begin to circulate these devices for free to eligible people in the next three to five years.
"This is a real potential game changer, because if a person learns to read braille and has some aptitude with these devices, what they'll have access to will increase exponentially," Strege said. Currently, braille versions of works are not only limited in number, they're also very large. "Harry Potter is about the size of a refrigerator. When we ship it out, it's like shipping an appliance."
 NLS launched its BARD (Braille and Audio Reading Download) mobile app several years ago to allow people to access braille and audiobooks digitally. "It's not a beautiful app … because it wasn't made to be seen," Strege said. NLS is currently working on a standalone BARD device similar to its talking book players that can be shipped to people in the next few years. Through this player, NLS will be able to share books wirelessly with those who do not have or cannot easily use mobile devices.
As audiobooks have gained mainstream popularity, the quality of the recordings has increased, which has benefited library services to the blind and print disabled as well. Strege joked that talking books from 30 years ago "sounded like a McDonald's drive-through, and I could swear the guy was coughing." Now, many publishers donate copies of their professionally recorded audiobooks for distribution to those with print disabilities. 
Other mainstream audio formats like podcasts and streaming music are increasingly popular with the blind and print disabled. Strege recently began educating patrons at the Braille Institute on how to find and download podcasts and use platforms like Spotify for music. Commercial library apps that offer audiobooks are another valuable resource for print disabled users, and are "pretty accessible," according to Strege.
The next frontier in technology for audiobooks may be synthetic voices. Services like Bookshare that make text available but rely on digital screen readers are important, but the quality of the reading often suffers. Strege demonstrated Dolphin EasyReader and Voice Dream Reader and, while proficient, the synthetic voice's halting delivery and occasional mispronunciations make the listening experience with these apps inferior professional readers. However, there are a number of startups, including WellSaid and Lyrebird, that have created artificial voices that are difficult at times to distinguish from human readers. 
Strege encouraged librarians to keep an eye on these technologies and pressure companies to make them available for text-to-speech applications. Because people with print disabilities have access to only a small percentage of everything in print, "once this type of technology is applied [to text-to-speech], that really will change how people interact with text," Strege said. But he also cautioned about the potential misuse of artificial voices. "The opportunities for trickery and deepfakes are almost overwhelming to think about."
Beyond books and reading, libraries can direct users to accessibility apps. Be My Eyes is a crowdsourced help app that connects blind and low-vision people with sighted volunteers via video chat so they can read text and identify items. A more sophisticated paid tool, Aira, provides a similar service with a 24-hour call center. Aira also partners with nonprofit institutions like libraries to provide free service within a geographic area. Artificial intelligence tools are also appearing. Microsoft launched a free app called Seeing AI, which reads text using a phone camera. NLS is also exploring voice-activated technology for future implementations of its BARD tool.
Strege estimated that NLS serves about 10% of people who are eligible for its services. He reminded the audience that librarians are authorized to assess whether someone is not able to access print materials and sign them up to receive free braille and talking books—they don't need a doctor's note. "If someone comes in and says 'My mother can't read these books anymore,' then you could sign that person up for the service," Strege said.