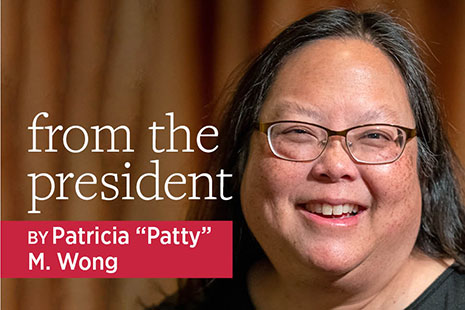 ALA's recent Annual Conference was full of insights, but one resonates with me as I write this column. Charles Person, the youngest of the original Freedom Riders and a key figure in the US civil rights movement, lamented that when he began his journey, he was not permitted to have a library card. "There was no seat for me at the Atlanta Public Library," he said. "So I boarded my bus to help change America."
It's a striking reminder that in our all-too-recent past, entire groups were denied access to the institutions we serve. That's why during Library Card Sign-Up Month, celebrated each September, I am calling on all of us to recognize the errors of the past and commit to fighting for improved access for groups that may still be excluded, such as people experiencing homelessness and undocumented immigrants.
As we promote the value of a library card this month (and throughout the year), we do so with the conviction that access to libraries opens worlds of opportunities. But we can also hold in our minds the legacy of longstanding discrimination in libraries against Black and Indigenous people and communities of color, and pledge to combat its legacy in our profession. We must push for local policies that eliminate barriers that can potentially inhibit library service, such as requiring a permanent residence for a library card, late fees, and limited service hours.
This year's honorary chair of Library Card Sign-Up Month is Marley Dias, the young activist and writer who rose to prominence in 2015 when she launched the #1000BlackGirlBooks hashtag to draw attention to the fact that most protagonists in the elementary school books she was reading were white boys. Her involvement with our work is particularly resonant at this moment, when the conversation about access to libraries must include discussion of representation, not just in the characters of the books on our shelves but also in the people who work in libraries.
Unfortunately, books featuring diverse stories, people, and themes are among those most challenged by patrons. The very books Dias is advocating for are the ones that most frequently end up on the annual Top 10 Most Challenged Books list compiled by ALA's Office for Intellectual Freedom. The office reported that more than 273 titles were challenged or banned in 2020, with increasing demands to remove books that address racism and racial justice or those that share BIPOC stories. As with previous years, LGBTQ+ content also dominated the list.
September marks Banned Books Week, an annual event celebrating the freedom to read. This year it will be held September 26–October 2 and chaired by author Jason Reynolds, who wrote two of 2020's most challenged books. "Any time we eliminate or wall off certain narratives, we are not getting a whole picture of the world in which we live," he said recently.
Indeed, diverse books have two key roles: First, they allow all human beings to see themselves reflected in books, and second, they allow everyone to learn about people who are not like themselves. Equity and access are the heart of my priorities as ALA president, and the celebrations these next few months give us an opportunity to reflect on how we fulfill our commitment to our core values. Let's acknowledge that while librarianship has a significant history of segregation and racism, there is a crucial, real-time need for us, individually and collectively, to provide equitable access and service to all.