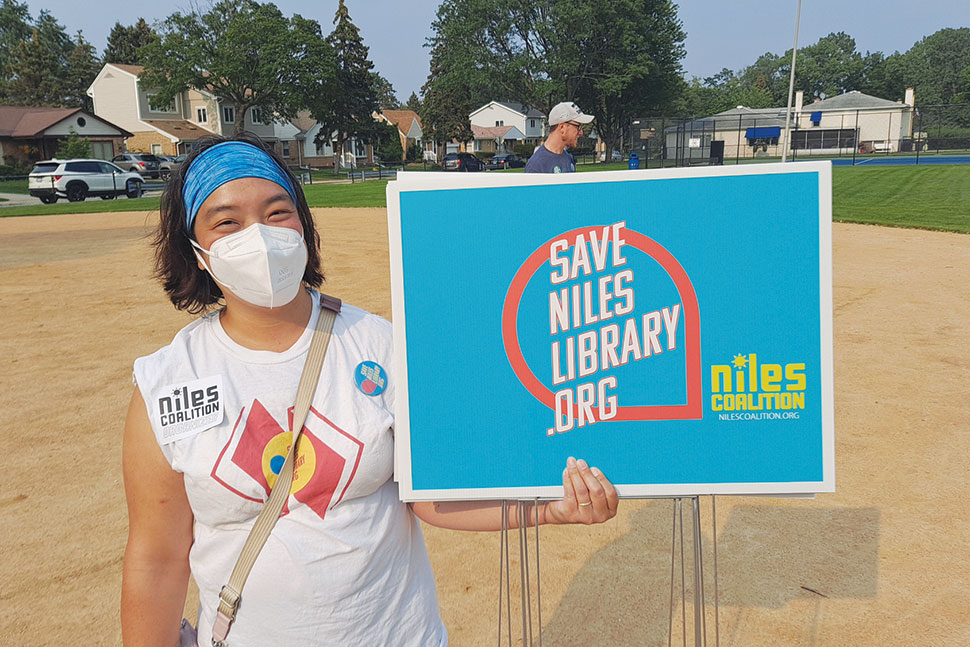 On March 18, 2021, the Niles–Maine (Ill.) District Library (NMDL) held a candidate forum for its April board of trustees election—a forum that got widespread attention for all the wrong reasons. When a reporter asked candidate Joe Makula how to make the library welcoming to a diverse community, he answered, "Instead of stocking up on books in seven different languages, if we got people to assimilate and learn English better, I think we would do more good in that area than increasing our inventory of foreign language books."
Incumbent trustee Becky Keane-Adams responded immediately, saying she wholeheartedly disagreed. "Books are windows," she began. "If you open a book and you can never see yourself in it, then it's hard to figure out who you are."
The comments of Makula—elected in April along with candidates Olivia Hanusiak and Suzanne Schoenfeldt, who like Makula identify as fiscally conservative—illustrate a trend unfolding in library boards across the country. Public libraries are facing a wave of trustee candidates whose goals challenge intellectual freedom, community service, and other core values of librarianship. While many potential board members run on platforms that explicitly involve fiscal issues and budget cuts, libraries are increasingly seeing candidates openly campaign on collections and programming decisions, particularly involving social issues and topics like Pride Month and Black Lives Matter displays.
"When this sort of disruption happens, it is really difficult on the director and staff," says Megan Murray Cusick, assistant director of state advocacy for the American Library Association's (ALA) Public Policy and Advocacy Office. "What we're seeing with library boards is not happening in a vacuum. It's happening within the context of what's happening across our country and with our civic discourse."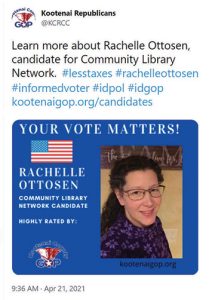 Conflicting understandings of library leadership
In Kootenai County, Idaho, a four-way race emerged last May for two seats on the Community Library Network's (CLN) board, which helps run seven libraries across the county. Challengers Vanessa Robinson and Rachelle Ottosen won their elected seats and have begun six-year terms on the board of trustees. In a new experience for this local election, they received support from the Kootenai County Republican Central Committee.
"To have a political group endorse specific [library board] candidates, to my knowledge, that had not happened previously," says Amy Rodda, CLN director. "From everything that I watched and heard, this board election was very different."
In past library board elections, political partisanship has not played a significant role, Rodda says. Instead, a candidate might emerge to run on a different fiscal approach. But with the endorsement of a political group, she says, "more attention was paid than there had been in the past."
Both Robinson and Ottosen ran on platforms that advocated for the removal of certain materials from the children's section of the library. These materials deal primarily with social issues such as racism, sexual orientation, and gender identity. During the campaign, Ottosen's website (which has since been taken down) outlined her platform in clear terms: "I don't think the public libraries need to be an extension of scriptural knowledge only, but they sure shouldn't be forcing taxpayer funding of satanic agendas that lead to the destruction of our nation."
Rodda began her tenure as library director shortly before the election and has been communicating with the new board members to foster a supportive partnership. "The community that we're in is more conservative, so it should make sense that we have those voices on our board as well," she says. "I don't care about [the new board members'] political viewpoints or background as long as we're working together to provide the best service we can to our community."
In other public libraries, board challenges are more explicitly fiscal in nature, with financial platforms allegedly serving as a vehicle for more ideological changes.
"I think they are trying to hide some of those [ideological] goals within these fiscal arguments," says Elizabeth Lynch, an organizer with #SaveNilesLibrary, a campaign of the Niles Coalition. Lynch, who works as director of teen services at Addison (Ill.) Public Library, says she moved to Niles for the robust programming at NMDL. "There is a natural tendency to believe, for a certain group of people, that money is being wasted and that governments are corrupt," she says. "That's an easy story to convince people of."
At NMDL, Makula is now board treasurer. He immediately slashed $1.5 million, or 20%, from the preliminary FY2021–2022 budget proposed by NMDL staffers. Cuts included canceling a roof replacement project (estimated at $716,000), reducing library hours and staff salaries, and eliminating outreach to local schools and nursing homes. News of the reductions brought hundreds of protesters to a July 20 public hearing. The final budget passed the next day with an adjustment to restore hours and not lay off any current staff members.
The NMDL election received an unprecedented amount of media coverage in the aftermath of Makula's remarks at the March 18 forum. But Cyndi Rademacher, executive director at NMDL, who was appointed by the board of trustees after longtime NMDL Executive Director Susan Dove Lempke resigned in June, characterizes the election as one that has facilitated important conversations within the community. "It's a pretty dynamic library, which is a good thing, and we're happy for that," she says. "One of the things libraries are pushing for is to have public forums and to have a place of conversation, and I think that's happening."
Building a supportive, knowledgeable community
While board challenges and appointments are common, libraries can use a variety of preparedness strategies to protect themselves in cases where the ideologies of board members do not align with the library's mission or local sentiment. According to Cusick, a strong relationship with the community should be the first line of defense.
"Libraries need to communicate their impact on the community, but these things shouldn't just happen around an election, a referendum, or a ballot initiative," she says. "These are things that have to be ongoing."
Laying a foundation to establish a climate of support is the first step toward building a community that will keep the library's best interests in mind. This, according to Cusick, should include educating and informing the public around what the library does and how that work affects people. Programming that targets specific groups, like early literacy programs, workforce development, and health literacy, can show the breadth of a library's services. Additionally, coordinating with other organizations, like a local Rotary club or Lions Club chapter, can create inroads with community leaders.
This community-building, however, should not be limited to patrons. Getting elected officials to understand what the library does and how it functions is critical, especially if a library has an advisory board where members are appointed rather than elected.
"One of the things we recommend is that the [library] director and the board are in touch with the appointing body," says Beth Nawalinski, executive director of United for Libraries, a division of ALA that provides support to board members, foundations, and Friends groups. "That person or body needs to have a clear understanding of what the role of the trustee is." Nawalinski recommends providing whoever is responsible for appointing board members with basic information about member guidelines, such as an ethics statement, state and national standards, and articulated board rules and competencies.
Both Cusick and Nawalinski encourage libraries to build this community support through storytelling or organizing narratives around the library's core values. "Everybody has their own stories about what the library has done in their life," says Nawalinski. Patrons may have had experiences worth sharing, such as how a development seminar helped them get a job, but the board, Friends, and other volunteer groups are also a great source of library narratives.
"There's an importance in knowing why you do something," she adds. "Know why board members and Friends are putting significant time into something they're not getting paid for."
Nawalinksi encourages libraries starting this storytelling process to refer to United for Libraries' "E's of Libraries." This framework breaks potential library narratives into five categories: education, employment, entrepreneurship, engagement, and empowerment. This framework, she says, provides common language for folks to discuss what libraries offer, helping to relay stories in a way that is more organized, memorable, and effective.
Eliminating the library reality–perception gap, or aligning a library's worth with public perception, can foster a community that understands the library's role and importance. "A very important common thread is that individuals are able to see themselves in some capacity in the library, whether in the staff, the building, or the materials." says Nawalinski. This type of advocacy can provide library supporters with effective ways to demonstrate a library's essential nature within a community.
But, as with community building, both Cusick and Nawalinski say the storytelling effort needs to be ongoing, both inside and outside the library. "Libraries have a history of facilitating community conversations," says Cusick. "But what should be happening now is the maintenance."
Documenting library policy
Prior to an election challenge, public libraries should have certain policies documented, like those around programming, budgeting, and services. This can become an important safeguard against reactionary policy implementation. "It's important that these documents are made based on principles of librarianship and service, not just in reaction to a particularly heated conversation or a supercharged moment in time," Cusick says.
Newly elected board members often enter their positions with little knowledge of executive library functions. In Kootenai County, Rodda says that the two new board members immediately wanted to discuss programming—specifically, an LGBTQ-friendly program called Rainbow Squad. However, library board elections occur just prior to the start of the fiscal year, which meant settling on a new budget was the first order of business.
"We've put [programming concerns] on the agenda in the fall, which might be the time and place to raise those specific concerns," says Rodda. "When our board is dealing with the budget, it's time to focus on the budget. We've been funneling these issues into the time and place where they can be addressed."
In addition to clear policies, libraries should have documented ethics guidelines for trustees, volunteers, and Friends. Importantly, libraries should make these guidelines available to all potential board candidates and appointees before an election or position acceptance. Putting together a binder or online resource that includes policies, a meeting schedule, information about parliamentary procedure, and a job description can help prepare potential members for the job.
Once a new board member is elected or appointed, the library should have a comprehensive orientation that sets clear guidelines around the board's role in how the library functions. United for Libraries provides training resources such as Trustee Academy, a series of online courses to help trustees become proficient in their roles. The courses discuss strategies for working with library directors, helping draft budgets, and preserving intellectual freedom. Mandating trainings like this can establish a clear foundation for communication and support with newly elected board members.
When preparation isn't enough
Even if a library has a robust community of support, candidates running on platforms that oppose core library tenets can still win elections if library supporters don't vote. In Niles, fewer than 9% of eligible voters participated in the library board election. But in the election's wake, community members and groups have organized around library advocacy.
"I am very pleased with the interest that the community has in the library and that they're willing to come to meetings and express their concerns," says Rademacher. "This is what libraries are hoping for—to be a place of community and dialogue and public forums."
NMDL has managed to overturn a few of the new board's decisions, such as undoing some of the initial budget cuts. The board saw a power shift with the August 17 resignation of Hanusiak, who cited "other commitments" as a reason for not continuing in the role.
"I think people need to know that they need to make a stink," says Lynch. "They need to show up and be loud and hold up signs.