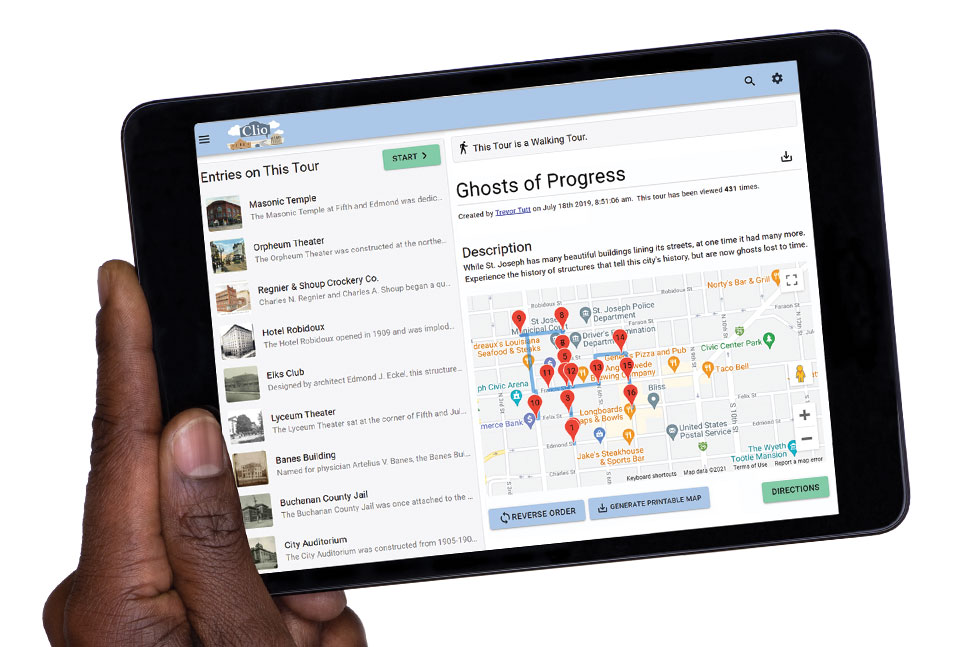 Want to preserve, share, and contextualize local history in your community? If so, technology can help move these activities beyond the special collections section. Online platforms created specifically for local history are allowing libraries to share information in more interactive ways, in turn reaching new audiences, educating patrons, and adding to the historical record. Here we talk with three library workers who are creating walking tours, collecting and archiving oral histories, and connecting with their communities.
Clio
User: Jennifer Sanders-Tutt, local history librarian at St. Joseph (Mo.) Public Library
What is Clio? Clio is a local history platform made by historians that allows you to create entries for points of interest and link them together into tours. It's web- and app-based, and anyone can open a free account.
How do you use it? We do a Local History Week every year, and I wanted a passive program that people could do outside if they wanted, so we devised a couple of different tours. You can create either an individual entry or a walking tour; the platform has guides on what to include. You can also add your own images, and we included some historic images from our downtown library's collection.
What are the main benefits? Clio allows us to get local history out there in another medium. The app will bring up any tours around you (if you allow it to use your location), so users can just jump in. The tours are immersive—you're looking at things that maybe you walked by a hundred times, but now you're seeing them in a different light. Plus, one of my favorite aspects of Clio is that you can upload and link your sources. As a researcher and historian, I want to make sure people know they are getting accurate information.
What would you like to see improved or changed? There are sometimes issues with Google Maps integration, and it'll pop you in and out of Google Maps and the Clio app. Overall, though, it's a fantastic platform.
TheirStory
User: Troy Reeves, head of the oral history program at University of Wisconsin–Madison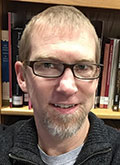 What is TheirStory? It's a remote interviewing platform, like Zoom for oral historians. It allows for face-to-face interaction, which is nice when you're doing oral histories.
How do you use it? We use TheirStory for interviews done by our student historian in residence and for our Women Inspire and COVID- 19 oral history projects. We're primarily an audio archive, and it allows us to download interview audio as a WAV file, as opposed to other platforms where you're downloading audio as an MP3 or other type of compressed audio file. It also allows us to export transcripts as Word documents that sync up with the tool that we use to put interviews online, the Oral History Metadata Synchronizer.
What are the main benefits? Not only can you do oral history interviews remotely and export high-quality audio, but you also have a transcription tool that gives a quality first draft. The interface is easy, too: You push a button to start a session and it gives you a URL that you can share. There's also a calling feature, so interviewees can call in, and you can host multiple people.
What would you like to see improved or changed? TheirStory's team has been great to work with. They've been quick to figure out any sort of transcript glitch, and they've been very receptive to what few other issues we've had. They recently added an indexing tool, a feature we had wanted, and my students say it works well.
Historypin
User: Kari Karp, teen services librarian at West Hartford (Conn.) Public Library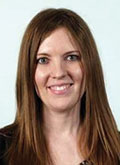 What is Historypin? Historypin is a free website and mapping tool that allows individuals and organizations to archive historical photographs, videos, and audio recordings. Users can create collections reflecting different themes. Some of our library's most popular collections center on neighborhoods, local legends and heroes, and natural disasters like blizzards and floods.
How do you use Historypin in your library? Our local-history department started a "Places and Faces" collection nine years ago, and so far there are more than 500 pins. We invite residents to bring us their old photos, 35mm slides, and negatives so that we can scan and add them to our Historypin channel. From 2014 to 2017, we also used Historypin as part of an Institute of Museum and Library Services grant called Memories of Migration. For that project, I helped train high school students on how to conduct oral histories, and we put photographs and links to the interviews on our channel.
What are the main benefits? Historypin is a user-friendly tool that makes history more accessible. Many people have photos in boxes and albums at home that would be of local interest. It also fosters patron engagement and community connections by letting patrons share personal memories with neighbors.
What would you like to see improved or changed? Historypin is very visual, with maps and large images that take up most of the screen. This is ideal for browsing the site, but I would like to see more organization, like collections and subcollections, and maybe a list of tags to make it clearer which types of photographs are available in a channel.