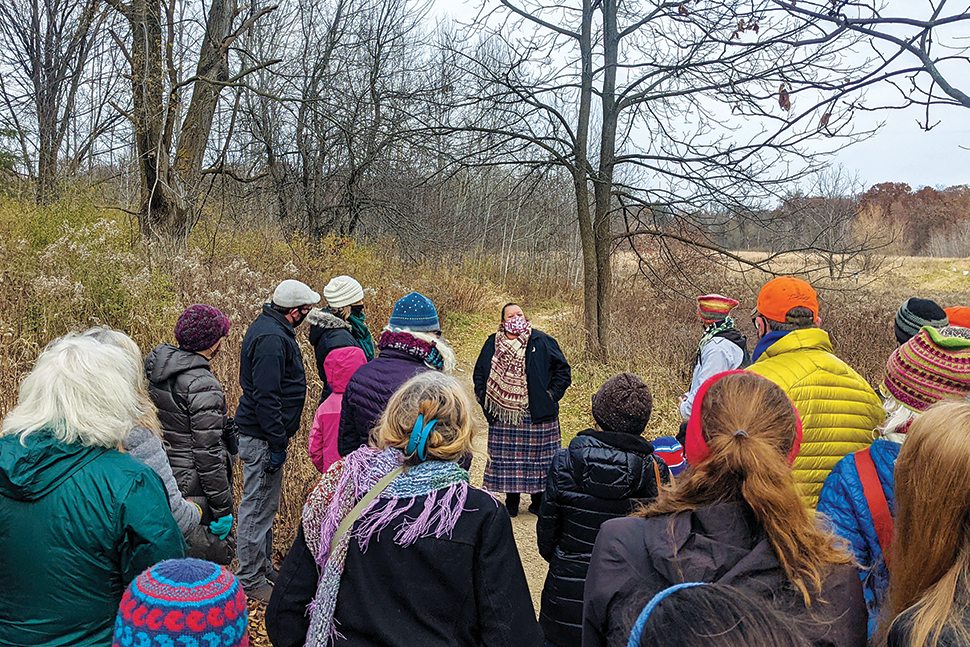 Madison, Wisconsin, is on land that is the ancestral home of the Ho-Chunk people. The tribe was forced to cede its territory in 1832, and in the decades that followed, state and federal governments violently removed the Ho-Chunk people from their lands in Wisconsin. Today, the rich history and ongoing traditions of the Ho-Chunk Nation in Madison are often overlooked. To promote intercultural understanding, Madison Public Library (MPL) introduced a three-month Native storyteller-in-residence program. The first installment, "Ho-Chunk through Story: The Origin, the Wayz, and the Life," debuted last fall.
At MPL, taking a conscious approach to diversifying our collection, staff, and services has been essential to our mission. In recent years, our programming efforts have followed a model that encourages staffers to connect with local communities and partners and amplify their voices through collaboration. Through conversations with our partners in the local Indigenous community, we learned there was little support among them for a single, yearly celebration of Native American Heritage Month in November. Instead, they told us, they would like to interact with the library more regularly.
Community Engagement Librarian Neeyati Shah approached leaders at Ho-Chunk Gaming Madison, owned by the Ho-Chunk Nation, to explore ideas. She proposed a residency program similar to one she had seen at Vancouver (B.C.) Public Library and also to our library's established artist-in-residence program. Together, MPL and Ho-Chunk Gaming drafted a plan for a three-month pilot residency that would include programs and interactive elements that could be shaped by a storyteller's unique skills and experiences. Our partners approved the language for the call for applications, suggested places to advertise, and shared this information within the Ho-Chunk community. We secured a grant from the Madison Public Library Foundation to fund the pilot.
MPL developed goals jointly with our partners. These goals included raising the profile of the Ho-Chunk people, responding to community interest in learning more about Ho-Chunk culture and history, dispelling misconceptions about Native peoples, and sharing information about Ho-Chunk land stewardship and government structure and how each affects non-Native people. Through these aims, our hope was to share stories and make a space for healing and connection.
The first Native storyteller-in-residence chosen by MPL was A. J. "Andi" Cloud, an enrolled member of the Ho-Chunk Nation, whose Ho-Chunk name, or waksik, is Nizuwi, meaning Rain Woman. Cloud grew up northwest of Madison, in Black River Falls, and has a background teaching a variety of ages and working for her tribal government.
For her residency, Cloud held in-person storytimes featuring traditional Ho-Chunk stories and language, interactive programs where participants created beadwork and wove black ash baskets, and family-friendly activities such as a harvest walk and outdoor scavenger hunt. She also planned a series of online lectures with guest speakers, including Anne Thundercloud, former public relations officer for the Ho-Chunk Nation; Patty Loew, professor and author of Indian Nations of Wisconsin: Histories of Endurance and Renewal; and Judge JoAnn Jones, former president of the Ho-Chunk Nation and the first woman to hold that role. Nearly 600 people participated in the programs, and many more engaged with the series through social media and viewing in-person displays. Patrons told us that they welcomed the opportunity to learn more about Ho-Chunk culture and appreciated Cloud's engaging presentation style.
Our hope was to share stories and make a space for healing and connection.
Reflecting on the residency, Cloud said that what stood out to her most were moments when participants would make "a connection to who the Ho-Chunk are and a realization that the Ho-Chunk are here still today."
It was important that our program supported Ho-Chunk individuals economically as well as programmatically, in line with MPL's contractor equity policy. We paid our storyteller a stipend, and other funds went to the Native community in the form of speaker honorariums, purchases from local Native businesses, and paid advertising in the Ho-Chunk newsletter, Hocak Worak.
The program was delayed for more than a year because of the pandemic, but that challenge inspired creative approaches to engagement. Take-home activity kits featuring effigy mound bingo cards, coloring sheets with Ho-Chunk themes, and moccasin designs were made available to kids. Lectures on Ho-Chunk traditions, law, and kinship were moved to Zoom. This spring, the library will debrief with Cloud and Ho-Chunk Gaming to gather feedback that will inform the next residency.
If you're hoping to host a similar program, we suggest you partner with an Indigenous organization or community group and figure out what the library is able to offer early in the process. Doing so helped us gauge what type of collaboration was appropriate, guided decisions around cultural protocols, and fostered trust. Together, you can create a program that is relevant to and respectful of the people your library serves.