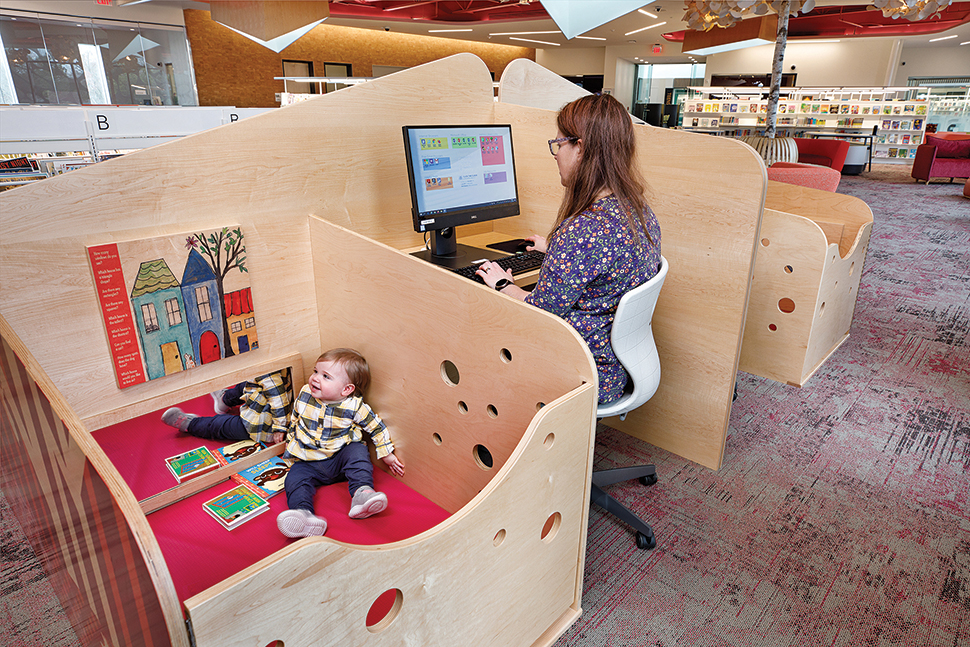 In January, images of some unusual new workstations at Fairfield Area Library—part of Henrico County (Va.) Public Library (HCPL)—went viral on social media and across national and international news media. What caught people's attention: the way the desks with attached play areas for babies and small children allowed adults to work comfortably at computers while keeping their young ones safe, nearby, and in view. These work-and-play stations are a novel solution to a problem that caregivers often face in the library—using public computers while accompanied by a small child. It is a longstanding problem, and these new, supportive furniture pieces are one way libraries can help.
The emphasis in children's areas of the library is often on literacy and learning, which is a significant part of any library's work. But parents and caregivers of children have information needs of their own. The public library can be a crucial source of computer access to caregivers who don't have internet or computers at home. For anyone seeking a career change, reentering the workforce, or starting a small business, computer access can be critical to their lives and livelihoods. We believe people shouldn't need to arrange childcare just to visit the library and use the computers. We want intergenerational groups to visit us all together, and we want the library to meet all their needs at once.
Meeting the needs of families with members of varying ages was integral to the design of the new Fairfield branch, which opened three years ago. When planning the new building, Quinn Evans architects worked with library staffers and local officials to initiate a series of community input sessions. Community members of all ages emphasized that the library's design should focus on supporting young people learning and families visiting the library together. The entire second floor was designed to support children and families: extra study rooms in the children's area, a youth conference room, a family comfort room to support lactation and calming, a dedicated tween section with its own librarian, and a central family collaboration zone.
At the same time, Library Director Barbara Weedman was formulating an idea she had been contemplating throughout her career. With the architects welcoming additional ideas on what else could be done, Weedman shared her vision for an adult-sized computer desk in the children's section with a comfortable play enclosure directly next to it. Designer Shannon Wray of Quinn Evans approached fabricator TMC Furniture to create the stations. The play enclosure has rounded edges and a padded, vinyl-covered base that can be easily wiped down, with finishes durable enough to withstand both active play and frequent cleanings. HCPL's Youth Services Coordinator Rick Samuelson suggested developmentally appropriate, interactive, and interchangeable wooden panels mounted on the inside of the play space, with mirrors inset low on the walls to encourage tummy time for infants.
The stations were built and then installed the day before the new library opened in October 2019. On opening day, a mother sat down at a computer and intuitively placed her infant in the adjoining carrel without direction. Another attendee took a photo, capturing the moment, and shared it on social media, where it quickly was picked up by parenting sites. Use of the carrels grew steadily when library buildings reopened after the pandemic shutdown.
Then earlier this year, Ali Faruk of Families Forward Virginia tweeted a photo of the workstations and his post went viral. Interest in the pieces spread internationally—particularly among parents who had been struggling to balance work and childcare during the pandemic—including from as far away as Japan and the Netherlands. One parent, interviewed by local television news and The Washington Post, discussed how she was designing business cards for her new small business on the computer while her little one played next to her. "Thank God for the library," she said.
Those who work in public libraries have always resolved to support families in our communities through our services and family-friendly environments. Our team at HCPL hopes the widespread attention these workstations have received will remind parents everywhere that their public library continues to innovate to meet their evolving needs. We further hope these workstations—and the spirit of service and caring inherent in their design—will inspire libraries to continue to support caregivers and little ones while they learn, work, and play.