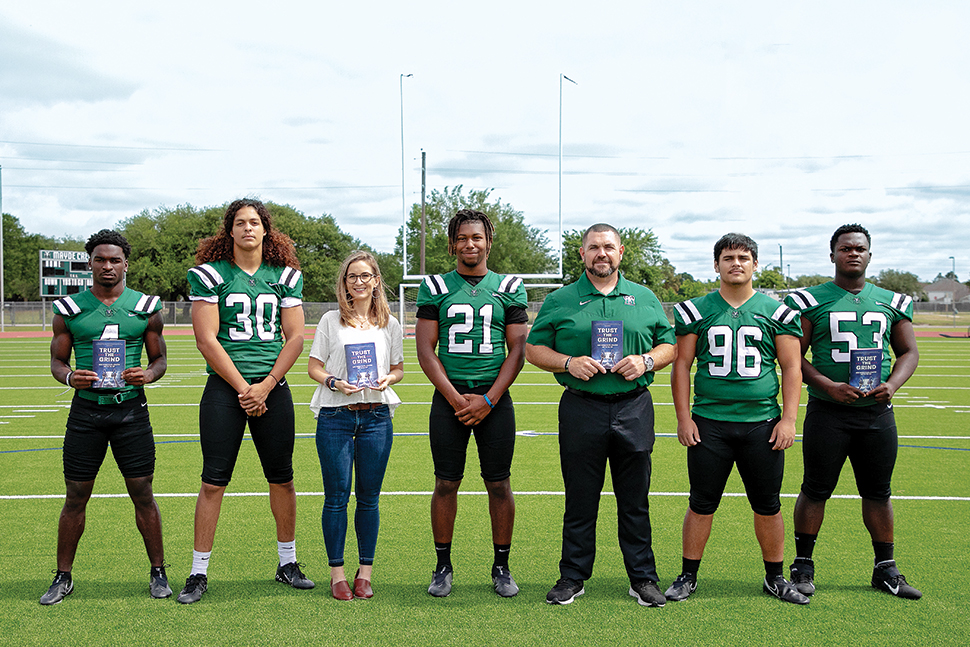 When Jessica Fitzpatrick, librarian at Mayde Creek High School in Houston, first walked onto the school's football field, she could sense the student-athletes' confusion. "They were very hesitant," she recalls. "The librarian doesn't come to football practice."
Fitzpatrick had noticed that one student group seldom visited the library: athletes. She reached out to football coach J. Jensen and collaborated with him to create a book study program for his players, designed to help boost literacy, ignite a love of reading, and provide a space to decompress.
For two months in fall 2021, the program took place either on the gridiron or indoors (depending on the Texas heat). The 50-player team read Trust the Grind by Jeremy Bhandari, Walk-On Warrior by John Willkom, and The Team Captain's Leadership Manual by Jeff Janssen, among other books on leadership, empowerment, and sports. "We emphasized that it was not a grade and it was more about personal growth," Fitzpatrick says.
Since the program's start, she notes that many of these student-athletes have improved their grades. Visits to the school library overall have grown by 28% and circulation by 30%. "[The players] wanted more self-help books, they wanted to talk to [librarians], they wanted to participate in our library events," she says.
Shortly after the football team's book study program kicked off, the boys' and girls' basketball teams established similar programs with Fitzpatrick. On deck to follow suit in the 2022–2023 school year: the softball, baseball, and girls' soccer teams. "It can be a lot of work at times," says Fitzpatrick, "but it's completely worth it getting to see the kids grow and become readers and making those connections to the library."