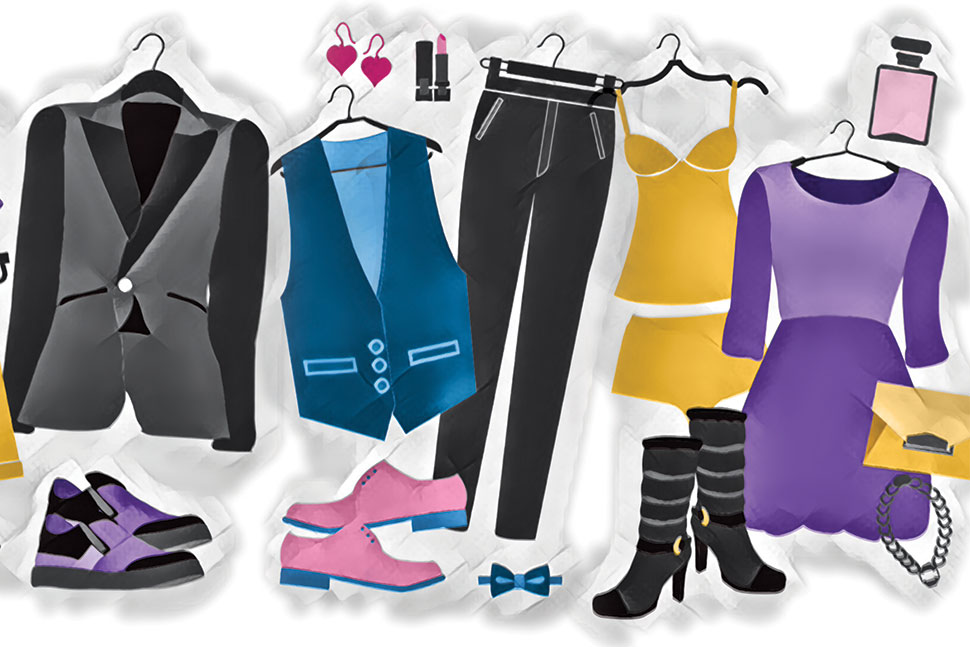 When a mutual aid organization approached Annika Clark about her library hosting a gender-affirming closet, she says the timing was perfect.
"We have a diverse staff that wants this kind of thing," says the associate librarian at Salt Lake City Public Library's (SLCPL) Glendale branch. And Clark had been looking for new ways to connect staff members with local outreach efforts.
Gender-affirming closets—places or events where people can sort through free clothing, accessories, and makeup to find items that help them explore or express their identities—have been appearing at schools, universities, and libraries across the country. SLCPL is one of a handful of libraries to partner with community groups to host these programs for transgender, nonbinary, and gender-diverse youth, particularly those who may not have access to resources that support their identities or may experience discrimination when shopping for personal items.
"The response was incredible," Clark says of the August 2021 gender-affirming closet pop-up event that SLCPL collaborated on with Salt Lake Community Mutual Aid (SLCMA). "I could see patrons having fun going through the racks, commenting on cute clothes. I overheard [one] gushing over a pair of heels that fit perfectly."
Clark says she was able to collect a truckload of items from library staffers for the event, including gently used clothing and accessories like dresses, jeans, jackets, and scarves. The library worked with SLCMA to outfit one of the Glendale branch's meeting rooms like a browsable boutique, without any gendered sections. The aid organization also provided chest binders, garments used to flatten breast tissue to minimize its appearance.
A space adjacent to the meeting room served as a fitting room, and SLCPL staffers curated a collection of LGBTQIA-themed books and media available for checkout and displayed pamphlets on community resources. About 30 people attended the pop-up, and SLCMA kept leftover donations for similar future events.
"We have people on the staff who are transgender and gender-nonconforming, and it was affirming to have the system host an event," says Brooke Young, manager of SLCPL's Glendale branch. "The mood we were going for was really welcoming and open."
Outside opposition
Planning and hosting gender-affirming events, however, has come with local and even national pushback. Last summer, a teens-only back-to-school bash at Fayetteville (Ark.) Public Library (FPL) was canceled after marketing materials that mentioned a drag show created a stir.
"It's a sad reflection of where we are that something like this happened," says David Johnson, FPL's executive director.
The event was meant to include a gender-affirming closet and haircuts, LGBTQ+ literature and community resources, a barbecue lunch, and a dance party with a DJ in the library's large event space.
Projects like this send a very direct message to our young people that the library values them for who they are.—Kirsten Brodbeck-Kenney, director at Driftwood Public Library in Lincoln City, Oregon
The bash was scheduled for August 7, 2022, but on July 29 the mayor's office forwarded an angry letter to Johnson, which was followed by a cascade of calls and emails expressing opposition. A portion of the feedback came from outside Fayetteville and focused on the drag show, which was mentioned in promotional fliers produced by Equality Crew, a local LGBTQ+ youth support nonprofit and the library's partner for the event. Equality Crew ultimately decided to pull the plug on the event, though Johnson says the library is open to collaborating with the organization on future events.
"There was a fear and feeling of potential violence [from detractors]," Johnson says. "It's unfortunate."
Cultivating support
At Driftwood Public Library (DPL) in Lincoln City, Oregon, a fundraising event for a gender-affirming closet last summer drew some ire in a local online group, followed by angry calls, emails, and social media posts.
"I got out of the shower, and my phone was blowing up with notifications," says DPL Director Kirsten Brodbeck-Kenney. "They were calling us groomers and pedophiles."
Conservative media outlets, including Daily Caller and Breitbart News Network, reached out to the library for statements. DPL turned to the city's public relations firm, local law enforcement, and Western States Center, an organization that monitors extremist groups, to navigate the onslaught of attention. After a stressful week of managing the situation, the library's August event went off without a hitch, attracting 120 attendees, raising more than $800, and collecting many items for its gender-affirming closet.
The event, spearheaded by a teen intern at DPL, included a scavenger hunt, face painting, a silent auction, and a speech from transgender identity researcher Bethany Grace Howe. To lay the groundwork for the fundraiser, the intern met with members from the local Kiwanis and Rotary clubs, Lincoln City Chamber of Commerce, and other organizations.
The intern created an Amazon wish list for those who wanted to support the effort from afar or get ideas about what items to donate. DPL collected dresses, suits, binders, sports bras, and jewelry.
Brodbeck-Kenney says establishing a wide base of support in town was key in weathering the event's backlash.
She says that "when things went a little pear-shaped," the library received significant support from local businesses and community leaders. "People were protective, like: 'We don't want folks messing with our kids and messing with the library,'" Brodbeck-Kenney says. "That really helped."
A permanent location for the gender-affirming closet remains in limbo after space at the local high school failed to pan out. The library is partnering with a local organization that serves LGBTQ+ youth to identify a long-term home for the collection.
"Projects like this send a very direct message to our young people that the library values them for who they are," Brodbeck-Kenney says, "and that this is a place they can come to learn, grow, and find connections."