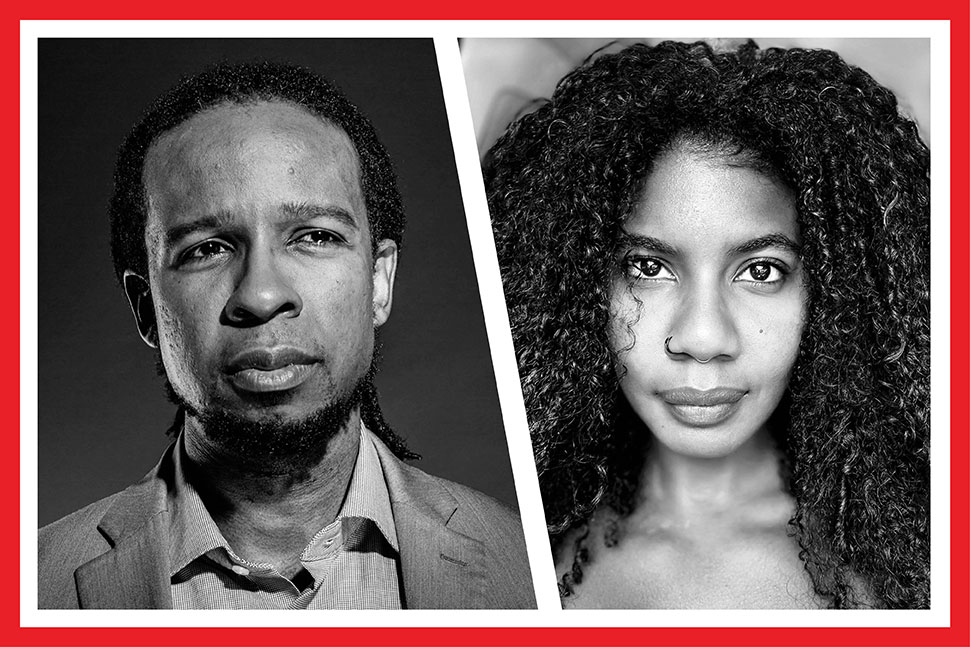 Since the release of his 2019 bestseller How to Be an Antiracist, author and scholar Ibram X. Kendi has adapted his guide for specific audiences, including young children and parents.
Now Kendi, working with middle-grade and YA fiction author Nic Stone, is bringing his concepts and research to teens in an effort to help them understand their role in identifying and dismantling systemic racism. How to Be a (Young) Antiracist (Penguin Random House) was released in January.
After the authors opened the American Library Association's 2023 LibLearnX conference in New Orleans, they spoke with American Libraries about how Stone tailored Kendi's original work for this audience, the dangers of book bans for young readers, and what gives them hope amid recent threats against intellectual freedom.
As you thought about how to make this book appeal to young people, what were the most important steps?
Stone: For me it was creating an outline by which to structure the book, and nailing the language. I hang out with a lot of kids; I have kids. So adapting the book fit right into my life, in a way.
I learn so much from listening to young people talk about what's on their minds. I wanted to make sure to frame [the book] in ways that they could engage with.
Kendi: For me, [the important thing]—and I think our book does this—was treating young people as intellectuals. If you clarify it for them, they can understand it, they can apply it. Adults think that speaking about what it means to be antiracist is complex, sophisticated, and too hard even for adults to understand, which is just not true. It's actually quite simple.
Nic, you have described this project as personally the hardest you've ever done—but also the most humanizing and revelatory. Can you elaborate?
Stone: When you're writing fiction, you get to play God, right? You get to decide what justice looks like. That's not the case with nonfiction, which is all about telling the truth. I think of fiction as showing the world both as it is and as it could be if we were willing to move just a little bit. With this, it was "This is the truth; the truth has to be told exactly as it is."
It made it a bit of a difficult journey, but I also felt very validated by stories of himself as a child that Ibram shares in the book. They made me feel seen. So while it was hard, it was totally worthwhile. But I absolutely would not do it again.
What do you make of this recent wave of book challenges and bans? What impact do you think it will have on young readers?
Kendi: I think young readers of color, in particular, try to see and understand themselves through stories of kids who are like them or kids they can aspire to be. So when you're snatching those books out of their hands, out of their libraries, it has a devastating impact on them. Many of the books being challenged or removed are the best ones, the types that are going to make lifelong readers.
Stone: The first time I experienced a book ban [for one of my books], the thing that hit me the most about it was you're telling kids that they are not welcome in the spaces they have to be in. If a person in a book who looks like me can't be in this space, what does that say about me being in it? It's rejection on the most fundamental level. What I will also say, though, is don't underestimate the audacity of the children you're taking these books from. Don't piss off the kids. It's a bad idea. They push back.
What keeps you hopeful?
Kendi: Seeing librarians organize against the banning of books and the delegitimizing of their profession makes me hopeful. [They're pushing back against the idea] that some elected official, political operatives, or even parents—who are thinking only about their own child as opposed to the whole community, like a librarian is—knows better. Seeing librarians organize and stand up for themselves, seeing young and even older people organize banned book clubs, seeing parents and caregivers organize. Seeing people fight gives me hope.
Stone: The other piece is, it's just good to be alive, right? We're coming off three years of death and destruction. Our way of life has been challenged in every aspect of the word. Being able to continue telling stories is a gift. That, and the feedback I get from young people, gives me hope. There's a kid I met when he was in 8th grade. He'll text me every now and then and be like, "I decided I'm going to write a book. Can I send you the first chapter?" Dear Martin was the first book he ever read, and now he wants to write them? Those kinds of things are more than enough.
What role have libraries played in your life and work?
Stone: In Kansas City, Kansas, [where I lived during 2nd–4th grade], there was this nook in the library where I would go grab a stack of books, and I would tuck myself into the nook. I always got so mad when somebody else was in my spot. But libraries were safe spaces. Entering them was like entering the multiverse. There are so many worlds you can inhabit, so many places you could go, and people you can meet within the pages of books.
Kendi: Growing up, I didn't visit libraries much because my parents had a big home library. But ever since I entered graduate school and started the journey to be a scholar, I've been living in libraries, particularly as a researcher. My first book was on Black student activism on college campuses in the late 1960s and early 1970s. So, I spent a ton of time in university libraries in particular, visiting college archives. Libraries have always been a place that is hallowed for me. And whenever I go, I leave with too many books.