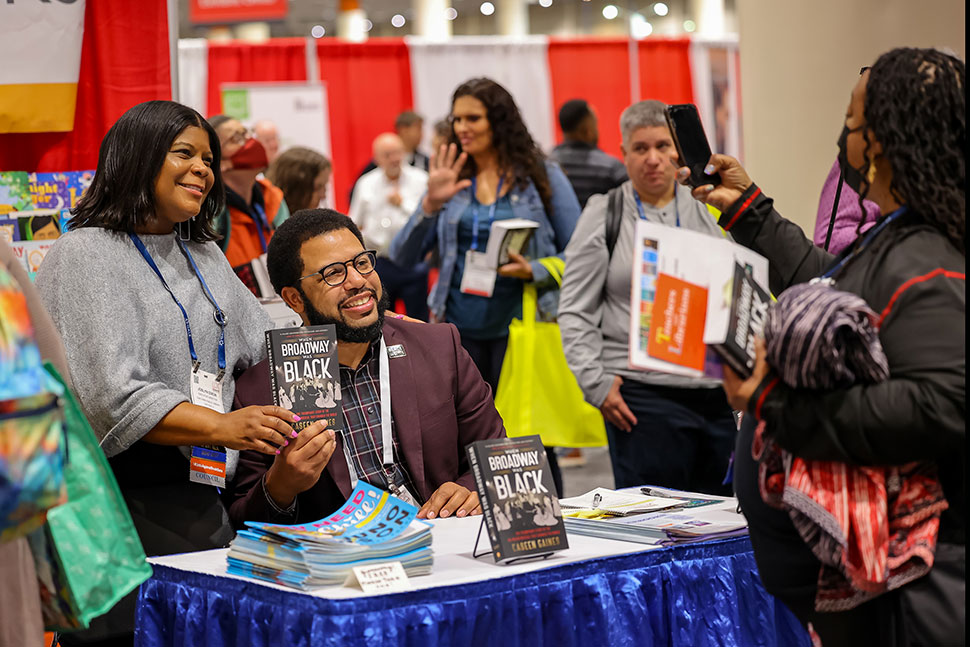 For the first time, the American Library Association (ALA) held LibLearnX (January 27–30) in person. The four-day hybrid event drew 1,712 attendees and 757 exhibitors to New Orleans as well as 190 participants to the conference's virtual component, the LLX Digital Experience.
At ALA's second-annual LibLearnX, presenters shared different approaches and a refreshed outlook for dealing with the swell of book bans and censorship attempts happening across the country. Authors and illustrators took to the stage to offer stories of hope and struggle and showed the power of centering narratives from those who are Black, Indigenous, and people of color. And with the return of the Symposium on the Future of Libraries, futurists and information professionals showcased how libraries are looking ahead to anticipate their patrons' needs and prepare for their own sustainability.
Inspiring change
How do we build a more equitable world? Featured speakers at LibLearnX took to the stage to share their diverse stories, sources of inspiration, and calls to action.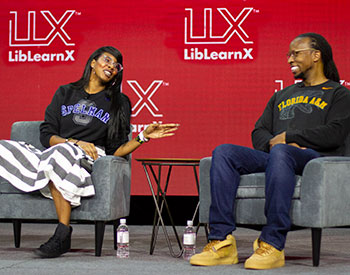 Authors Ibram X. Kendi and Nic Stone kicked off the conference with their January 28 opening session, where they discussed their new book, How to Be a (Young) Antiracist (Kokila, January). Stone, a middle-grade and young adult author, adapted Kendi's 2019 bestseller How to Be an Antiracist to help teens better understand their role in identifying and dismantling racism. "This is the book that I needed when I was 15 or 16 years old," Kendi said.
Recounting tales from when she was of that pivotal age, author Willie Mae Brown discussed her debut novel, My Selma: True Stories of a Southern Childhood at the Height of the Civil Rights Movement (Farrar, Straus and Giroux, January). Brown grew up in Selma, Alabama, during the civil rights movement and witnessed Martin Luther King Jr. speak at her church. Her book for young readers weaves intimate and deep stories about her childhood and family.
"I wanted people to know how Selma felt, how it was to live there," Brown said. "And that we had a life, we had our families, the things that we did every day."
The past can be monumental—not only when telling a story but also while forming one's identity. Author and poet Clint Smith told of his travels around the world, including parts of Louisiana, for his narrative nonfiction book, How the Word Is Passed: A Reckoning with the History of Slavery Across America (Little, Brown and Company, 2021).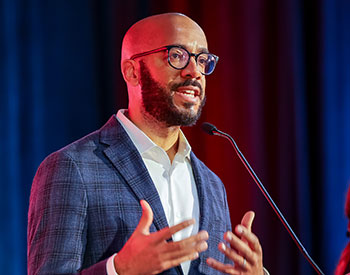 Smith also shared how the experiences of others have shaped who he is today, as reflected in the poems of his upcoming collection, Above Ground (Little, Brown and Company, March). "I think about Black fatherhood. I didn't want it to be defined by the violence and oppression that we've experienced," he said, "because that's not what my experience as a father is. That's a part of it. But that's far from the whole of it." (Read our Newsmaker interview with Smith, online starting March 1.)
Representation was a salient thread in the session presented by author Carole Lindstrom and illustrator Steph Littlebird. The two discussed their forthcoming picture book My Powerful Hair (Abrams Books for Young Readers, March), which shows why hair is a powerful symbol in the Indigenous community and highlights themes of family, self-expression, and reclaiming one's identity.
"Your hair is your connection to the culture, to the earth," Lindstrom said. "Your hair is a living scrapbook." They hope that My Powerful Hair will bring much-needed visibility to the Indian Child Welfare Act of 1978. The federal law protects Native children from being systematically removed from their homes and communities in foster care and adoption cases, but it is currently in danger of being overturned by the US Supreme Court this year.
The ALA Presidential Program "Library Workers: Organize and Activate" also touched on raising awareness for certain causes. Librarians K. C. Boyd, Lesley Garrett, Candice (Wing-yee) Mack, and Elizabeth Martinez described the campaigns—and injustices—that compelled them to first get involved in activism within the profession. The program covered panelists' biggest wins, self-care tips, and advice for sustaining the work. "I think about progress, not perfection," Mack said. "Any movement forward helps."
Caldecott Medal–winning author Brian Selznick spoke about his upcoming book, Big Tree (Scholastic Press, April) and how its two protagonists reflect a sense of helplessness that many of us are going through—especially librarians who are facing challenges, whether related to collections, budgets, or personal struggles. But there is hope.
"No matter how small and terrified and overwhelmed you might feel," Selznick said, "there is always something that can be done."
Though hard to picture, author and open source advocate Cory Doctorow believes something can be done about the stranglehold that behemoth tech and content companies—such as Amazon, Facebook, and TikTok—have on their users. His forthcoming cryptocurrency thriller Red Team Blues (Tor Books, April) reflects our current scam economy, he said, and serves as "a manifesto for a redeemed world where we are in charge of technology."
Closing the conference January 30 was Grammy Award–winner and author Ani DiFranco, whose upcoming picture book The Knowing (Rise x Penguin Workshop) comes out in March. DiFranco cited the pandemic, which kept her from touring, as the impetus for taking on the new venture of writing stories for children. With The Knowing, she said she seeks to help kids understand their inner identities.
"All of that stuff that we are led to believe and know that is social and cultural, it has its value, but it also has its traps," DiFranco said. "I wanted to speak to children about a thing that is much simpler and much more real in a lot of ways."
Tackling book challenges
Over the last two years, libraries across the country have faced an unprecedented wave of materials challenges and censorship attempts. Presenters offered new strategies to tackle the ongoing problem.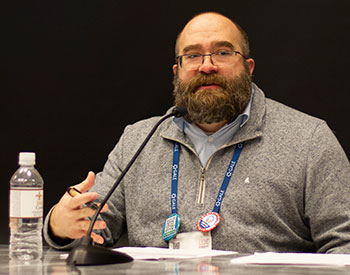 At "Building a Practical Toolkit for Censorship and Challenges at Your Public Library," panelists shared tips on how to prepare for challenges, such as familiarizing yourself with case law, training your staff and trustees, and meeting with elected officials. "If you're experiencing lots of challenges, it's possible that it's something that's not organic," said Peter Coyl, director and CEO of Sacramento (Calif.) Public Library. He noted that most challenges are orchestrated by well-funded and well-organized groups.
Reminding the community of the role a library plays can also be a way to defend against challenges. At "No More Neutral: How to Use Marketing to Position Your Library in Challenging Times," Angela Hursh, manager of engagement and marketing at NoveList and author of the Super Library Marketing website, discussed how some libraries are strengthening the public's perception of what they do, rallying their supporters, and responding to book challenges effectively using the tools at their disposal.
"[Challenges] really threaten the existence of your library," Hursh said. "Not talking about it is not going to prevent a challenge."
And sometimes, your best strategy for handling challenges is creating advocates within the system. During "Building Strong Trustee Relationships during Book Challenges," Tonya Ryals, director of MacDonald Public Library in New Baltimore, Michigan, shared how library directors can initiate and maintain relationships with their trustees to form long-term allyships. Directors can create this affinity in a variety of ways, including an orientation of policies, a guided tour of the library and what it offers, and sharing some of the library's financial background.
"It's helpful to ensure everyone understands what's going on, and it also ensures trustees have the language they need to communicate this [topic] with other people," Ryals said.
Exploring library futures
At this year's LibLearnX, the Center for the Future of Libraries returned to sponsor the Symposium on the Future of Libraries, a highlight of past Midwinter meetings. The symposium featured programs themed around literacy equity, sustainability, liberation, and play.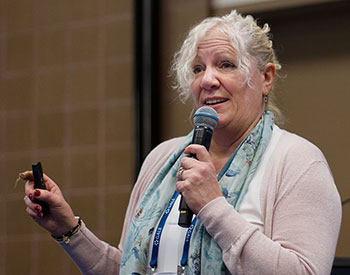 At "Which World? Using Far-Fetched Scenarios to Map out the Future of Libraries," Dawn La Valle, director of the division of library development for Connecticut State Library and a certified natural foresight practitioner, described futures thinking. It's the creative process of imagining what the world could look like decades from now and how that should affect present-day planning. "How we think about the future directly impacts the decisions we can make today," she said.
Futures thinking often involves discussions about sustainability. In 2020, 25 libraries received an ALA Resilient Communities grant of $1,000 to help educate patrons on the climate crisis. During "Talking Climate: Resilient Communities Grantees Share their Stories," representatives from five public and academic libraries shared the results of their six-month pilot program.
Recipients organized programs such as movie screenings, talks with local climate experts, and sessions about recycling and waste reduction. "Just talking about climate change with the students has been really important because they don't talk about it that much," said panelist Julia Kress, senior electronic resources assistant at Rice University in Houston.
Though, sustainability isn't just about climate. It can also refer to the economic and social well-being of our communities and ideas for solving problems such as the digital divide. At "A+ Outreach: Collaborating to Address COVID Learning Loss," Julie Curry, principal of John K. Hubbard Elementary School and chair of the Pioneer Library System (PLS) Board of Trustees, both in Cleveland County, Oklahoma, touched upon the struggles students faced during the early stages of the pandemic.
"Our school district is rural," she said. "A lot of [students] didn't have Wi-Fi at home." Curry's school partnered with PLS to address the learning loss that occurred as a result of virtual schooling through a pilot program of tutoring and enrichment held at three library branches.
Creative library programming
Librarians are constantly crafting inventive programming, balancing a focus on entertainment and meeting community needs. Sessions covered everything from how to set up a Dungeons & Dragons game to building youth financial literacy.
Amy Kraemer, youth services librarian at Keene (N.H.) Public Library (KPL), and Gail Zachariah, head of engagement and youth services at KPL, talked about their Little Makers program at "Starting Young: How to Launch Family Making Experiences at the Library." The presenters discussed their program's benefits and how they pivoted during the pandemic.
Kraemer and Zachariah said that a makerspace geared toward 2-to-6-year-olds needs only a few things: small ramps, flashlights, a repurposed overhead projector, and an assortment of toy balls. They emphasized that STEM can be as simple as playing with light and rolling different-shaped objects down a ramp. "You don't have to be an expert," Kraemer said.
At "Building Youth Financial Capability through Storytime," Lyn Haralson, financial education program analyst at the Consumer Financial Protection Bureau, discussed the "Money as You Grow" resources and book list that her agency has made available for caregivers, as well as the Youth Financial Education webpage for teachers and librarians. Haralson said that resources such as these can help kids develop executive functioning, financial habits and norms, and financial knowledge and decision-making skills.
Sensing a renewed interest in tabletop gaming thanks to the popularity of hit Netflix show Stranger Things, Molly Virello, head of children's services at Southington (Conn.) Public Library, began running Dungeons & Dragons campaigns for patrons who wanted to try the game. At "Critical Hit! Tabletop Gaming in the Library," Virello shared basic game terminology and what library workers should consider if they want to start their own program.
"We're all just making stuff up as we go along," Virello said. "Yes, there are rules, but that doesn't always have to apply. Your job is to make sure everybody's on track and the game is fun."
Celebrations and awards
Three academic librarians, three public librarians, and four school librarians received the 2023 I Love My Librarian Award and were honored at a January 27 reception. "Even in these unprecedented times, and as our nation's library workers face historic levels of intimidation and harassment due to an ongoing wave of book censorship, librarians continue to empower their patrons, teach critical literacy skills, promote inclusion in their space and collections, and provide vital services for their communities," said ALA President Lessa Kanani'opua Pelayo-Lozada in a January 17 statement.
On January 29, ALA announced that The Swimmers (Alfred A. Knopf, 2022) by Julie Otsuka won the 2023 Andrew Carnegie Medal for Excellence in Fiction and An Immense World: How Animal Senses Reveal the Hidden Realms Around Us (Random House, 2022) by Ed Yong won the 2023 Andrew Carnegie Medal for Excellence in Nonfiction. The selections were announced during the Reference and User Services Association's (RUSA) Book and Media Awards event, and the medals were administered by RUSA and Booklist.
During the Youth Media Awards on January 30, ALA announced the top books, digital media, video, and audiobooks for children and young adults—including the Caldecott, Coretta Scott King, Newbery, and Printz awards. Freewater (JIMMY Patterson, 2022), written by Amina Luqman-Dawson, was named the 2023 Newbery Medal winner. Hot Dog (Alfred A. Knopf, 2022), written and illustrated by Doug Salati, was named the 2023 Caldecott Medal winner.
The theme of the 24th annual Martin Luther King Jr. Holiday Observance and Sunrise Celebration on January 29 was "Housing: The Chicago Chapter in Dr. King's Freedom Movement." The event examined the civil rights leader's time in Chicago in 1966, when he shifted the movement's efforts from the South to the North, specifically looking at segregation, racism, and injustice in housing.
Keynoting was Sheryll Cashin, author of White Space, Black Hood (Beacon Press, 2022) and professor of constitutional law at Georgetown University in Washington, D.C. Cashin asked attendees to celebrate King by remembering and recommitting to his movement toward reckoning, transformation, and reconciliation: "We have to continue to do the work of dismantling the structures that push us apart but also the structures that suppress democracy."