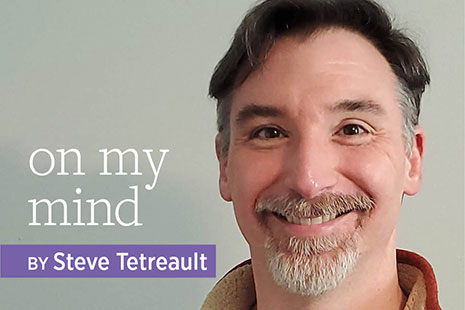 At a meeting for my county education association last fall, I asked a room of 60 educators to raise their hand if they had heard about any book banning or censorship attempts in our state of New Jersey. Zero hands went up.
It's maddening that so few people outside the library profession—even those we work with—see what is going on. But unfortunately, it's not surprising. These days, news events reported across too many platforms compete for our limited time and attention. As local news outlets diminish, so does reporting on community events like school or public library board meetings. Once a ban is considered newsworthy, it is often either in process or in place. And in states where this wave of book challenges and bans is less pervasive, it can feel like a distant issue.
The school librarians I know are often too overworked and overextended to help create inroads within our school environments that mobilize teachers and other stakeholders to fight book bans alongside us. But in the absence of a celebrity spokesperson, it's up to us to break through the library bubble.
Energizing educators. There are simple ways to start conversations with colleagues and administrators. You can explain the difference between age-relevant and age-appropriate library materials for students. The latter is very subjective and can encourage purposeful avoidance of topics that could cause discomfort. The former is, ironically, more appropriate, as there are plenty of topics relevant to students that may not be considered polite. You can also cite the US Supreme Court decision in Island Trees School District v. Pico (1982), which ruled that school officials and boards could not remove material from their libraries based solely on their personal feelings about the topics they contain.
Depending on your state's student learning standards, there may be additional ways to address book bans. In New Jersey, for example, we are mandated to make materials available related to the Holocaust, social-emotional learning, diversity, and the histories of Asian American and Pacific Islander, Black, and LGBTQ people. Explaining to fellow educators how your library's materials can help schools meet state requirements like these could garner more support and room for discussion.
We must leverage established relationships in schools to share firsthand accounts of the impact that removing books has on library patrons and library workers.
Informing others. In order to fight back, community members must know when and where to show up. I remind family and friends that school board meetings happen regularly and are open to the public; many can now be attended via Zoom. I share how they can preemptively support intellectual freedom and student achievement by making a statement or by supporting someone else who does. The same is true for local libraries: It takes only a few minutes to send a positive email to the public library clearly expressing support for their collection and importance to the community.
We must leverage established relationships in schools to share firsthand accounts of the impact that removing books has on library patrons and library workers. Soft censorship, the act of limiting media prior to any opposition, is on the rise, as many book purchasers fear painting a target on their backs. I personally know several librarians whose mental and physical health have been negatively affected by the prolonged stress of book challenges that have evolved into professional and personal attacks. Through informative conversation, you can inspire those around you to take this issue seriously.
It's not easy to deal with a seemingly unending flood of bad news—especially when it feels like we're preaching to the choir. But librarians are all about sharing information with those around them. If we can build enough awareness and introduce accessible ways to help, we're more likely to get the support we need.