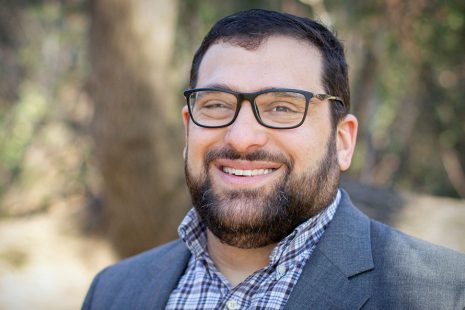 Dan Freeman has been at ALA for more than 13 years, serving for the past seven as director of ALA Publishing eLearning Solutions. In September, he and his team transitioned from the ALA Publishing and Media department to ALA Continuing Education. As director of this newly created department, Freeman will oversee continuing education (CE) at the Association-wide level, working across offices and divisions to ensure ALA's CE offerings continue to expand and meet the needs of the LIS community. The CE unit recently oversaw development of the new ALA e-learning site, which has consolidated the listing, sales, and content of eLearning events across the Association.
Freeman is a Chicago native who lives in the near-north suburbs with his wife and two sons. He holds an MLIS from University of Illinois at Urbana-Champaign.
He answered our 11 Questions to reintroduce himself to ALA members.
Coffee, tea, other?
Loose green tea—consumed hot when it's cold out, iced when it's warm.
What's the first website or app you check in the morning?
The New York Times … but I'm trying to transition that to Headspace, a meditation and mindfulness tool.
Best career advice you've ever received?
"The Dude abides."
What drew you to librarianship/ALA?
My mother is a librarian, so I basically grew up in libraries. When I finished my undergraduate degree, I got a job as the bookmobile driver at the Champaign (Ill.) Public Library. At the time I was applying to law school, but I loved the job, and one day it dawned on me that I could keep my job and attend one of the best LIS programs in the country at my alma mater. I realized I was already at home in librarianship; why not just stay?
Most distinct aspect of your personal office?
I have a desktop nameplate that says "Everyday I'm Hustlin'."
Guilty pleasure?
Hipster soap.
First job?
Shoveling snow.
What do you hope to bring to ALA and members?
I'm very excited about offering the opportunity to elevate the e-learning experience and help meet the ever-changing professional development needs of members and the communities they serve. Among our goals is to work on creating clearer comprehensive learning pathways. One really gratifying experience: bringing ALA staff together to create the ALA eLearning site as the centralized resource that is the foundation for this work.
If you had to choose any other profession, what would it be and why?
I would be a history professor with a part-time job as the bassist for a really good progressive rock band and also the starting point guard for the Chicago Bulls. I'd have a pretty busy schedule.
Book you're reading?
The Rising Sun: The Decline and Fall of the Japanese Empire 1936–1945 by John Toland.
Tool used for keeping your life organized?
Yes, I'll take one, please. Thanks for offering.