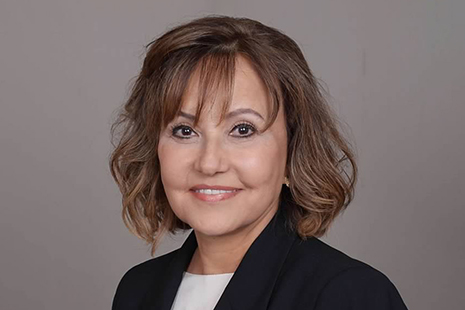 Dina Tsourdinis became the American Library Association's (ALA) new chief financial officer on December 13, 2021.
A licensed certified public accountant, Tsourdinis holds bachelor's and master's degrees in accounting from University of Illinois Chicago (UIC) and is a member of the Illinois CPA Society and the American Institute of Certified Public Accountants.
Tsourdinis has worked in finance at several nonprofit and educational institutions in Chicago, including UIC, SOS Children's Villages Illinois, ChildServ (now known as Kids Above All), and Adler University. For two decades, she has also taught accounting courses at Saint Xavier University's Graham School of Management in Chicago.
Tsourdinis answered our 11 Questions to introduce herself to ALA members.
Coffee, tea, other?
I enjoy coffee in the morning. My favorite is a Starbucks espresso, but I also drink tea in the afternoon.
What's the first website or app you check in the morning?
Two e-newsletters: CPA Letter Daily and CFO Daily News. They have articles about the economy, important financial news, emerging issues in the accounting profession, technology, and best practices that I like to keep up with.
Best career advice you've ever received?
To be current in the profession and not hesitate to take on new challenges. If I were to look back at my career path, I have always encountered challenges in assuming a new role. I view a challenge as a way to broaden my learning experience and find opportunities for growth, development, and continuous improvement.
What drew you to librarianship/ALA?
First, the mission of ALA resonates with my personal values. I believe in providing everyone in our society with equal opportunities to learn and grow professionally. Libraries allow people to access quality information and use technology. They are spaces where people of all ages can practice lifelong learning—a safe place.
Education is my passion. I teach part time at Saint Xavier University, where I try to share the knowledge that I have attained. I particularly enjoy breaking down complicated financial topics into understandable reality, which enriches and empowers students.
The most distinct aspect of your personal office?
My personal office is always designed for efficiency and openness to promote collaboration and approachability by all.
Guilty pleasure?
Pizza, especially the one I make at home.
First job?
During high school I worked as a bookkeeper for a neighborhood family-owned grocery store. I enjoyed tallying the daily receipts and expenses to calculate the monthly income statement.
What do you hope to bring to ALA and members?
I hope to gain their support and trust as a finance leader by implementing systems and processes that will help provide timely and accurate information. There are a lot of opportunities I will be exploring to operate more efficiently. For example, using fully integrated technology, updated processes, centralization of certain vendors to gain economies of scale, and automation to provide more value to our programs, services, and members.
If you had to choose any other profession, what would it be and why?
I would be a full-time professor of accounting at a university because I enjoy my adjunct faculty experience where I get to teach and mentor students as they choose their career paths.
Book you're reading?
First, Break All the Rules: What the World's Greatest Managers Do Differently, by Marcus Buckingham and Curt Coffman of Gallup.
Tool used for keeping your life organized?
My Outlook calendar and preparing/updating daily priority lists help me stay on track in a conflicting-priority environment.