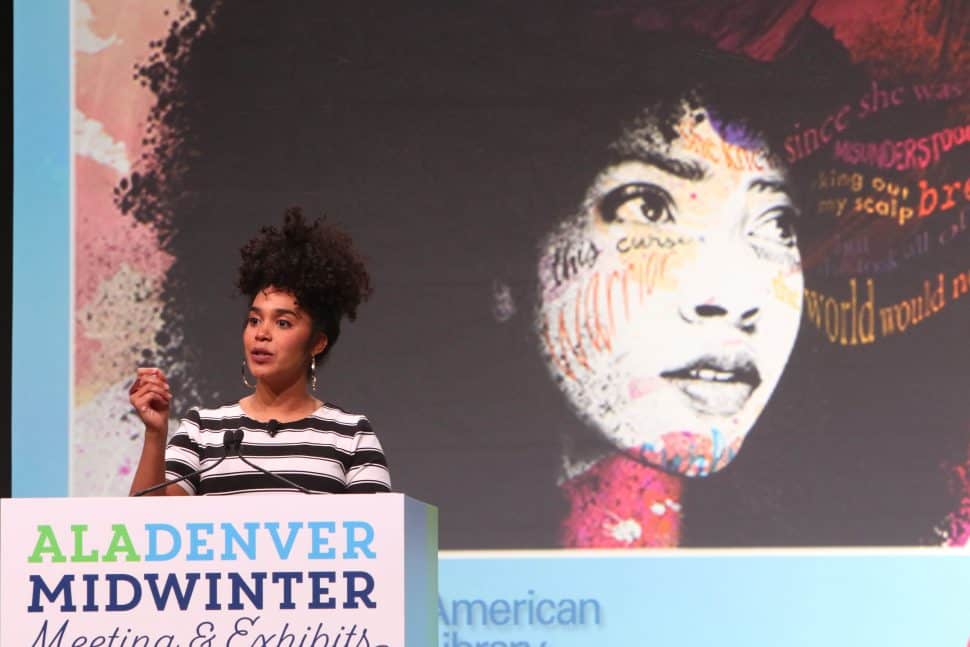 "Although I was always a reader, I think I was a writer first," poet and author Elizabeth Acevedo told attendees at Saturday's Arthur Curley Memorial Lecture. "I grew up in a house of storytellers." Acevedo credited her parents, who emigrated to New York City from the Dominican Republic in the 1970s, with her love of literature. Acevedo is the author of two poetry collections and a novel in verse, The Poet X (published in March by HarperTeen), from which she read an excerpt.
"My father was not so much a reader of books," Acevedo said, but he read three newspapers—two in English and one in Spanish. "I watched him work through those every day." Her father was also a teller of stories, not always the best or the most appropriate, but "from him I learned timing, pacing, and what it means to gear up to a point."
Her mother loved reading medical books and holistic healing texts: "She was always trying to heal us, even when we weren't sick." Often her mother would pick out a thick book with hundreds of pages and start reading it to her. "But she warned me," Acevedo said, "that although we will start out reading this together, you will finish it by yourself. That's when I fell in love with reading and its empowerment. My love of reading directly relates to my mother's love for me, and that moved me into becoming a literary being."
Acevedo was encouraged in her career by her 6th-grade teacher at the Manhattan School for Children, Phil Bildner. "He taught me how to read, how to be a writer, and how to partake in a community of writers," she said. Bildner suggested that Acevedo write to authors Laurie Halse Anderson (Fever 1793) and Angela Johnson (Heaven) and critique their works honestly. She heard back from Anderson, but did not get a response from Johnson until a few years later, when her next book, The First Part Last, was published. It was dedicated to Acevedo and the other 6th-grade students of the Manhattan School for Children. "That was the first time I ever saw my name in print," she said.
Acevedo earned a master's degree in creative writing at the University of Maryland, and it was there that she encountered a rather stodgy professor who had traditional views about the loftiness of poetic topics. When he gave her class an assignment to write an ode about an animal of their choice, he objected to her choice of the rat, saying that "rats are not noble enough creatures for a poem." Acevedo said he was not consciously trying to be mean, but he did not consider writing that was different from his own style. "From my point of view," Acevedo said, "with ancestors coming from an island that was one of the first to be colonized by Europeans, my ode to a rat was writing against nobility."
"I think constantly about our literary canon," Acevedo said, "and what we consider to be American classics. But where are the stories for us? What is the canon of right now?"
Acevedo wound up her presentation with one takeaway: "Every time you encourage someone to read, you are engaging in an act of love. You are offering someone a difficult gift, and you are also planting a seed."