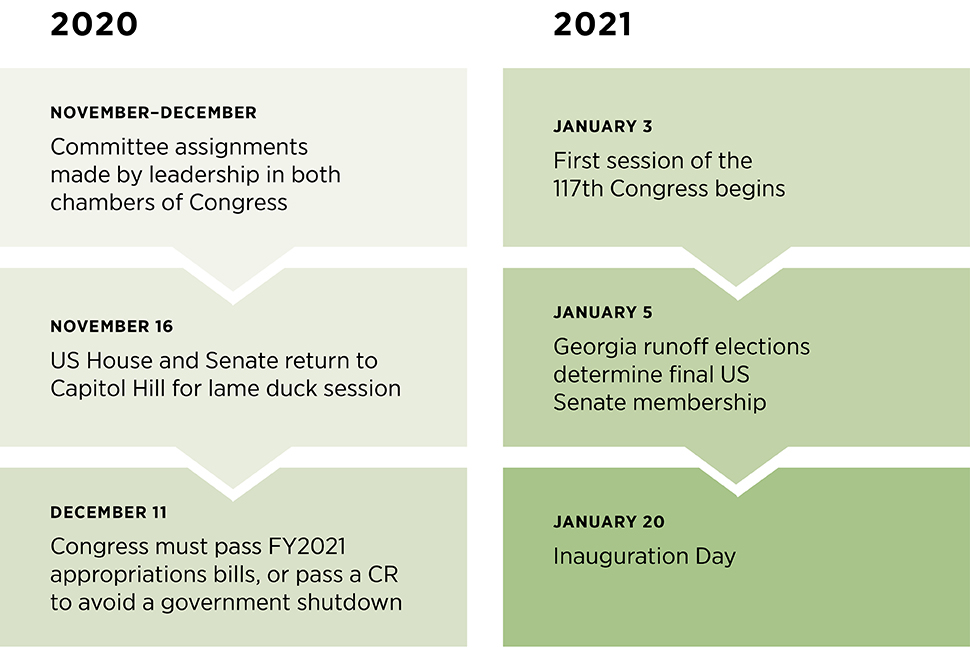 The November 3 elections will have an impact on public policy and advocacy for libraries at the federal, state, and local level.
Based on campaign pledges, the Biden-Harris administration will be more favorable to education investment and the values of equity, diversity, and inclusion. President-Elect Joe Biden's cabinet selections will likely indicate a significant shift in policy around education, telecommunications, workforce issues, and many other areas. However, the change of leadership in the White House does not automatically translate into wins for libraries. Votes cast further down the ballot will have a major impact on the decision making in the next Congress.
117th US Congress
Election results in the House and Senate are not final, as several states continue to count ballots. More than half of the 58 newly elected members of Congress come from state and local elected offices, which illustrates the potentially national impact of local leadership and the exponential value of local library advocacy.
It appears Republicans will maintain in control in the US Senate. However, the final determination will come after two Senate runoff elections, both in Georgia, to be held January 5. While Democrats managed to hold the majority in the House of Representatives, enough Republican seats were won to warrant adjustments on committees critical to library interests, such as funding (Appropriations), education (Education and Labor), and copyright (Judiciary).
Biden's cabinet appointments will add to the overall uncertainty surrounding the makeup of the Senate. Appointees, mainly Democratic, from the Senate ranks will leave unoccupied seats to be filled by mostly Republican governors. Political calculations are being made as many options are being discussed for cabinet positions. ALA is closely monitoring these prospects with an eye toward library connections and opportunities.
In terms of federal funding for libraries, there is positive news. All our lead champions on the House and Senate Library Stabilization Fund Act bills and the annual Dear Appropriator letter won reelection. Libraries gain another champion in the Senate with the election of Rep. Ben Ray Luján (D-N. Mex.), who has worked with ALA on broadband legislation and participated in ALA President Julius C. Jefferson Jr.'s recent "Holding Space" national virtual tour.
What to expect in the lame-duck session
Congress has one primary item on its agenda when it returns to Washington for a lame-duck session: pass a Fiscal Year 2021 budget to avoid a government shutdown. Because Congress could not come to an agreement on a spending package at the start of the new fiscal year on October 1, the government is operating at FY2020 spending levels under a continuing resolution that ends December 11.
Congress will either extend the continuing resolution into 2021 or pass 12 appropriations bills. The House spending package that passed in July and the Senate proposal released this week include a $5 million increase for the Institute of Museum and Library Services (IMLS). If Congress manages to pass a FY2020 budget that resembles its current drafts, libraries can again expect yet another win—five years in a row.
Congress may consider another economic recovery package, but additional relief is unlikely to come in 2020. The House and Senate are far apart in their ideas of what a relief package would look like, and it is difficult to anticipate how amenable the White House will be to sign one. ALA will continue to work with library champions in the 117th Congress to ensure libraries are part of any future federal relief bills.
Advocacy in the transition
Moving forward, we cannot assume library, education, infrastructure, and workforce spending will be any easier. The new Congress and administration will be dealing with a worsening pandemic, along with extraordinary needs and demands from every sector of society.
The transition between the 2020 elections and the start of the new Congress is a window of opportunity for library advocates. We must pull up a seat to the table at every level of government to ensure these communities have the library services they need and the public policies that provide equitable access to information. For nearly four years, ALA has been beating the drum about year-round advocacy, and for good reason: With increases of $22 million for IMLS over the past four years, we see that year-round advocacy is effective.
Now is the time for library advocates to engage decision makers. We need to get to know newly elected leaders and reacquaint ourselves with those who were reelected. It is up to us to show them how libraries serve their constituents and why libraries should be a priority under their leadership.
I encourage library advocates to create their own transition plan for advocacy before the new year:
Subscribe to ALA's advocacy alerts to take targeted actions at key moments on federal policy.
For library policy issues and news, updates on the federal budget, and current advocacy opportunities, follow us on Twitter at @LibraryPolicy.
Contact your ALA chapter to learn about critical issues libraries in your area are facing, and sign up for state advocacy alerts.
---
The 2020 federal elections saw strides toward equity, diversity, and inclusion:
Vice President-Elect Kamala Harris is the first woman and first woman of color elected as vice president.
New Mexico became the first state to elect all women of color to its House delegation.
At least 135 women will serve in the 117th Congress, surpassing the previous record of 127 (set in 2019).
The number of African Americans in Congress is expected to exceed the 2019 record of 55 (when ballot counting is completed).
A record number of six Native Americans will serve in the 117th Congress—two newly elected and four reelected.
US Rep.-Elect Marilyn Strickland from Washington State is the first Korean-American woman elected to Congress.
US Reps.-Elect Mondaire Jones and Ritchie Torres from New York will become the first two gay Black and Afro-Latino members of Congress, respectively.