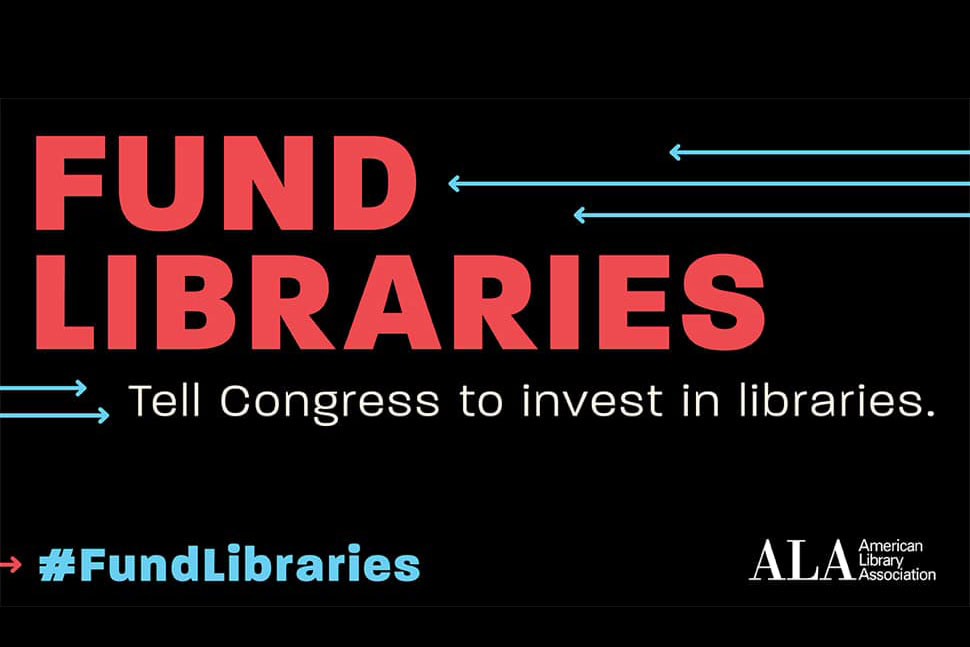 Despite the challenges of conducting library advocacy efforts during a global pandemic, this year's #FundLibraries campaign met with great success.
February 10 may feel like 100 years ago, but that date marked—for a fourth consecutive year—the administration's threat to eliminate all library funding from the federal budget. As ever, library advocates responded with emphatic determination.
The annual campaign to gather support for the federal Library Services and Technology Act (LSTA) and Innovative Approaches to Literacy (IAL) program began with ALA's annual fly-in, the timing of which aligned with the release of the White House budget proposal. ALA hosted hundreds of meetings on Capitol Hill, where advocates persuaded lawmakers to keep libraries at the top of their lists. In March, our congressional champions released the "Dear Appropriator" letters—kicking off prime time for advocates to tell members of Congress about the importance of library programs funded via the federal budget.
The Dear Appropriator campaign ended March 27 with more supporters than ever, thanks to the thousands of calls, emails, and visits by ALA advocates across the country. In the House, support for both letters increased significantly: LSTA signatures increased from 150 for FY2020 to 164 for FY2021, and IAL grew from 128 signatures to 134. Bipartisan leadership on the FY2020 LSTA letter helped secure several more Republicans than last year. Support for LSTA and IAL remained steady in the Senate, where getting signatures is, historically, more challenging. Compared with FY2020, the FY2021 IAL letter retained a level 36 signatures, and the LSTA letter retained a level 45.
In the final days of the campaign, ALA pivoted to launch a second, simultaneous funding campaign pushing for libraries' inclusion in the largest economic stimulus package in history. As a result, the $2 trillion Coronavirus Aid, Relief, and Economic Security (CARES) Act includes $50 million for the Institute of Museum and Library Services (IMLS) for digital inclusion projects and more than $30 billion in relief for schools and colleges.
This funding is a vital first step in helping people in rural and urban communities stay connected during this crisis; however, libraries themselves need support to avoid widespread layoffs and cuts in services.
ALA is advocating for the next stimulus package (Phase 4), which lawmakers are constructing now, to include an additional $2 billion for IMLS to flexibly support libraries facing major revenue losses, emergency needs such as increased cleaning costs, and library programs to support economic recovery in local communities.
ALA Executive Director Tracie D. Hall said it best during the fly-in: "When it comes to federal funding for libraries, ALA is the one and only voice on Capitol Hill, urging lawmakers to fund libraries and enact policies that ensure access to information for all." The overall success of the #FundLibraries campaign sends a strong message to Congress and the White House: Library funding is a national priority.
Normally, ALA would be tracking the #FundLibraries campaign closely in the coming weeks and into early summer when both spending bills move through the full House and Senate. Now, we are in double-time—running both the annual appropriations cycle and pushing for the future support libraries will need to emerge from the pandemic ready and able to resume work as community leaders.
Even in these most challenging times, library workers continue to serve their communities in myriad creative ways. You can count on ALA's continued presence in Washington, D.C., but it is your own impact stories that make the most convincing case for library funding. Tell your elected leaders how you're serving your community and what else you could do if you had the resources. Sign up as an advocate and urge your elected officials to include libraries in the next relief package.