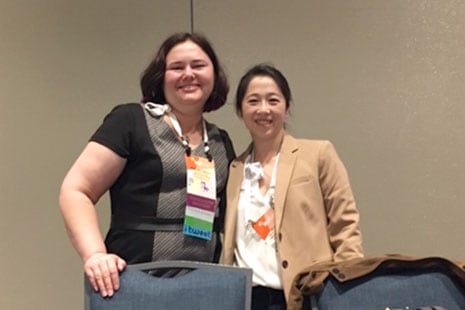 What role does implicit bias play in access to health care? Academic librarians gathered in Cleveland at the 2019 Association of College and Research Librarians Conference to confront that question in their work as health sciences information specialists. Presented by Rachel Keiko Stark, health sciences librarian at California State University, Sacramento, and Molly Higgins, reference and digital services librarian at the Library of Congress, the interactive workshop focused on helping librarians identify their own implicit and unconscious biases while also creating a blueprint for the participants to adapt the learning activities for future workshops at their own institutions.
Stark and Higgins began by asking attendees if they had ever taken an online implicit bias test. In prior iterations of their workshop, noted Stark, "some participants got upset by some things they had learned." Consequently, they advised anyone who intended to repeat the workshop to build in time for an emotional response or to design those workshops with a bias test taken prior to the event, allowing for the emotional experience to take place in private. "It gave me time to cry in my room," one participant had shared, according to Stark.
Next, through an interactive exercise, librarians were encouraged to share, on large sticky notes, their own experiences of workplace assumptions or bias. The notes were then shared with the larger group as librarians walked from table to table, reading the notes and marking those that reflected their own experiences or observations. Common themes quickly emerged, including assumptions made about gender, age, race, and religion, and the traits, both positive and negative, that were preemptively assigned.
The second half of the workshop was dedicated to addressing how implicit assumptions insidiously factor into librarian research workflows, including the reference interview, the selection of databases, and the identification of relevant literature. Through case studies and role playing, Stark and Higgins illustrated how research can be more fully developed through more thoughtful and in-depth questioning. Attendees also contributed questions that could enrich the reference interview and broke into small groups to conduct online searches of medical resources that reflected the populations described in the case studies. Challenges included considering whether literature and databases considered racial and cultural identity as relevant to the research. Sharing their solutions, attendees identified key databases that support searching medical literature with consideration of ethnic factors. The presenters noted that this tactic is equally significant for other marginalized groups, such as the LGBTQ population.
Explaining that there are still gaps in the health care literature, particularly with biracial identity, Stark and Higgins added that some hospitals, state health boards, and the Centers for Disease Control and Prevention collect statistics linked to specific populations, but it takes effort to hunt down that information. When located, however, it "can be really rich data," observed Stark.
The workshop concluded with an opportunity for all to share ideas and efforts for countering implicit bias. A key finding was the importance of introducing the idea of implicit bias at early stages of teaching research strategies, forming an integral part of general searching strategies for both librarians and those they instruct.
Update, May 10: Corrected the name of presenter Rachel Keiko Stark.