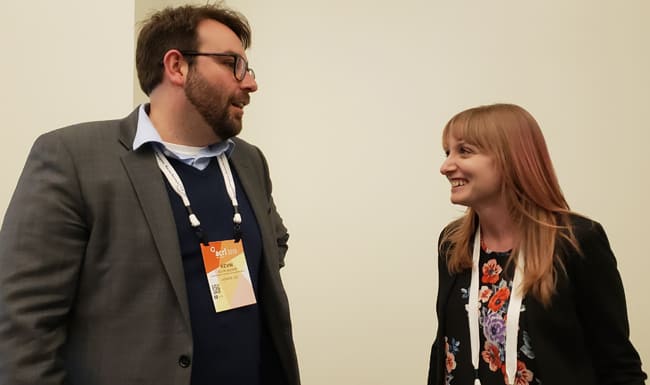 Scholarly articles about marijuana have exploded in the past 20 years, from only about 30 per year in the late 1990s to more than 1,000 annually in the mid-2010s, according to two researchers at University of Colorado Denver's Auraria Library, who spoke at the Association of College and Research Libraries Conference in Cleveland on April 11. Kevin Seeber, head of the department of education and outreach services, and Rachel Stott, teaching and learning librarian, wondered what would happen if students who are searching for peer-reviewed articles used the search term marijuana instead of cannabis. Are the two terms interchangeable? Will they produce the same results?
It turns out results would likely be different, depending on the focus on use (medical or recreational), the academic discipline involved, the geographic location of the researchers, and the sentiment expressed about the drug's use. Seeber and Stott, who described their study as a "joint effort," looked at a representative sample of 540 articles and found some intriguing details:
The term marijuana was more frequently used before 2008, when cannabis became more common in the literature, rising to about 60% by 2016.
The literature of criminology favors marijuana, while the literature of medicine favors cannabis. Usage is about the same in psychology and substance abuse literature—some journals use both terms, occasionally even in the same issue.
The term marijuana is used by researchers in the US by a factor of three to one, while the term cannabis is used three to one for research in an international setting.
Overall, articles about marijuana have more negative sentiment than those using the term cannabis.
Articles that focused on recreational marijuana used both terms about equally. Articles describing medical use or criminal use favored marijuana slightly, while laboratory and agricultural studies (where use of the drug was not considered) generally favored cannabis.
The practical results of this study, Seeber explained, indicate that "words matter," and talking to students about their search terms is worthwhile. They should know, for example, that using only one term might alter the geographic range of studies in their search results. And, Seeber said, since we live in a society where "politics and identity collide," the variations in sentiment attached to different words could add to the marginalization of certain groups of people.
Further, Seeber and Stott said, academic librarians can work with colleagues in electronic resources and metadata positions to customize search interfaces where possible to make it easier for students to control their keyword searches. "And vendors of commercial discovery services should inform users when their search terms are being expanded"—in other words, when a search on marijuana also includes results for cannabis—causing results to be skewed, Seeber said.