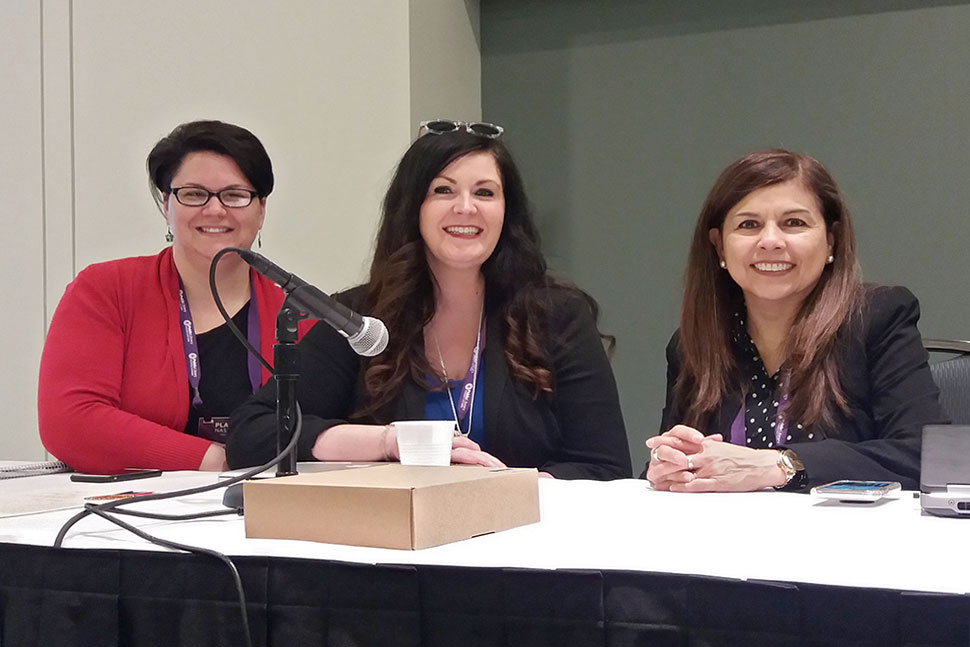 Advocacy may mean different things to different people—communicating a library's value and importance to the public, speaking up for vulnerable communities that don't have a voice, or fulfilling a library system's philosophical and financial goals. But advocacy doesn't need to be lofty or unattainable.
"[People] think advocacy is marble steps and these throne rooms. [For me,] it's handshakes and sweet tea and conversations," said Sharon Kay Edwards, legislative monitor for the Tennessee Library Association (TLA), librarian at Motlow State Community College, and an American Library Association (ALA) Policy Corps member.
Edwards and her Tennessee colleagues presented the preconference "Developing Your Advocacy Assets" at the Public Library Association 2020 Conference in Nashville on February 25 to demonstrate tangible advocacy and audit methods, such as contacting government officials, conducting surveys, creating partnerships, and using graphics and video to tell the library's story.
"Start when they're candidates," Edwards said of engaging with federal, state, and local politicians. She suggested being "pro-advocacy"—not waiting for a reason to establish contact but letting them know how the library can help them achieve their platforms. "We all serve the same people," she said. "I want them to know we're equals in serving the public."
Key to building relationships is research. Edwards recommended using Congress.gov or ALA's lookup tool to find representatives and reading officials' bios to find commonalities to leverage in discussion. "Who are they, where are they from, who are they married to? What is their project?" she asked. "If your representative doesn't have a library card, that's the lowest-hanging fruit you got. Get them a library card."
Though many associate advocacy with federal- or state-level funding, Jillian Rael, former director of Fayetteville-Lincoln County Public Library and current TLA president, shared a distinctly local experience.
"I once called out my former middle school teacher, who's also a county commissioner, [for voting against library funding] at the fair," she said. "In a small country town, the fair is everything." Rael said the commissioner voted for library funding after that encounter.
Advocacy might also look like what libraries provide for marginalized and underrepresented populations regularly and how they promote those efforts.
"We don't talk enough about how much we do for our kids," said Patricia Rua-Bashir, children's department manager at Nashville Public Library's (NPL) main location and TLA Diversity and Inclusion Committee chair. She recommends the Association for Library Service to Children's Championing Children's Services Toolkit to develop messaging around children's programs and services. In her role, that includes early literacy activities with bilingual materials, Día celebrations, storytimes in languages other than English, performances that support cultural competence, and advocating for representation of more racially diverse authors in collections.
As part of her advocacy efforts, Rua-Bashir has conducted surveys in English and Spanish to gauge what programs her community wants to see and has hosted networking events for nonprofits in the metro Nashville area—such as Encuentro Latino, Tennessee Latin American Chamber of Commerce, Nashville Area Hispanic Chamber of Commerce, and Conexión Américas—to see what the library does and grow a base of partners and donors. "It was really enlightening for them," she said.
Looking to ramp up advocacy efforts? "Go back and take a hard look at your bylaws, your policy, your mission … and make sure your staff is on board," recommended Rael. "Everyone has a story, everyone has a 'Because' statement, everyone has a reason why their library is so important."