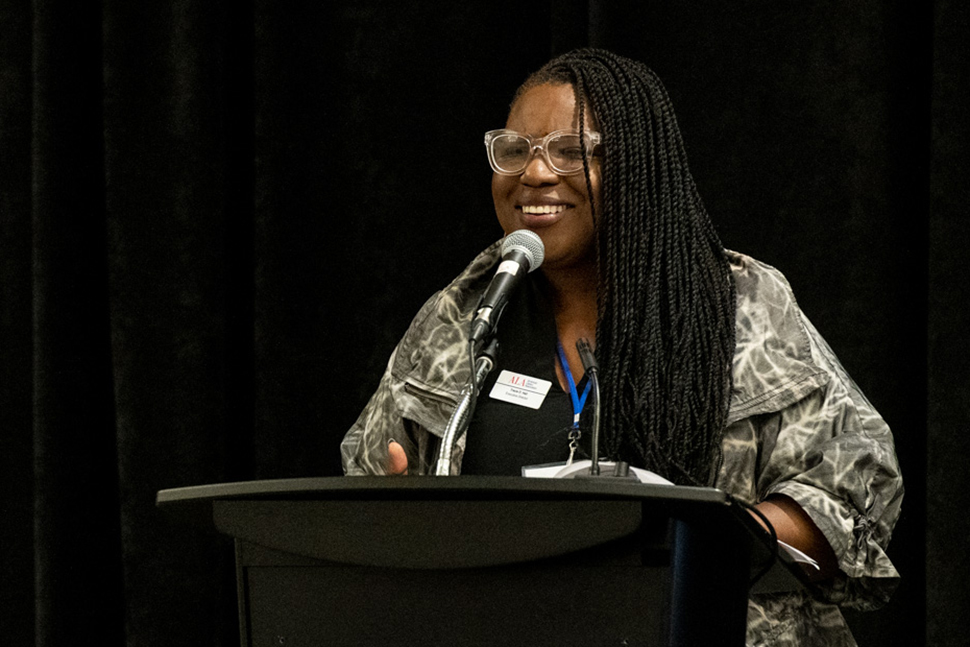 The American Library Association (ALA) invited more than 70 librarians and library supporters from key congressional districts to Washington, D.C., for its annual congressional fly-in—a two-day event focused on training and strategic meetings with members of Congress, held February 10–11.
This year, the fly-in aligned with the release of the White House budget proposal for FY2021, which—for a fourth consecutive year—lays out the closure of the Institute of Museum and Library Services (IMLS). ALA responded to the budget proposal with a statement and call to action, and ALA's incoming Executive Director Tracie D. Hall opened the day by discussing library advocacy and ALA's unique position in Washington, D.C.
"Advocacy is a pillar of ALA's mission, and it is a priority in my leadership at ALA to make sure this pillar is stronger than ever before," Hall said. "When it comes to federal funding for libraries, we are the one and only voice on Capitol Hill, urging lawmakers to fund libraries and enact policies that ensure access to information for all."
After welcoming remarks, the fly-in began with training and plenary sessions from advocacy and lobbying professionals. This year's focus was on persuasion and working with legislators' district offices, especially during an election year.
David Lusk, founder of Key Advocacy, reviewed the various types of legislators an advocate can encounter and led an interactive discussion about message framing and how to make library stories appealing to lawmakers' interests.
Lusk pointed out that advocates tend to overestimate persuasiveness of text-based communications and underestimate the power of face-to-face requests. "Despite email's reach, asking in person is significantly more effective," he said, citing a Harvard Business Review study that shows you are 34 times more effective in person than by email. "You have to email 200 recipients to equate the influence of asking six people in person."
Librarians as connectors
Francella Ochillo gave the keynote address. Ochillo, executive director of Next Century Cities, a coalition of more than 200 communities working together nationwide to expand broadband access, highlighted that this work could not be accomplished without libraries.
"Librarians are on the front lines," she said. "You are policy advocates, digital ambassadors, and trusted resources. We need your subject-matter expertise and compassion in the fight to expand broadband access and digital opportunities."
A panel discussion on how library advocates can work with district office staffers featured Kathleen Connor, district director for US Rep. Jamie Raskin (D-Md.); Tami Davis, outreach director for US Rep. Jennifer Wexton (D-Va.); and Mark Miller, a Library of Virginia board member.
Connor and Davis confirmed that district teams appreciate opportunities to get out in the field and visit local facilities. Whether it's a new building, a community-based program, or an outreach partnership, members of Congress are interested in paying it a visit. Davis and Wexton visited a library recently and ALA filmed their visit.
Demystifying the national budget process
Other discussions at the fly-in focused on the president's budget. As part of ALA's year-round advocacy approach, fly-in attendees went to the Hill on February 11 to talk about protecting library funding and to invite members of Congress and their staffers to visit their libraries.
ALA staff members and other appropriations experts presented on the pathway to federal appropriations and pointed to the key strategic times for advocates to connect with their members of Congress. Fly-in attendees engaged with their elected officials online, and several responded in real time, expressing support and offering visibility to the library cause.
My life was influenced at an early age by getting my first library card at the age of four at the Kellogg-Hubbard Library in Montpelier. From that moment forward I was a frequent visitor to the Children's Wing, cultivating a lifelong love of reading and learning. https://t.co/jnQGS7WcMV

— Sen. Patrick Leahy (@SenatorLeahy) February 11, 2020
Closing remarks from the new IMLS director
In the closing session, Crosby Kemper III, newly confirmed director of IMLS, reflected on his first few weeks settling into life in the nation's capital.
He noted that no other institution helps more people in more ways than the public library. He underscored the number of patrons libraries serve and the level and range of services libraries provide from early literacy to workforce development, emphasizing that libraries are recognized as foundational community anchors.
"It should be a comfort to know that there are no enemies of libraries in Washington, D.C.," he said. "We just have friends of varying intensities."
The fly-in is part of ALA's approach to year-round advocacy that is designed to engage lawmakers at different points throughout the appropriations process. ALA encourages all library advocates to email their members of Congress and urge them to protect library funding in FY2021. Follow the conversation at #FundLibraries.
Advocates interested in the next opportunity to visit Capitol Hill and speak with legislators about the importance of library funding are encouraged to join ALA for National Library Legislative Day May 4–5.