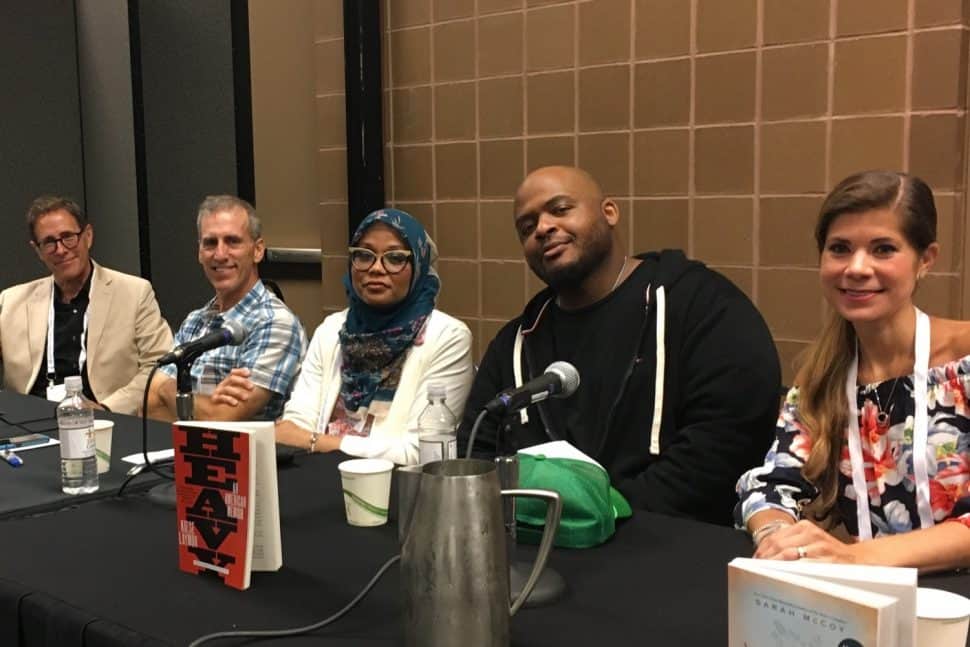 What's more delicious to librarians than the opportunity to hear popular authors speak about their upcoming books? The "LibraryReads Bookalicious Monday Author Breakfast" at 2018 ALA Annual Conference in New Orleans brought librarians together for this express purpose. The panel of authors spoke about their inspirations, writing processes, and of course, their shared love of libraries.
Speaking first was author Sarah McCoy, whose novel Marilla of Green Gables (William Morrow/HarperCollins) reimagines the life of Marilla Cuthbert, the beloved "spinster" character in L.M. Montgomery's 1908 classic book, Anne of Green Gables. Out the outset, McCoy exclaimed to applause, "y'all are truly some of my favorite people on Earth," explaining her deep connection to librarians, specifically her middle school librarian who "was effervescent, bright, and full of wisdom."
McCoy then spoke of her passion for reimagining a character whose wiry wit, grit, and faith she had always admired, explaining that while the character of Marilla Cuthburt is only 51 years old when the L.M. Montgomery book opens, in adaptations she has been made to look 71. McCoy realized that in fact the character was still young but also old enough to have her own story. In Marilla of Green Gables, McCoy gives the character her own voice, a voice she and other Anne of Green Gables fans had longed to hear.
McCoy was followed by writer Kiese Laymon, whose book Heavy: An American Memoir (Scribner/Simon & Schuster), was written as an attempt to reckon with the weight of sexual violence. Laymon's memoir draws on the connections he has found between sexual violence, racial terror, and weight gain. Writing directly to his mother, Laymon explained how as a child he saw two of his friends abused in a way he did not understand and that even appeared to his younger self to be a kind of favoritism and attention from adults. He characterized the book as "a plea for us, as mother and child, to realize that there will be no liberation in this country until we are honest and loving with each other," adding it is also an "attempt at reckoning with the 'weight' of this nation."
Next to speak was author Somaiya Daud, whose debut novel Mirage (Flatiron Books/Macmillan) exists at the intersection of the experiences of colonized peoples and the fantasy worlds of Star Wars and The Lord of the Rings, of which Daud herself is a self-proclaimed geeky fan. Daud had observed that fantasy film and literature often draw from the richness of non-Western cultures but then populate those worlds largely with white characters. "I was never seeing myself in these movies, but parts of my culture was grafted onto white people," she explained. Daud wanted to be able to write a book that understood the function of that aesthetic, creating a beautiful, lush world that the reader wanted to live in, but also unlocking for readers what it is like to live under a colonial regime.
Tim Johnston, author of The Current (Algonquin Books/Workman), then spoke about his journey from writing literary fiction for adults to genre writing for a YA audience. "A few years ago," Johnston explained, "I considered myself a card-carrying literary writer." However, his first novel, Never So Green, a book he had intended for adults, featured a twelve-year-old protagonist, and early readers responded by asking him "isn't this a young adult novel?" At that point, Johnston agreed to pitch it a YA book and it was accepted immediately for publication. In a similar experience of "not know what I was writing," Johnston had not set out to write a page-turning thriller, but that is how his planned "character-driven" novel evolved. Concluded Johnston wryly, "I'm now a genre writer."
Finally, Leif Enger, author of Virgil Wander (Atlantic Monthly Press), introduced his novel in the context of his young son Ty's delightful insight that the description of a noun (person, place, or thing) was also "how you make a story." For Enger's story, the first element, person, was inspired by the operator of shabby Art Deco movie theater whose enthusiasm for his work was transformative and stuck with Enger as a character in need of a book. Next, according to his son's rubric, Enger needed a place to put the theatre owner and eventually settled on the north shore of Lake Superior which, according to Enger, offers "the beauty mystery and violence of the ocean" that "makes you tremble when you see it." Finally, a "thing" was needed and that turned out to be kites. "Kites are a character in this story," Enger explained.
Following the panel, attendees met with the authors one-on-one as advance reader copies (ARCs) of the upcoming books were autographed.