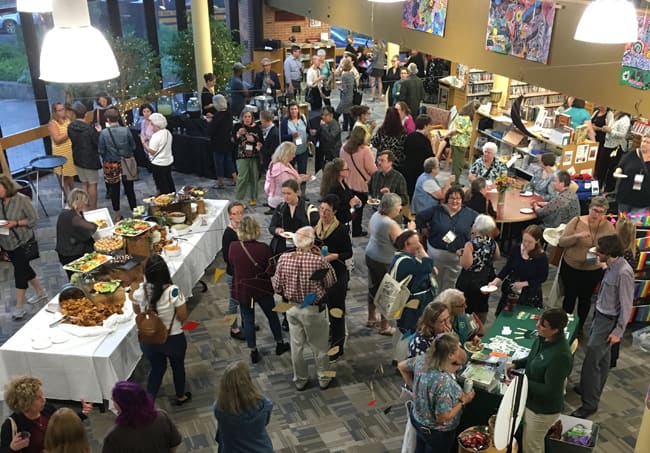 The 13th Annual Association for Rural and Small Libraries (ARSL) Conference, held Sept. 5–7 in Burlington, Vermont, began with an address from ARSL President Lisa Lewis, who acknowledged that rural and small libraries often struggle with limited staff and limited funds. Lewis urged attendees to look around and recognize their colleagues, saying, "You are not alone. You are surrounded by 700 friends who know your struggles and have your back."
Standup comedian, storyteller, and speaker Susanne Schmidt continued Lewis's theme. Storytelling, she said, is a form of connection. "People find common ground in the shared experiences that come to life in storytelling," she said. "Stories allow us to connect on a deeper level." She then walked the audience through the four elements of a good story: (1) Identify what you wanted, (2) identify what stood in your way, (3) explain how you overcame the challenges that you faced, and (4) explain the deeper meaning of your story.
Schmidt paused midtalk to encourage attendees to share with their tablemates their personal stories of coming to work in the library. After giving the audience a taste of the power of storytelling, she encouraged ARSL members to take home what they learned and turn their libraries into centers for storytelling. "Use the power of story for good. Build connection in your community."
Engaging millennial advocates
A 2017 Pew Survey identified millennials as the most populous group in the library, yet most Friends groups and trustee boards do not have a single millennial member. Does this underrepresentation matter? And what should be done to change this pattern? These are some of the questions Madeline Jarvis, David Paige, and Veronda Pitchford addressed in the program "Friends and Trustees Under 40: Recruit Them, Retain Them, Engage Them."
Through a combination of interviews, discussion groups, and a nationwide United for Libraries survey that examined the reasons people join library advocacy groups and how they learn about volunteer opportunities, the presenters found key similarities between baby boomers and millennials: both love libraries and reading, both value their community and the impact of the library in the community, and both find volunteer service appealing. They also identified a significant difference between the two groups: Boomers are routinely and directly asked to volunteer at the library; millennials often are not. Yet boards function best with a range of perspectives that reflect the community.
"Representation matters," said Paige, president-elect of United for Libraries. "If we believe in the core values of equity, diversity, and inclusion, we have to be responsible for living those values." When it comes to recruiting, focus on your library's needs and goals, he said. Don't just add someone based on age, and don't hesitate to look outside the library. "Your nonusers might have as much to tell you about your library as your users do," he said.
"Where are the elusive magical beings called millennials?" asked Jarvis, adult and information services manager at Marion (Iowa) Public Library. Many are young parents and can be found at storytimes. They may attend a young professional group in the community, or you may find them at a social spot like a brewery. Look for them online, too. Once you find them, put out the ask. Offer project-based roles or low-stakes engagement opportunities to start.
"The beauty of having a diverse board is the ability to enrich and enhance the library's role in the community," concluded Pitchford, assistant director of Califa and a board member of United for Libraries.
"You cannot afford to have the networks for advocacy age out," added Paige. "There is no clearer counter argument to this idea that libraries are obsolescing than to have young people explain that the library is important to them."
Updated Sept. 9.