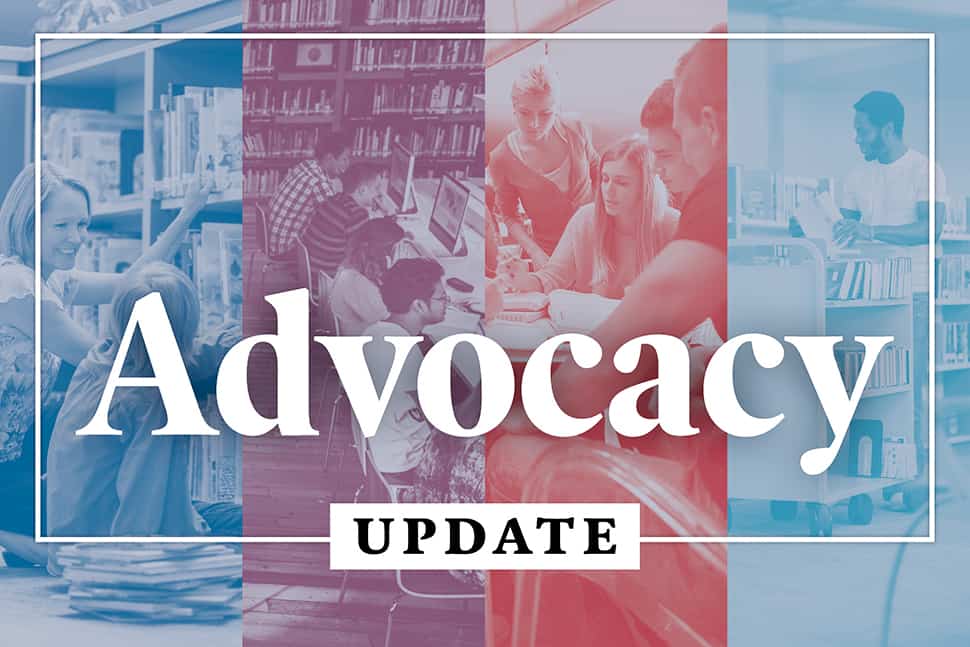 Libraries were included in the largest economic stimulus package in history, which passed March 27. The $2 trillion Coronavirus Aid, Relief, and Economic Security Act (CARES) Act includes $50 million for the Institute of Museum and Library Services (IMLS) for digital inclusion projects and more than $30 billion in relief for schools and colleges, plus billions more for state and local governments and nonprofit organizations. The stimulus package also includes libraries—on Main Street, in schools, and on campuses—as part of a massive, long-overdue effort to ensure digital equity in America. (Read a summary of CARES Act provisions for libraries, education, and cultural heritage institutions.)
In addition to supporting funding for libraries, the American Library Association (ALA) supported relief provisions for nonprofit organizations that will allow ALA and other library associations to continue to serve our professions during a crisis that has severely impacted revenue streams, such as conferences. The significant aid for workers across the country through stimulus checks, unemployment benefits, and other provisions will provide relief for thousands of library workers and the communities they serve.
The infusion of $50 million to IMLS for digital inclusion projects could help bring immediate support to libraries that have had to pivot quickly in their services. The scourge of COVID-19 may have closed library doors, but it has revealed the indomitable spirit of the profession. Here are a few inspiring stories:
ALA is confident that IMLS, under the leadership of Director Crosby Kemper III and in coordination with state library agencies, will deliver the stimulus funding and provide guidance for libraries to deploy the infusion of resources.
To echo the statement from ALA President Wanda Kay Brown, this allocation of emergency funding underscores what we know to be true: Libraries are poised to lead during this unprecedented time of increased reliance on digital connectivity and when communities begin to recover. That said, significant declines in state and local budgets will put the financial stability of libraries at risk. ALA will continue to advocate for support for libraries, library workers, and library organizations to recover from the impacts of COVID-19 and support economic recovery in their communities. ALA's Public Policy and Advocacy Office is in close contact with the Hill, and we are preparing to push for libraries in the next congressional relief package as it takes shape.
These are challenging times for library workers. As you adjust and continue to care for yourself and your communities, please know that ALA has an active presence in Washington, D.C., and we are here for you. Moving forward, ALA asks that advocates remain engaged and to sustain the momentum, especially as the next stimulus package takes shape. Visit ala.org/advocacy/contact-congress to sign up as a library advocate.