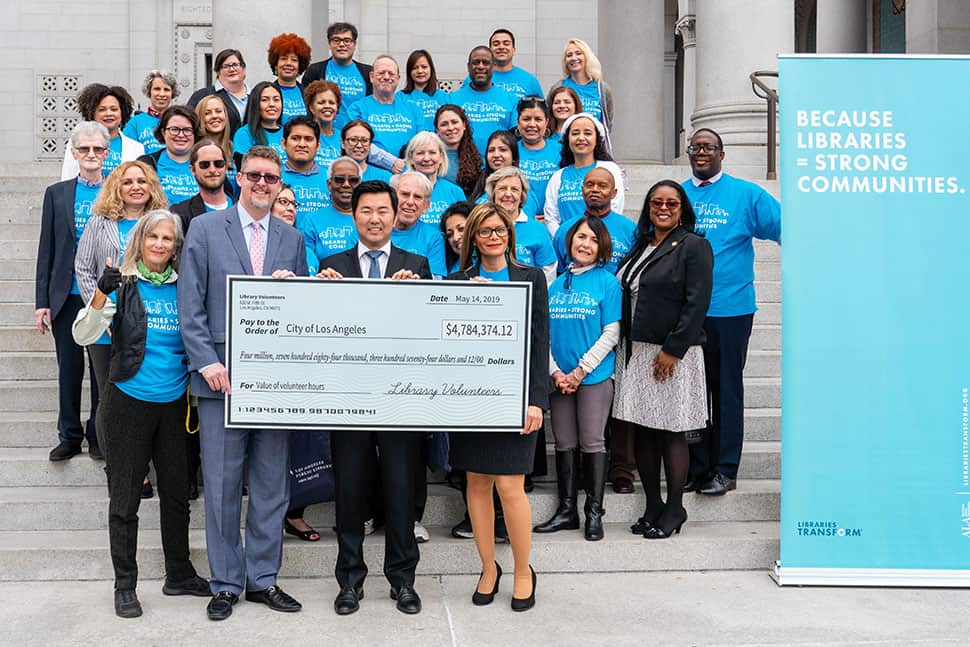 American Library Association (ALA) President Loida Garcia-Febo's Libraries = Strong Communities national library tour reached Los Angeles May 13–15. The visit celebrated the many ways Los Angeles Public Library (LAPL) strengthens its community with services that transform lives through education and lifelong learning.
Garcia-Febo attended a dinner May 13 with members of Reforma, the National Association to Promote Library and Information Services to Latinos and the Spanish Speaking.
Flanked by Garcia-Febo and more than 40 LAPL volunteers, Los Angeles City Councilmember David Ryu offered a resolution declaring May 14 "Libraries = Strong Communities Day" and presented a volunteer appreciation resolution to the library. City Librarian John Szabo recognized the efforts of the nearly 7,500 volunteers who contributed 164,000 hours of work in the library's 73 locations in 2018. Szabo presented a giant symbolic check for $4.8 million to the city council to remind officials of the financial value of the volunteers' service.
Garcia-Febo visited the historic Cahuenga branch—the third-oldest library facility in the LA system—which is being renovated. She also made stops at the Arroyo Seco regional branch, where she attended two children's events, and the Silver Lake branch, a LEED Platinum–certified building.
The power to change lives
On May 15, Garcia-Febo joined ALA and state library leaders at Central Library for a reception to highlight the value of libraries. "We know that libraries equal strong communities, and I'm so glad that our board of commissioners, city council, mayor, and, truly, the people of LA believe in that," Szabo said.
During the ceremony, Szabo showcased the library's Career Online High School program, which offers adults the opportunity to earn an accredited high school diploma. One graduate, Rosa Arredondo, spoke about how she has benefited from the program.
"Today I stand here to tell you that I believe it is never too late to achieve your dreams," said Arredondo, who had only two years of formal schooling in the US before her family returned to Mexico. When she moved back to the United States at age 33, she tried unsuccessfully to resume her education. She attempted to learn by reading children's books and a GED book, then heard about the library's adult literacy program. Arredondo was assigned a supportive and encouraging tutor who gave her the confidence she needed to start Career Online High School. Arredondo's goal is to work in a hospital.
"The library gave me the power to change my life," she said.
Garcia-Febo praised LAPL for its efforts in strengthening its community through model programs, such as providing access to online classes, databases, curated music playlists, opportunities to explore American pop culture, and access to rare and historical files. Among the beneficiaries, she said, are older adults, people with health conditions, entrepreneurs, job seekers, students, and people representing a variety of native languages.
"Your libraries are the heart of the educational communities that they serve and empower all users to make informed decisions by providing free access to information," she said, noting that people can access more than 500 continuing education courses and more than 70 online language courses.
While she praised public library services, she advocated for libraries of all types. She urged people to support school libraries, calling for qualified librarians in each school, and declared her support for academic libraries.
She also called for people to advocate with elected officials for funding for academic, public, and school libraries in the Los Angeles community and the state of California.
"Libraries are the great equalizer, and they welcome everyone. We can't take them for granted," she said. See more of Garcia-Febo's visit on LA This Week.
The Libraries = Strong Communities tour will conclude June 22 with a rally and celebration at 11 a.m. in the exhibits hloor during the ALA Annual Conference and Exhibition in Washington, D.C.