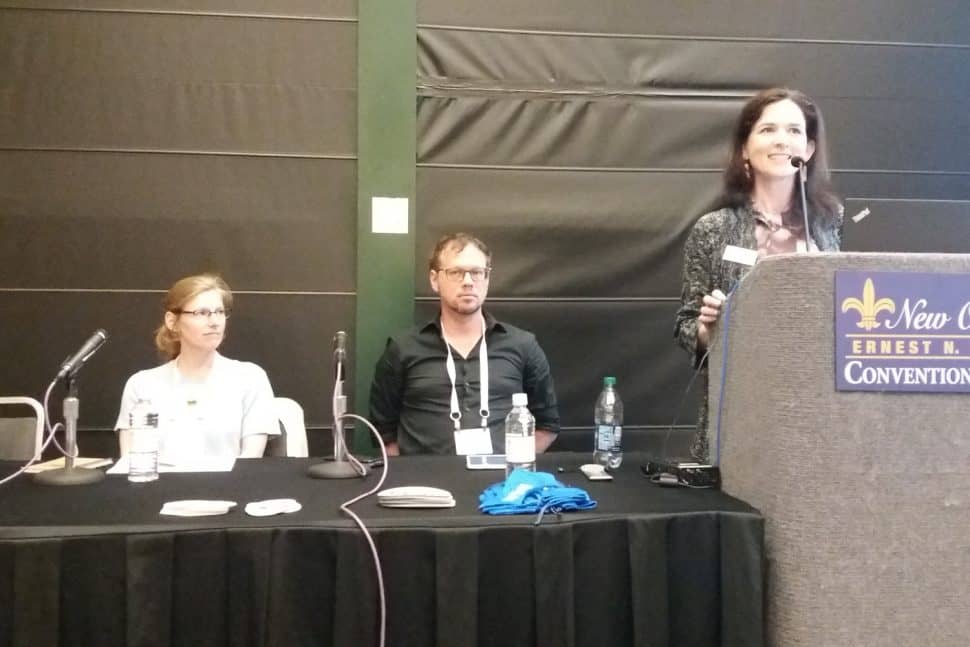 Beth Crist, youth and family services consultant for the Colorado State Library, kicked off the session with a question: "Why collaborate?"
A room full of library professionals shouted out the answers:

"Build a better team!"
"Increase awareness!"
"Reach new audiences!"
"Share resources!"
"Take pressure off overworked librarians!"
"Build capacity!"
"Avoid duplicating efforts!"
For attendees at "Collaboration is Key: Steps to Building Great Partnerships with Outside Organizations," an Association of Specialized and Cooperative Library Agencies–sponsored program at the American Library Association's 2018 Annual Conference in New Orleans on June 25, the benefits of collaboration were overwhelming. But how to achieve successful partnerships with outside organizations—government agencies, nonprofits, schools, businesses and corporations, private foundations, and museums—was a little less certain.
"How do you overcome that 'This sounds great, but…'?" asked Dustin Landrum, manager of strategic partnerships at Georgia Public Library Service.

Landrum has some insights from his own library's biggest partnership with Georgia State Parks and Historic Sites, which took "tons of meetings, tons of phone calls, and proving feasibility," he said.
It can also mean finding inspiration elsewhere: "We straight-up stole Colorado [State Library]'s idea for the backpack," Landrum said.

He was referring to the Colorado State Parks Backpack Kits, a partnership between Crist's library and the parks system that loans wildlife field guides, binoculars, and parking passes to library patrons for a week at time. "It's been hugely successful," she said.

Crist explained the different types of collaboration models for sustained partnerships: 50/50 partnerships, where the library and partner both share planning, cross-training, cross-promotion, resources, expertise, and joint programs; library-intensive or partner-intensive partnerships, where one side takes the majority of the planning, teaching, and promoting; and passive programming, where not much is shared but partners are communicating with each other.
There isn't one right or wrong model, "as long as all the partners are on board," said Crist.

Landrum laid out key factors that would make any of the models successful: constant communication, establishing clear roles and timelines, being flexible, establishing common goals, making sure the project benefits all organizations, evaluating the partnership regularly, and not being afraid to "break up."

Landrum added that it means knowing the answers to questions like, "What day are we announcing the partnership? Who's printing the bookmarks this year? Who's writing the press release?"
Crist reminded attendees that, ultimately, partnerships take time—but the outcomes typically outweigh the obstacles. She also encouraged attendees to make big requests of their administrators and communities.
"Just ask, even if you have a big crazy project you want to try," Crist said.